Paolo verzone
Photographer invited to the Festival Planche (s) Contact in 2016
© Paolo Verzone for Contact Board (s) 2016
© Paolo Verzone for Contact Board (s) 2016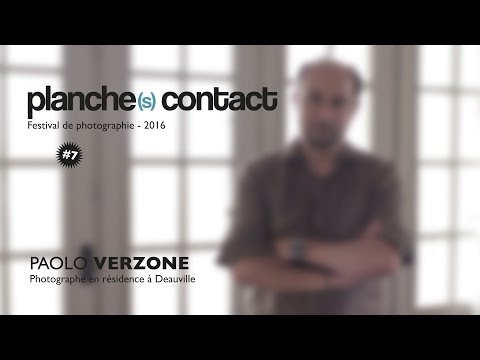 Born in 1967 in Turin and living in Paris, Paolo Verzone has been a member of Agence VU 'since 2003.
For 30 years, he has photographed the populations around him, with rigor and eclecticism. His photographic practice has gone from press orders to personal documentaries. His photographs strive to reflect the multiplicity and uniqueness of each individual.
After having photographed the bathers of the Mediterranean shores in his Seeuropeans series, Paolo Verzone published in 2014 his book Cadets, grouping portraits of students of military schools in Europe.
Paolo Verzone received the World Press Photo in 2000, 2009 and 2015. His photographs have integrated several collections including those of the Victoria and Albert Museum, the National Library of France and the Instituto Nazionale della Grafica in Rome.
In Deauville as part of the Planche (s) Contact festival
Paolo Verzone develops photographic series that question our society and the representation of its leisure time. He produces strict portraits that are part of a documentary tradition. For Planche (s) Contact 2016, Paolo Verzone returned to Deauville, which he already knew, to meet those he calls The Workers of the Sea. An inventory, individual portraits or in small groups , to reveal the diversity of professions linked to the sea and the beach of Deauville. From the fisherman to the ice cream seller, from the captain of the marina to the parasol rental company… A diversity of trades and individualities reflected in their truths and their singularities.
Paolo Verzone about his exhibition Sea workers :
"From my first visit to Deauville, I discovered a city that works almost perfectly. As a watch works day after day with precision and regularity without anyone knowing its subtle cogs, Deauville seems to be advancing in this way: a well "oiled" mechanism.
Of course, nothing would be like this without the momentum, the energy and the will of the people who live and work there. Deauville, seaside resort, holiday resort, weekend destination: a large part of its activities are organized around the sea from June to September.
Port workers, lifeguards at sea, lifeguards, shops of all kinds of bathing equipment (from balloon to fishing rod to swimwear), beach preparation (installation of deckchairs, parasols), restaurants beach, cooks, waiters ...
I chose to photograph these men and women who during the summer season participate in the "success" of the season. With their complicity, I fixed a moment of their activity, without interrupting the regular movement, a short suspended moment.
I would like to warmly thank all the people who gave me a little of their time to capture a moment of their life, the time of a season in Deauville."