Philippe Valensi
sculptor
Naiad Plant
Naiad Plant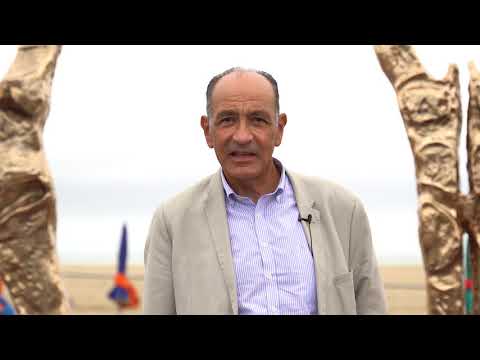 On September 5, 2020, the double sculpture XY - original work created by Philippe Valensi - was installed on Place Reynaldo Hahn a few meters from Place Claude Lelouch where the story of "A man and a man began more than fifty years ago. a woman ". This tumultuous love story, whose romanticism has never ceased to bewitch Deauville, led the sculptor to imagine this symbol for Deauville.

With this double sculpture, the echo of the film inscribed in the imagination of everyone takes shape and form. XY embodies, for Philippe Valensi, a part of the Deauville genome and forever establishes the mythical romance between Jean Louis Duroc and Anne Gauthier in the city that served as its backdrop.

XY is also the first stage of a route of works of art that will lead from the beach to Franciscans future place of life, culture and inspiration of Deauville.
In 2015, Philippe Valensi, doctor in Deauville, sculptor, cinephile, reread Elisabeth Badinter's book XY. This essay, which addresses the difficulty and complexity of being a man, touches him by the accuracy of his words. He then wonders about the symbol of the X and Y chromosomes. He draws them, then specifies them with a view to making a double sculpture of "humanized chromosomes" intended for Deauville, where each has been planning their own romance since 1966.
The work is conceived and then melted in Jaïpur, India. at a height of 0,90 m is exhibited at the Grange aux tîmes and at the Saint Pierre de Touques church from 2016. It is also exhibited in Paris, at the Kinor Gallery.
Philippe Valensi
Born in Paris in 1952, Philippe Valensi has been a doctor and dermatologist since 1980. He has lived in Normandy since 1984, and settled in Deauville where he practices.
Passionate about the visual arts, he trained in sculpture in France and Italy; he was introduced to marble cutting in Carrara and lost wax casting in India in Jaipur. Earth, stone, plaster and resin are his favorite materials.
Leading a double career as a doctor and sculptor, he has carried out many humanitarian actions in Africa and has been President of the NGO "Dermatology outside borders".
His travels around the world, his humanitarian experiences, his life as a doctor have forged his imagination and his creativity. Conversely, his artistic training gave him another perspective on his career as a doctor. He notably exhibited in Boulogne sur Seine, Paris, Honfleur and Deauville.
A realization of the Bocquel art foundry
Located in Grainville-Ymauville in Normandy, the Bocquel art foundry was chosen to follow all the stages in the creation of a monumental version of X Y. The company uses all its know-how to realize the ideas of artists like César, whose famous Pouce she has produced, or Philippe Ramette.
The work was digitized in three dimensions allowing the enlargement of the original model from 0 m to 90 m in height. This enlargement was reproduced in resin to allow the realization of a sand casting. This process allows the artist to intervene and re-work the mold several times before the bronze cast. The base was also designed by the Bocquel workshop