Carpe Diem restaurant joins the inDeauville network
Fanny is 25 years old and Julien 29 years old. She is a sommelier, he is a cook. She is from Rennes, he is from Deauville.
They met at the Tour d'Argent in Paris, one of the most famous addresses in the capital. On February 9, 2018, they decided to leave starred addresses to open their restaurant in Touques. The Carpe Diem replaced the Achilée, a renowned address in Touques for some thirty years. We tell you their story.
After a long apprenticeship in Paris in the best restaurants, Fanny and Julien chose Normandy. They love village life in Touques, walking on the Planches and going around the old basin in Honfleur.
The land and the vines have fascinated Fanny Mordelle, from Rennes, from an early age. She started working at the age of 13 with her restaurant-owner parents and very quickly joined a hotel school. At 18, she completed her professional baccalaureate in catering with an additional mention in sommellerie at the Tour d'Argent where she was trained by the greatest sommeliers of the house. Then it will be Lucas Carton, L'Arpège, and the Saquana in Honfleur. Wine expert, she offers creative and harmonious food / wine combinations.
Julien is passionate about authentic "handmade" cuisine. It is in Normandy that he begins. Le Dauphin at Breuil-en-Auge, then at Bréard in Honfleur: he trained with the best.
In Paris, he works with the stars: Robuchon, the Pavillon le Doyen, the Tour d'Argent. Then Julien branches off to learn other culinary universes. The new generation of Parisian bistros interests him. He explores it at Saperlipopette then at Papillon where he obtains his first plate in the Michelin guide for his seasonal cuisine.
2018, the year of return
Far from the bustle of the capital, Julien and Fanny find the family vegetable garden in Moyaux and buy Achilée. It has everything going for it: it is close to Deauville, located in a village full of character, and has a perfect cuisine.
Carpe Diem is almost the kitchen garden restaurant, cultivated by his family. Over the 2000m2 market gardening, 50m2 are exclusively reserved for him. There, Fanny and Julien cultivate everything they need for their cuisine: fruits, red fruits, vegetables, herbs (no less than 70 varieties). Everything is very fresh, in a short circuit. For fish, they source only seasonal fish. Julien is a supporter of reasoned fishing, without slaughter by trawl, in the spirit of the Seaweb or Ethic Ocean label, which works for the preservation of sea resources. All their products are selected with rigor such as poultry from the Priory or liver gras de la Houssaye.
An amazing card
A la carte Carpe Diem: three dishes, three starters, three desserts change every month and a half. The spirit: to offer a revisited traditional cuisine.
Two flagship dishes illustrate the spirit of the place: a squab with blood and puffed potatoes, a hare à la Royale, or a pie served with a sorbet whose tastes vary according to the seasons, from guacamole to pickles. Ice cream is also one of the emblematic recipes of the restaurant, which has already acquired a Michelin plate in 2020.
The wine list is slowly evolving. Fanny introduces new products gradually. She offers cider white as an aperitif instead of rosé.
To make your mouth water, follow them on Instagram or Facebook.
Indulge yourself at affordable prices: that's what we want to offer at Carpe Diem. We also want this address to become a family home, simple, close to its customers.
Their address book
Where to eat
Carpe Diem
Carpe Diem "Pick the present day without worrying about the next day" It is this beautiful ...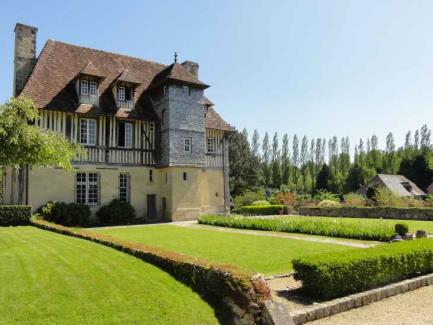 Where to sleep
The Manors of the Portes de Deauville
Staying at the Manoirs des Portes de Deauville is to enjoy the inspiring charm of a building ...