The anniversary year of the pony gathering in Deauville!
Brimborion pony club: forty years of training in 2022!
2022 is an anniversary year for these riding courses organized by the equestrian center of Brimborion !
Created in 1970 by Jean Laban, the Brimborion pony club is a precursor to riding on Shetland ponies.
He is also the organizer of the Deauville gathering where seven Parisian clubs converge each year. From April 25 to May 6, three hundred rider-horse couples will discover the beaches of the Côte Fleurie, the countryside of the Pays d'Auge and the majestic world of horse racing.
A fun course
They take the train from Paris, in the direction of the Trouville-Deauville station, accompanied by their mount for a week full of activities. On the program: training on the slopes of theDeauville-La Touques racecourse and strides on the wide stretches of sand at sunrise and sunset. A week out of time, which ends with a parade on horseback in the streets of Deauville.
This intense but fun and unique course for young people from the Ile-de-France helps develop their passion for horse riding and perhaps arouse the desire to enroll in racing or retraining horses.
The parade in the streets of Deauville
A large number of children on horseback can be spotted on the beaches, near the Enclos farm, or even not far from Mont-Canisy, during these two weeks.
But the biggest gathering will be held on Friday, April 29, from 11 a.m. The riders of the seven clubs present will parade through the main streets of the city, disguised from head to toe!
The course : From 11 a.m., the children and their ponies begin their procession by going up Avenue Hocquart de Turtot and Boulevard Mauger, they then take Rue Désiré le Hoc passing by the unmissable Place Morny then the Town Hall before starting their return by the streets Fossorier, Fracasse, Laplace and the avenue Florian de Kergorlay to return to their starting point.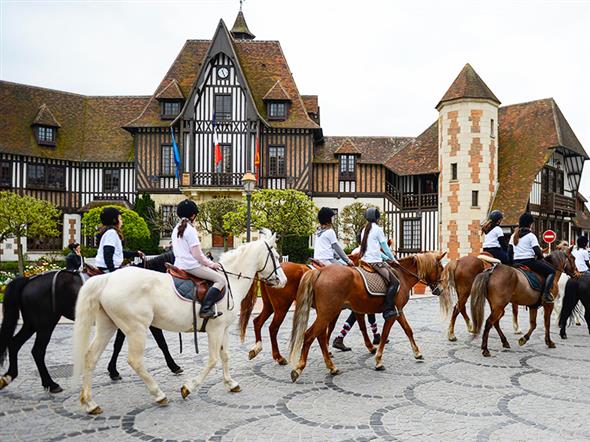 Brimborion Pony Club Parade
01 46 26 31 20