Take a tour on a horseback
Three spots to discover on a horseback
The marsh of Blonville/Villers: an extraordinary setting
Located in the East of Villers-sur-mer, along the municipality of Blonville-sur-mer, the marshes of Blonville-Villers are the only natural green area of the Côte Fleurie. This place of great ecological richness includes 110 hectares of wet grasslands, canals and ditches. Despite its proximity to the sea, it is a freshwater marsh fed by streams that come from the hillsides around. It's also a real ecosystem in which fauna and flora are preserved.
Part of the marshes around Villers-sur-Mer has been rehabilitated from 1975. A water body and almost 5 km of paths welcome strollers and riders.
Mont-Canisy: a panorama on the coast
Located on the heights of Deauville, in Bénerville-sur-mer, the 110-m-high Mont-Canisy offers an extraordinary panorama overlooking the Côte Fleurie. The Mont-Canisy has been a seigniorial domain for centuries and is today a natural site protected by the Conservatoire du littoral, which preserves its flora and fauna. It is also a place loaded with history. During the Second World War, it was an important artillery spots of the "Atlantic Wall". Several vestiges are a proof of it.
The Roches Noires cliffs: a sensitive area
From Trouville-sur-mer to Villerville, 4 km of clay cliffs border the coast with gentle slopes and vertical walls reaching 60 m in height. This 135-ha area - called "Roches Noires" cliffs - is classified as part of the Espace Naturel Sensible. The seaside cliffs are always changing. This instability leads to the development of pioneer vegetation. Rocky reef flats also host several species of birds making this site a privileged migration and overwintering site.
Useful addresses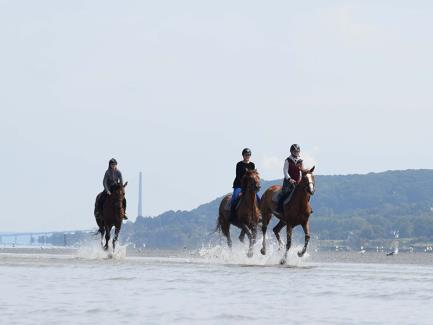 The trip
Ecuries Bellifontaines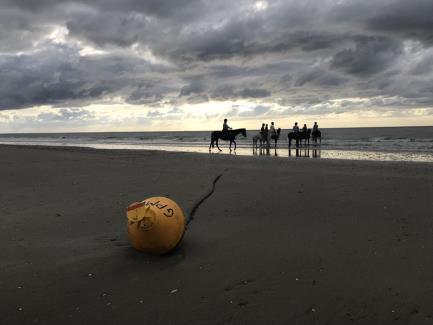 The trip
Centre Equestre de Blonville