Sporting Camps inDeauville: 1 week, 4 sports to try
What if you offered your children the unique opportunity to participate in an exceptional multisport camp? For the very first time, the "Sporting Camps inDeauville" bring together young people aged 8 to 18 for a week of training combining four Olympic sports that are emblematic of the region: tennis, horse riding, golf and water sports. The seeds of champion try out new sports during the school holidays and learn from the best in the profession. Cohesion, coordination and of course fun, this is the promise of Sporting Camps inDeauville. A unique experience to live.
Three exceptional formulas for all children
"Sporting Camps inDeauville", or sports camps, are five days of training where children discover the fundamentals of four different sports and yet so complementary. From morning to evening during the school holidays, they are fully taken care of by state-certified professionals, benefit from education adapted to all levels, all have lunch together and are provided with all the necessary equipment. In short, they just have to come dressed in their most comfortable outfit, everything is thought out and organized for them.
Aspiring athletes are divided by age group: Discovery courses for 8-12 years old and Advanced training for 10-18 year olds. During the discovery course, the children are introduced to all sports, the objective being to make them fall in love with one of these disciplines and that they decide to continue at the start of the school year. More advanced and intensive, the advanced training course focuses only on two sports (golf / tennis ou horse riding / water sports), which allows a more followed and personalized practice with the aim of improving physical and technical skills. It is quite possible for a child to start with the discovery course before continuing with the improvement course in the sport of his choice during the following school holidays.
Discovery course - 8/12 years old
Horse riding, tennis, golf and water sports
Choosing a sport for a child is often difficult, which is why the Discovery Course was created. An exceptional formula in inDeauville's DNA, young athletes learn the fundamentals of each discipline thanks to a tailor-made program. From 10 a.m. to 17 p.m. (lunch included):
2h30 of riding per week

4h30 of tennis per week

4 hours of golf per week

3 hours of kayaking per week

2 hours of bootcamp per week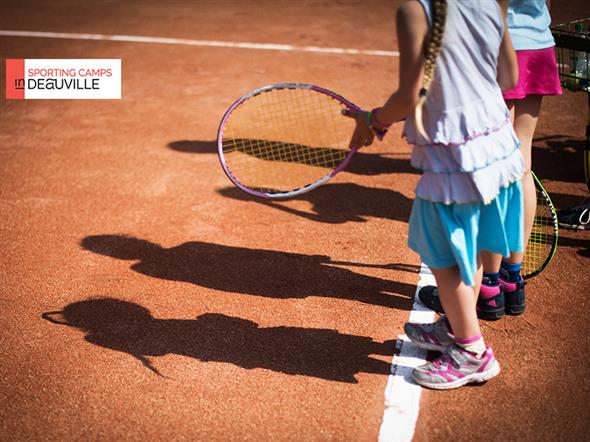 Discovery course - Sporting Camps inDeauville
Deauville Tennis
Boulevard de la Mer
France
+06 16 01 70 66 XNUMX
Advanced training - 10/18 years old
Golf & tennis
Many tennis players enjoy golf and vice versa. For enthusiasts and competitors at heart, thehe advanced training helps them develop their skills in concentration, patience, balance, technicality and precision. A complete job that begins in the morning with private tennis lessons before devoting himself to golf all afternoon. From 10 a.m. to 17 p.m. (lunch included):
1h30 of tennis per day

2 hours of golf per day

1h of physical preparation per week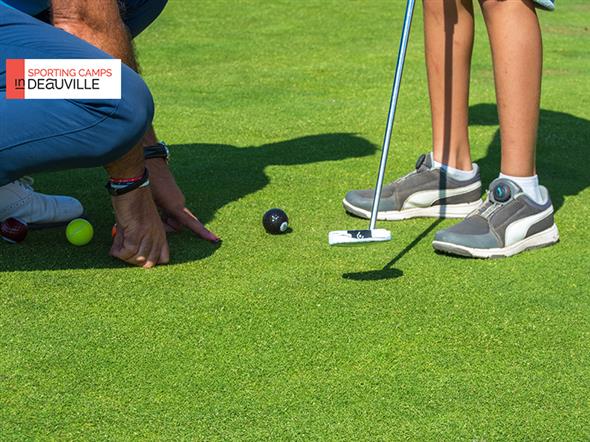 Golf / Tennis improvement course - Sporting Camps inDeauville
Deauville Tennis
Boulevard de la Mer
France
+06 16 01 70 66 XNUMX
Advanced training - 10/18 years old
Horse Riding & Water Sports
True immersion in the world of horses and sea sports, children progress significantly in a short period of time. As for riding, the mornings focus on practice but also on horse care and theoretical knowledge. After lunch, head to Trouville-sur-Mer beach for a kayak and wave-ski training at sea to learn to paddle and maneuver like a champion. From 9 a.m. to 16 p.m. (lunch included):
1h15 riding per day

1h30 of sea kayaking or wave-skiing per day

1h of physical preparation per week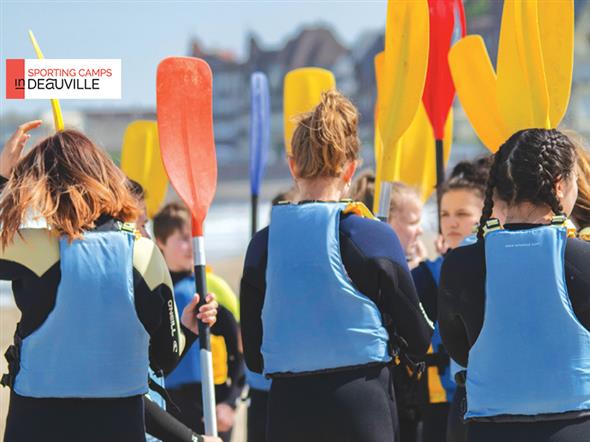 Equitation / Water Sports advanced training course - Sporting Camps inDeauville
International Horse Pole
Longines Deauville
France
+06 16 01 70 66 XNUMX
Teachers: 5 demanding sports pros
Christophe Pottier, professional golfer at Golf Barrière Deauville
Odile Nolet, riding instructor at the Pôle International du Cheval Longines-Deauville
Frédéric Torres, tennis teacher at Tennis de Deauville
Yoann Deschemaeker, kayak instructor at Concept Sport Emotion
Antoine Poullain, sports educator at Fit'Forme
The places: the best of sports equipment
Useful information
dates:

Fall Camps : from 25 to 29 October / from 1 to 5 November

Price: € 790

The price includes :

The care and supervision of the child from morning to evening from Monday to Friday

Lunch

Shuttle transfer with the teaching team between the lunch location and the afternoon activity

The services of sports stakeholders

The necessary equipment for the practice of each sport

Note:

Each child must be dropped off in the morning and picked up in the evening by a parent or responsible adult (brother, sister, grandparents ...). It is also necessary to provide:

An outfit suitable for sports

Sports shoes (or boots for riding)

A water bottle

A swimsuit and a towel (kayak)

A cap or a hat

Rain gear
---
The organizer: Académie Delaveau
Within the André Maurois high school in Deauville, the Académie Delaveau trains young riders from 11 to 18 years old who compete with their own horses through a sports-study program of excellence. The objective is to combine real education and intensive training of rare quality for the high level, carried by the three-time vice-champion of the Norman show jumping world, Patrice Delaveau. Hopes of sport riding are prepared and trained to become future champions. It is Sabrine Delaveau, director and founder of the Academy, journalist and wife of Patrice Delaveau, who imagined this innovative concept combining sport, studies and employment.
From Monday to Friday, on a principle of arranged schedules, the academics combine school and training in Longines International Horse Center - Deauville. They train all week under the leadership of Claude Castex and Tony Hanquinquant (for show jumping) as well as Bertrand Lebarbier (for work on the flat) who organize the sports program according to the project set up for each child, before going to competitions on weekends. In addition, mental and physical preparation courses are taught in order to develop and strengthen their competitive qualities.
Meeting with Sabrine Delaveau, creator of Sportings Camps inDeauville