Bernard Descamps
Photographer invited to the Festival Planche (s) Contact in 2016
The beach © Bernard Descamps, Deauville, 2016
Deauville Traveling beach © Bernard Descamps, Deauville, 2016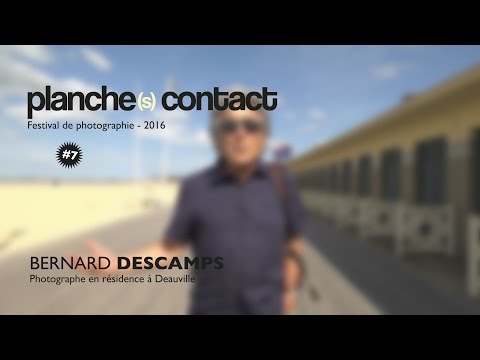 Deauville-traveling-beach
Bernard Descamps signs his first publication in 1974, in the Swiss review Camera. He exhibited the following year with Bernard Plossu, Bruno and Kuligowski, at the Bibliothèque nationale de France, in an exhibition organized by Jean-Claude Lemagny. A series of collective and personal exhibitions will follow, in France and abroad, in particular: in 1976 with André Kertész at the Leverkusen museum (Germany), in 1978 at the Georges Pompidou center for a personal exhibition, and in 1983 for Sahara, an exhibition presented at the Agathe Gaillard gallery in Paris.
In 1986, he was one of the founding members of the VU agency. Eight years later he founded alongside Françoise Huguier the Rencontres de la photographie africaine de Bamako.
His work was recently exhibited at the Hôtel de Sauroy during a retrospective presented in the fall of 2015, which gave rise to the publication of a new book, Where did our dreams go? (ed. Watermarks).
Bernard Descamps is represented by the Camera Obscura galleries, Paris and the Box gallery, Brussels.
In Deauville as part of the Planche (s) Contact festival
Master of black and white photography, Bernard Descamps loves the curves of beaches and deserts, the skies of birds and the seaside lights. Since the 80s, with a unique sense of framing and composition, Bernard Descamps has used the square format that purifies and recomposes the landscapes of Africa, the streets of Tokyo or the beaches of the North in winter.
In Deauville he resumed his favorite posture, that of the traveling photographer who walks for a long time and surveys the beach and the city, its empty or invested spaces, during the week and at weekends. This is how he reveals it, in nuances and in all its lights.

Bernard Descamps about his exhibition Deauville-traveling-beach :
""In Deauville, a Sunday
In the rain, on the boards,
She walks next
From an older man.
He says almost nothing
In Deauville this morning.
He walks on the beach
His second marriage"...
Thus begins the song Deauville without Trintignant by Vincent Delerm.
Here is a first photograph: that of a somewhat sad couple on the wet boards of Deauville ...
This is how I like to photograph. To be there, to stroll, to watch, to listen, to make me forget, to roam the places; with curiosity as the main driver, follow the very ordinary events that make up the daily life of a beach, wait for the ordinary to switch to the unexpected, the nice surprise, and try to fix it, to stop time ... what ambition! Attempt to catch those little pleasures that make good photographs. Those who carry a little emotion, like a song does. The photographs of this constant tracking shot on the boards of Deauville must be sung ... preferably in a low voice.."