Laura Serani
Artistic Director of Planche(s) Contact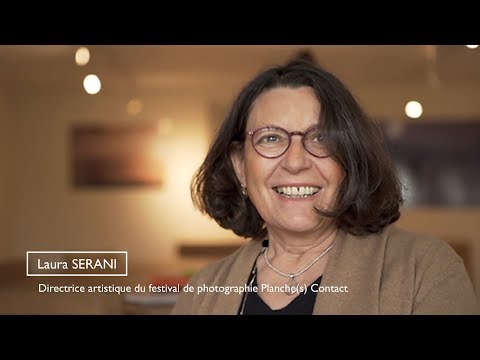 Artistic director, curator and author, Laura Serani regularly collaborates with numerous institutions and publishing houses in Europe and elsewhere. She was notably Artistic Delegate of the Mois de la Photo in Paris (in 2014 and 2008), Artistic Director of the Rencontres de Bamako, the African Biennial of Photography, in Mali (in 2009 and 2011), Director of the Si Fest (in 2007 and 2008) and has collaborated for a long time with Fotografia Europea - Reggio Emilia in Italy.
Previously, from 1985 to 2006, Laura Serani directed the Fnac Collection and the Fnac network of photographic galleries (Europe, Brazil, Taiwan).
Curator of countless exhibitions and multimedia projects, author of numerous books including: Photography between history and poetry (Mazzotta, Milan, 2002 and 2004), Inverno by Sarah Moon (Silvana Editoriale, Milan 2015 ), La vie en rose by Malick Sidibé (Silvana Editoriale, Milan 2010), Malick Sidibé (Collection Photo Poche / Actes Sud, Arles 2013 ), Frontiers and For a Sustainable World (Rencontres de Bamako / Actes Sud, Arles, 2009 and 2011), We have made a beautiful journey, with Jacques Borgetto, Bernard Plossu, Françoise Nunez and Sophie Zenon (Editions Filigranes, Paris 2010), Stardust by Amy Friend (L'Artiere , Bologna 2017), ...
And texts for books, including East of a new Eden, Alban Kakulya and Yann Mingard (Lars Müller Publishers, Basel 2009), Europe échelle 27, collective (Editions Trans Photographic Press/Signatures, Paris 2008), Land ends by Pavlos Fysakis (Babel, Athens 2010), South Africa: Six decades by Jurgen Schadeberg (Unisa Press, Pretoria, 2013), Morgante, by Nicola Lo Calzo ( Fratelli Alinari editori, Firenze 2011), Inside Niger by Nicola Lo Calzo (Kehrer Verlag, Heidelberg 2012), Concava (Far Fabbrica, Rimini) and M.eating by Maimouna Patrizia Guerresi (Skira, Milan, 2013), Casa Ghirri by François Halard (Kehrer Verlag, Heidelberg, 2013), Evanescences by Jacques Borgetto (Editions Filigranes, Paris 2016), Idyssey by Stefano De Luigi ( Editions Bessard, Paris 2017)
Editor for L'Artiere Collection in Bologna, since 2015, she has published Stardust by Amy Friends,(2018), The Polarities by Larry Fink (2017) , Promises to keep by Max Pam (2017) and Ultimo Domicilio by Lorenzo Castore (2015).
In charge of the editorial follow-up of the collection of Garage Photographie and Arnaud Bizalion editor, in Marseille, since 2015, she participated in the publication of Ceux qui restent by William Guidarini, Vélodrome by Lionel Briot, Prémonition by Cécile Menendez.
President of the Residencies for Photography Jury and consultant at the Fondation Les Treilles, since 2014. Curator of the 2017 edition of the Celeste Prize /Visible White, Laura Serani is and/or has been a member of several juries (Prix Scam/Roger Pic, Prix Niépce, Festival de la Luz Buenos Aires, World Press, New York Photofestival, Vipa, Manuel Rivera-Ortiz Foundation Prize, Circulations, Premio Emergentes Braga, Descubrimentos/Photo Espana, Villa Perochon, Pop Cap...), and nominator for various prizes (Prix Pictet, Mack Books, British Journal of Photography ...).