Well-being stays
from Villers-sur-Mer to Honfleur
What better way to pamper yourself than a hotel with a spa? Along the Côte Fleurie stand up to hotels, residences, villas and inns with wellness areas to laze around in a hot tub, relax for a massage and tone up during a yoga session. From 3 to 5 stars, by the sea or in the heart of a wooded park, an overview of 100% Zen addresses for body and soul relaxation.
Hotel Barrière Le Normandy *****
in Deauville
A legendary address in Deauville, the Hotel Le Normandy ***** offered a makeover in 2016 to open, within the Spa Diane Barrière Le Normandy, the Aerial Wellbeing Center for the Future. Its philosophy: to live an experience of total regeneration. In its relaxation area equipped with a heated swimming pool, a sauna and a hammam, this high-tech Spa combines tailor-made treatments of new generation and cutting-edge technology. This integrative approach meets the objectives of relaxation, energy, recovery, detox, beauty and slimming thanks to personalized programs available over 2, 3 or 6 days and à la carte treatments. Among the treatments offered, massages (sports with suction cups, slimming detox, gemstone therapy) and facial treatments (bio-energetic, laserhead, electrolift). In addition, the Tiger Yoga Club Deauville - at the same time yoga center, Pilates studio and care institute - offers different types of Yoga (Hatha, Ashtanga, Vinyasa and Yin) and Pilates classes, on the ground or on machines depending on cravings.
Hotel Barrière Le Normandy Deauville
09 70 82 13 14
Hotel Barrière Le Royal *****
in Deauville
Between glamor and tradition, the Hôtel Barrière le Royal ***** welcomes visitors to its 217 Rooms and 30 Suites in a cozy luxury style. In terms of well-being, the Spa Diane Barrière Le Royal has the watchwords of energy, serenity and balance. The Tiger Yoga Club Deauville is a benchmark in gentle gym, with its 12 different styles of Yoga taught daily. After a session, head to the Spa's sauna and hammam to promote muscle recovery and relaxation. In this club, body treatments are also signed Le Tigre, such as Ayurvedic massage, Shiatsu and Japanese Facial and complemented by the Aerial Wellbeing for the Future program.
Hotel Barrière Le Royal Deauville
09 70 80 95 55
Hôtel Barrière L'Hôtel du Golf ****
in Saint-Arnoult
In the heart of a green countryside, nestled on the heights of the Côte Fleurie, the Hôtel Barrière L'Hôtel du Golf **** invites you to relax in a casual chic atmosphere mixing Scottish tartans and Chesterfield furniture. For a break from relaxation or after a good swing on the golf course, visitors are invited to unwind at the Spa Diane Barrière L'Hôtel du Golf. From the heat of the sauna or hammam to the regenerating cold of cryotherapy while enjoying invigorating fitness, there is something for everyone. Facials are provided by pure and raw products from the Biologique Recherche brand; massages for the body call for travel thanks to Ligne St Barth. The promise of feel the refinement on the skin of a skincare line inspired by fragrant flowers, exotic fruits and the relaxed lifestyle of the Caribbean. Characteristic product? The "Fairways" treatment, rhythmic modeling of enveloping maneuvers and 2 golf balls.
Hotel Barrière L'Hôtel du Golf Deauville
09 70 82 03 33
Pierre & Vacances Premium ***** Residence the Peninsula of La Touques
in Deauville
The typical half-timbered architecture imbued with the seaside atmosphere makes the Residence Pierre & Vacances La Touques a destination of choice for a stay in Normandy. On the well-being side, the Deep Nature Spa La Touques offers 3 treatment cabins including a double, a sauna, a hammam, a salt cabin, a snow sky, sensory showers, a relaxation room and a herbal tea room. It offers a wide range of treatments thanks to the prestigious brands of natural cosmetics Deep Nature and Algotherm. Natural, mineral, geo-sourced active ingredients directly from the four corners of the planet, such are the cosmetic products used at Spa Deep Nature La Touques.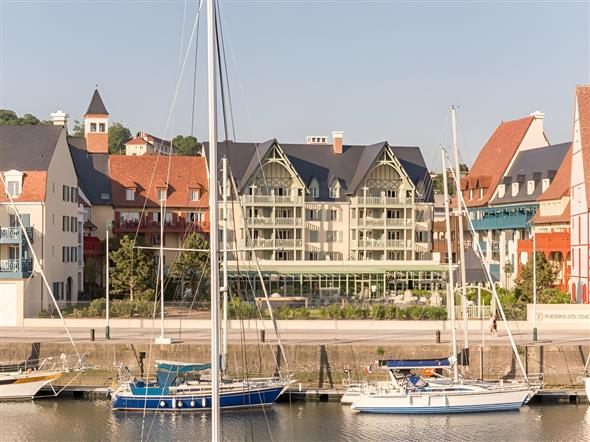 Pierre & Vacances Premium - Residence Presqu'île de la Touques
02 31 14 08 00
Domaine de Villers & Spa ****
in Villers-sur-Mer
Charming residence, nestled in a magnificent 2-hectare park overlooking the bay of Deauville and the Vaches Noires Cliffs of Villers-sur-Mer, the Domaine de Villers & Spa offers a bucolic setting between land and sea. The Deauville Spa is freely accessible to all hotel guests and to the public on condition (one hour treatment + entrance to the Spa). We start with a dip in an elegant indoor swimming pool with water heated to 30 °, before lounging on the terrace under the Normandy sun. After a visit to the whirlpool, hammam or sauna, head to the solo or duo massage rooms, where well-being professionals provide facials, massages, scrubs and wraps with delicious "Cinq Mondes" products. . To allow yourself an exceptional moment, we opt for the privatization of the swimming pool and the hot tub, a romantic break with champagne.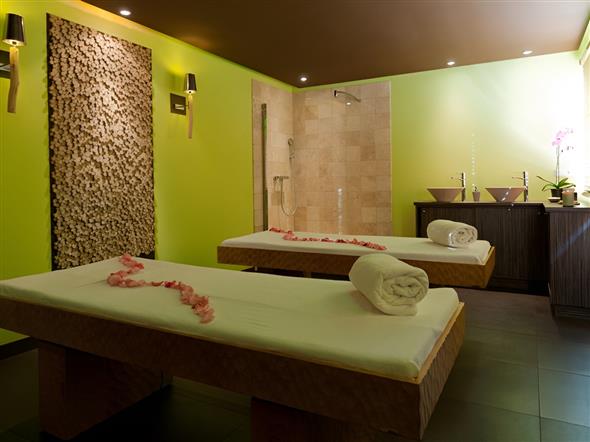 Domaine de Villers & Spa
02 31 81 80 80
The Manors of Tourgéville ****
in Tourgéville
Located in a vast park of 7 hectares, the Manors of Tourgéville **** were once owned by the famous director Claude Lelouch, who built the main building there. Today transformed into a 4-star hotel, the Manors house a luxurious Spa, with an indoor swimming pool heated to 28 °, a Technogym fitness area with a view of the Manors' park, sauna and three charming relaxation cabins. On the Spa menu, face and body treatments and massages made with the Esthederm brand, based on natural products. The signature care of the Manors? Rider / Rider Care, preparing the skin with a deep cleansing for modeling the trapezoids, arms and hands. We should also mention "Cellular Youth" treatments, to rejuvenate the skin and reduce the effects of time on the face, and "Au fil des seasons" facial treatments, which prepare the skin for each period of the year.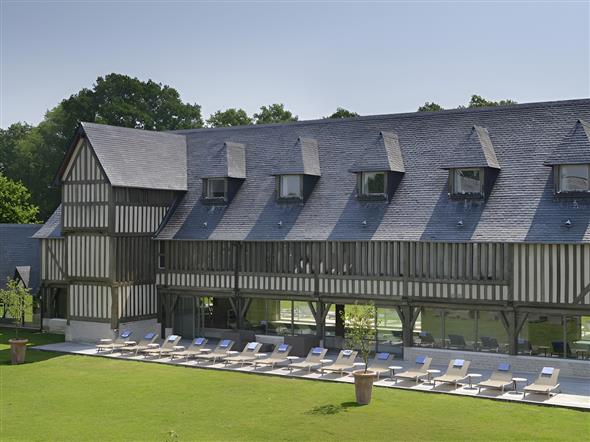 LES MANOIRS DE Tourgéville
02 31 14 48 68
Residence La Closerie ****
in Deauville
The Residence La Closerie **** has taken up residence in a red brick building built in the style of the large Norman villas. Its wellness area has a swimming pool heated to 27 °, a sauna, a hammam and a whirlpool. The treatments offer a journey to the olfactory senses thanks to Charme d'Orient Paris products. Egyptian scrub with Alum stone and Argan oil, Polynesian massage with Monoi oil, facial treatment with shea butter and hot stone massage invite you to let go for a few hours.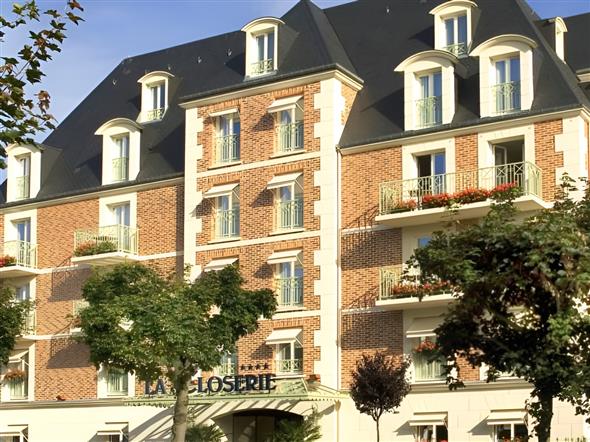 Residence La Closerie
156 Avenue of the Republic
France
02 31 14 15 16
Almoria Hotel ***
in Deauville
In the heart of Deauville, the Hotel Almoria *** enjoys an ideal location, close to the train station, Place Morny and the many shops that surround it. It has a sauna, a hammam, a Balneo bathtub and a hydrojet table accessible during the day. Its three treatment rooms "Les Planches", "Les Parasols" and "La Plage" provide an ideal setting for lounging in the world of Planches de Deauville. We go there for massages of the world, reflexology and for future mothers. Scrubs are offered by practitioners, who choose the most suitable treatment depending on the skin type and olfactory preferences. Facial treatments, beauty treatments for hands and feet complete the Spa menu. For clients outside the hotel, the Spa can be privatized on weekends with an accompanying glass of champagne or a non-alcoholic cocktail per person and macaroons. Ideal for enjoying a moment in solo or duo.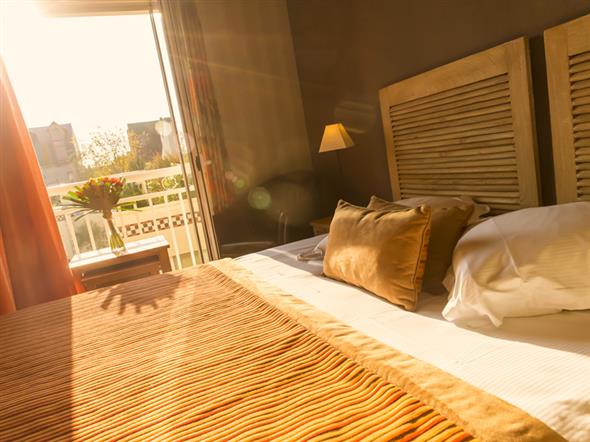 Almoria Hotel & SPA
02 31 14 32 32
The Trophy By M Hotel & Spa ***
in Deauville
In a chic style combining traditional and modern, Le Trophée by M Hôtel & Spa *** offers two relaxation areas within its Spa Esprit de Spa by M. Choice of the cocooning atmosphere of the S'prit relaxation area of Spa with sweet exotic scents with Finnish sauna with lava stones, hammam, hydromassage bath with oils, lounge-herbal tea room and treatment rooms. The services offered include Creole, Oriental and Indian massages and facials using Equatoria products. Various types of therapeutic treatments are offered, including aromatherapy, Ayurvedic treatments and hydrotherapy. Its more? The private Aquabike cabin, allowing you to work at your own pace in complete autonomy. And for moments of well-being in complete privacy, opt for the Esprit de Spa Suite, a private space to be enjoyed alone or in pairs. The suite offers the same facilities as the relaxation area, a hydrojet and an outdoor two-seater spa as a bonus.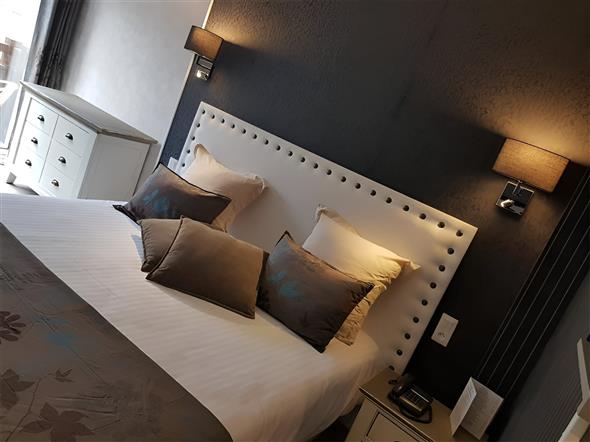 LE TROPHEE by M. Hôtel Spa
81 rue du Général Leclerc
France
02 31 88 45 86
Villa Augeval Hotel & Spa ***
in Deauville
Villa Augeval *** is a charming hotel decorated with almond green half-timbering which adjoins the Deauville-La Touques Hippodrome and the Elie de Brignac horse auction room. Lovers of tranquility and well-being also go there to relax at the Augeval Spa, a private area equipped with a sauna, a hammam with rain shower, a latest generation hydrojet table heated to 35 °, a 5-seat balneotherapy spa and a herbal tea shop. The swimming pool, open in the summer season from April to the end of September, is ideally heated to 28 °. The treatment menu is made up of Swedish, Balinese and Ayurvedic massages, facial treatments with products from the cosmetic brands Nature Effiscience and Nu Skin and body scrubs. Various types of therapeutic treatments are offered, including aromatherapy and reflexology treatments.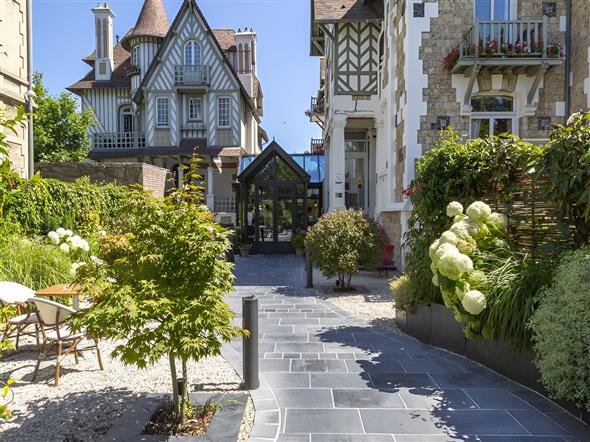 Villa Augeval Hotel & Spa
15 avenue Hocquart de Turtot
France
02 31 81 13 18
Hotel MGallery des Cures Marines Trouville Thalasso & Spa *****
in Trouville
Installed in the old casino built in 1912, the Thalassotherapy of the Cures Marines of Trouville is inspired by the first sea baths. Combining natural benefits of seawater and technology, the Cures Marines cover all needs through cures of '' 1 to 6 days: beauty, stress, pregnancy, nutrition, sleep and search for vitality. We experience personalized coaching, respirology and cryotherapy in a dry cold bath at -195 ° C. For the more chilly, head to the heated seawater swimming pool, the hammam or the sauna. The Sports Club offers a variety of activities thanks to its indoor facilities: the fitness room, which can accommodate Pilates and Circuit training, is coupled with swimming pool lessons (Aquafitness, Aquabike, Aquapilates ... ). By the sea, the Thalasso takes advantage of the large expanse of the beach to organize Beach Run, Beach Walk and Sea Sand.
Temporarily closed.
Hotel MGallery des Cures Marines Trouville - Thalasso & Marine Spa
02 31 14 26 00
Hotel La Ferme Saint-Siméon *****
in Honfleur
Formerly a typically Norman inn that inspired the biggest names in Impressionism (Monet, Boudin, Courbet ...), the Ferme Saint-Siméon ***** is an exceptional establishment in terms of well-being. Located between the heated swimming pool, the solarium, the hammam and the whirlpools, the Spa is one of a kind. On the one hand, the organic cosmetics brand "Clé des Champs", which integrates the rhythm of the seasons into the composition of the treatments. Thus, throughout the year, the menu evolves with treatments based on poppies in spring, raspberries and Aloe Vera in summer, chestnuts in autumn to finish with honey, vanilla and wax. of bees in winter. On the other side, the Signature treatments of Ferme Saint-Siméon with apple, 100% organic, for a relaxing break with the fruity scent of Normandy.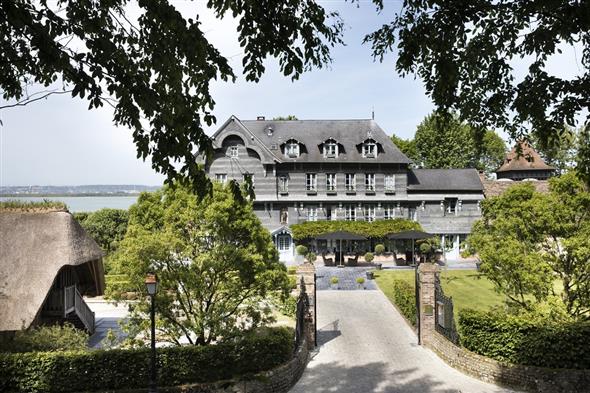 Hotel La Ferme Saint Siméon ***** - Relais et Châteaux
02 31 81 78 00