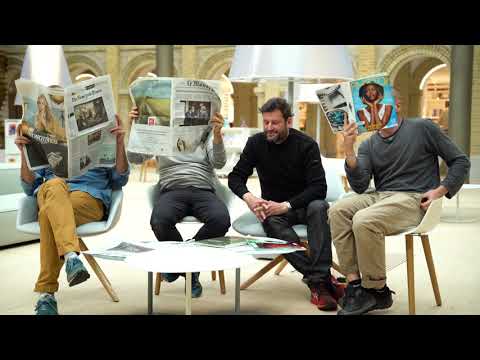 Guest Photographer - 2021 Contact Plates
Riverboom
Riverboom is a team (Paolo Woods, Gabriele Galimberti, Edoardo Delille and Claude Baechtold) founded by war reporters on a moonless night in northwestern Afghanistan, in an infamous valley infested with wolves, bandits and Taliban on the run. This is the valley where the Boom River flows. Riverboom has published several collections of travel guides, Baechtold's Best, classifies unusual destinations into visual families, such as the North Pole, Afghanistan ...
And in the middle flows the river
In 2019, after Athens versus Sparta, Oxford versus Cambridge, and many others, the photographers of Riverboom took center stage in the competition that continues between Deauville and Trouville-sur-Mer. From the most banal clichés and the most classic stereotypes, they staged a visual competition which tells us that we only exist in the face of our opposite, that we are two necessary and irreplaceable parts. This is how we discover that Yin and Yang is indeed a Norman specialty.
Big kisses from the Côte Fleurie
In 2020, the Riverbooms returned for a new wink in the same spirit of benevolent provocation entitled "Big Kisses". The project for this series of photographs was born at the end of the containment of the COVID 19 crisis, when all contact was dangerous.
Riverboom in Normandy, in 2021
Riverboom returns to the scene of the crime and wonders how long will eternity last. A poetic work that combines performance, calligraphy and endless search for time, produced in the most symbolic place of Deauville, that part of the beach which only shows itself a few hours a day, engaged in a dance with the sea, choreographed by the moon.
---
Installation and projection
Les Franciscaines, 145b Avenue de la République - Tuesday to Sunday 10:30 am to 18:30 pm
Pier, Quai des Yachts
---