Rent a villa for a reception
Seminars, professional days, festivals, exhibitions, family celebrations… these large residences are made to host large numbers.
Villa Strassburger
Jean-Francois Lange
Villa Strassburger
In a green setting, Villa Strassburger is the ideal setting to host weddings, seminars, congresses, conferences ... It is made up of 3 lounges on the ground floor with a total area of ​​170 m², opening onto a terrace with a view on a regionalist garden. In summer, possibility of outdoor cocktail.
This imposing residence, a historical monument since 1975, is the symbol of Deauville during the Belle Époque. it was built in 1907 on order of Baron Henri de Rothschild on the site of the Ferme du Coteau, belonging to the family of the novelist Gustave Flaubert. Owned from 1924 by the American press publisher and horse enthusiast Ralph Beaver Strassburger, the villa was bequeathed by his heirs to the City of Deauville in 1980.
Designed by architect Georges Pichereau, its design combines references to scholarly architecture, driven by a search for aesthetics, and augeronne, reinforced by a park planted with apple trees.
You will like...
- The three adjoining salons, adorned with old rose and numerous paintings of horses.
- The terrace with a view of the garden.
- The original mosaic tiling in the entrance hall.
- Period furniture from its last owner.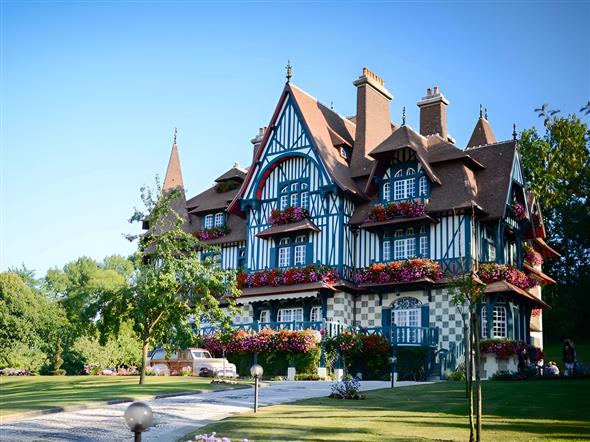 Villa Strassburger
+02 31 14 02 08
Villa Le Cercle
With its 3 communicating lounges over 660 m2, its magnificent garden, its terrace with a view of the sea, the Villa Le Cercle welcomes all receptions.

The brick facades of the Circle were built in 1873 for the Jockey Club de Paris, which wanted a summer annex. Its architecture is inspired by the Hôtel de Salm, a private mansion in Paris (Musée de la Légion d'Honneur since 1804), which had already inspired Thomas Jefferson, then United States Ambassador to France, for the design of the White House. !
You will adopt ...
- The club spirit of the four luxurious lounges, three of which are in a row with large bay windows facing the sea.
- Large format photos of Deauville from the 1920s taken by the Séebeger brothers.
- The woodwork and fireplaces preserved from the original decoration
Villa Le Cercle