This summer, play to win!
With the Leisure Passport
Try out a variety of activities inDeauville with your family. Bowling, cinema, kayaking, tennis or the little tourist train... at each new stage, get your passport stamped to accumulate points. At the end of your vacation, hand it in at one of our Tourist Information Offices* or at the Tourist Office in Trouville-sur-Mer. You will then be able to consult your position in the summer ranking on the indeauville.fr website. The first ten families/tribes will be rewarded at the end of the summer. All passports will be collected for a draw on August 28.
*Blonville-sur-Mer Tourism, Deauville Tourism, Touques Tourism, Tourgéville-Bénerville Tourism, Villers-sur-Mer Tourism and Villerville Tourism.
How to participate?
 

Pick up your passport

Visit one of our participating partners or one of our six Tourist Information Offices*.

 

Collect points

After each activity consumed, get points and have your passport stamped at each passage

 

Drop off your passport

At the end of your vacation, drop off your passport at one of our Tourist Information Offices* or at the Tourist Office of Trouville-sur-Mer

 

Win gifts

Try to win prizes: 10 winners in the prize list and 10 winners in the draw on August 28. List of prizes to discover here
Awards
Congratulations to Mr. Locasto, the lucky winner of the first edition of the Leisure Passport!
We would like to thank all the partners who participated in this operation and who generously offered the winning prizes: La Closerie in Deauville, the bowling alley in Deauville, the tennis courts in Blonville, Zlow Concept store in Trouville-sur-Mer, the Hangar à Enigmes in Deauville and Trouville-sur-Mer, MAB experience in Pont-l'Evêque, the Trouvillaises, the Pôle Nautique in Blonville-Villers, Calvados Experience in Pont-l'Evêque, the Distillerie Drouin in Coudray-Rabut, the Paleospace in Villers-sur-Mer and the restaurant le Pesked in Deauville
Participating businesses
BOWLING DEAUVILLE
Located on the road to Paris at the entrance of the city, the Bowling de Deauville welcomes you all year round in a pleasant and spacious setting. A moment of relaxation guaranteed, neither rain nor unforeseen events can disturb your event.
For one game per person:
More than 120 = 5 points

Between 100 and 120 = 4 points

Between 80 and 100 = 3 points

Between 60 and 80 = 2 points

Less than 60 = 1 point
Calvados Christian Drouin
This family and artisanal distillery is entirely dedicated to apples and calvados, in a set of half-timbered buildings from the 17th century. The passion, the taste for craftsmanship and the love of the products orchestrated by the Drouin family for 3 generations have been rewarded by more than 543 medals and prizes of honor.
1 guided tour of the distillery and tasting = 5 points
Calvados Experience
Dive into a multi-sensory universe! In the heart of Normandy, on the land of the oldest Calvados House, come and discover Calvados Experience, a unique site in France. Experience the history of Normandy from the Vikings to the present day. From the apple to Calvados, witness the mysterious and magical transformation of the original fruit. An unforgettable journey, from the magnificent Normandy orchards to the pleasure of tasting.
1 visit with tasting = 2 points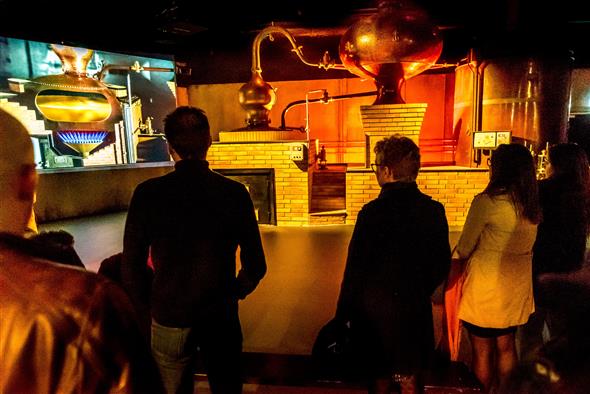 Calvados Père Magloire, l'Experience
02 31 64 30 31
Cinema of Villers-sur-Mer
Air-conditioned room of 188 seats with original decoration with portraits of mythical artists, the Casino cinema offers Dolby Stereo sound and digital projection for your comfort.
1 adult or child session = 1 point per ticket purchased
Eco-domain of Bouquetot
Eco-domain since 2009, the site wants to be a place of reference for the development of innovative use of natural resources. The objective is to develop the land and the farmhouse through the installation of ecological, economic and educational activities.
1 guided tour of the eco domain or treasure hunt = 1 point per guided tour or treasure hunt
Golf Academy
The Golf Academy in Deauville is open to players of all levels, adults and children (5-17 years old).
Discovery of 30 min with an instructor = the less strokes generates the more points with a max of 20 points
The Enigma Shed
Le Hangar à Enigmes is the first Escape Game and Virtual Reality Space on the Côte Fleurie. Our eight escape game rooms offer you a total immersion and guarantee you a total change of scenery! In groups of 3 or 6 people, you are locked in a room dedicated to a specific theme and have 60 minutes to escape by solving riddles.
1 escape game for 3 to 6 players = 5 points
Happy Deauville Club
On the Deauville seafront, the Happy Deauville Club offers activities for children aged 5 to 14. Several options are available: free access to the activities under the supervision of parents or registration for a half-day or a full day as part of a program proposed and managed by activity leaders. Children have access to indoor activities (billiards, video games, board games, wood games) and outdoor activities (trampoline, beach volleyball, beach soccer, self-supported adventure course, etc.).
1 skill contest in the trampolines equipped with basketball boards (relays from 2 to 6 people) = more baskets scored more points generated with a maximum of 20 points
Tourist Office of Trouville-sur-Mer
The tourist office of Trouville-sur-Mer proposes guided tours all summer long in the heart of the seaside history, to discover the architectural heritage of the city ("Côté Baigneurs"). From the Viking origins of the resort to the fisherman's trade, a guided tour punctuated with anecdotes takes the walker to the heart of the history of our fishing port ("Côté Pêcheurs").
1 guided tour Fishermen or Bathers = 1 point per ticket purchased
32 Boulevard Fernand Moureaux
14360 Trouville-sur-Mer
02 31 14 60 70
Paleospace
The Paleospace of Villers-sur-Mer is an atypical museum that invites you to go back to the Jurassic period, 160 million years ago, when a warm sea covered Normandy. Spectacular, interactive and sensory reconstructions make it a cultural, scientific and fun place.
1 free adult visit (museum or planetarium) adult + 1 child = 1 point
Small Tourist Trains
Pôle Nautique Villers-Blonville
54 Avenue Michel d'Ornano, 14910 Blonville-sur-Mer or Rue Alfred Feine, 14640 Villers-sur-Mer / 02 31 87 00 30
1 hour of single kayak rental = 1 point

1 hour of double kayak rental = 2 points

1 hour of paddle rental = 2 points

1 hour of giant paddle rental = 4 points

1 hour of catamaran rental = 4 points
Tennis
Les Trouvillaises
Les Trouvillaises rents out all kinds of wheeled vehicles: classic or not, karting, fatbikes, tandems, rosalies... here, we advocate gentle travel, especially when you want to discover Deauville and Trouville-sur-Mer. A bike ride is the assurance of enjoying the beautiful half-timbered houses that line the streets of the two seaside resorts and it is the possibility of exploring beautiful viewpoints by stopping easily.
1 rosalie rental for 2 adults for 1 hour = 5 points
Zlow Concept Store
Contraction of Zero (Waste) and Slow (Life), Zlow is a collaborative concept-store which proposes a complete offer around sustainable development (sale of everyday objects, learning around workshops and distribution of local products) and the fight against waste of private gardens in Trouville-sur-Mer.
1 creative or well-being workshop = 2 points
26 rue Victor Hugo
14360 Trouville-sur-Mer
06 87 32 33 45
Regulation
To know the rules of the "challenge loisirs", click here.
Where to find participating businesses?