Paddling, windsurfing and sandyachting: the great success of sand sports
The stand-up paddle, a large plank on which you can stand up, also called SUP, is trendy on the beaches. It is ideal to discover the coast, as it is both suitable to calm and turbulent sea. In Villers-sur-Mer, you can find paddles for 1, 6 or 8 people!
Do you love speed? At the Cercle Nautique de Villerville, you can rent the windsurf board you couldn't bring with you on holiday to finally go offshore and enjoy a nice view on the coast.
Are you tempted by the sand instead of the sea? In a semi-supine position, you can catch the wind with a sand yacht on the beach of Villers-sur-Mer, during a supervised tour. In most cases, you can also approach the Vaches Noires cliffs, site of great archaeologic richness.
Cercle Nautique de Villers-sur-Mer
Useful addresses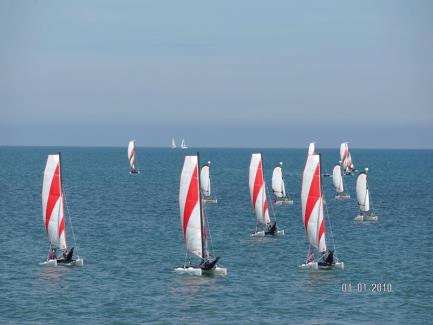 The trip
Pôle nautique Villers-Blonville
The Nautical Complex of Villers-Blonville (PNVB) results from the merger between the Cercle...
The trip
Cercle Nautique de Villerville
At the Cercle Nautique of Villerville, you can rent sailing boats or a windsurf board in a...