Claude Nori
Guest photographer at the Planche(s) Contact festival in 2017
Claude NORI
Claude NORI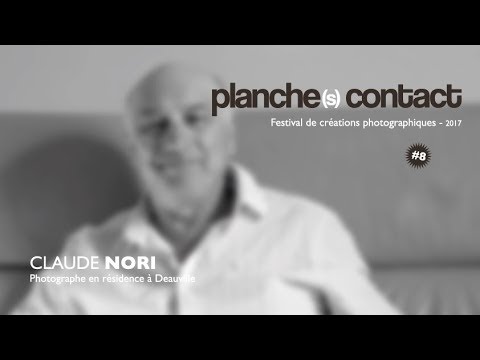 Born in 1949 in Toulouse to Italian emigrant parents, Claude Nori understood the expressive potential of photography as early as 1968, even though he was destined for the cinema. In 1974, he founded Contrejour, together with Bernard Plossu and a group of agitators, photographers and critics. At the same time a newspaper, a publishing house and a gallery in Montparnasse, Contrejour quickly became the place where new photography met and spread. Claude Nori later created the magazine Camera International, the Cahiers de la Photographie and published nearly 140 books on the main French photographers.
In 1999, with his wife Isabelle Nori, he moved to Biarritz where they founded the Terre d'Images festival.
He is the author of several books on Italy, adolescence, seaside towns ( Un été Italien, La Géométrie du flirt, Stromboli, Un photographe amoureux....), works that he has been experimenting with as creative territories since his first book Lunettes published in 1975 and prefaced by Agnès Varda.
Latest exhibitions: Photomed Festival (Sanar), Château d'Eau (Toulouse, 2011), Valid Foto Gallery (Barcelona), Rencontres d'Arles (2011), Maison Européenne de la Photographie (Paris, 2011), Polka Gallery (Paris, 2015, 2016).
Claude Nori about his exhibition Deauville, Dolce Vita:
"The seaside towns are all alike and all different. You leave your troubles behind, you breathe easier, you contemplate the sunset, the woman you love silhouetted against the sea or the ocean at dusk.
We throw ourselves into the water, the salt sticks to our skin, we swim, we dry ourselves in the sun, the rain surprises us, we smile, we are alone, happy, we are sad, we have a drink, maybe even two in the salons of a Grand Hotel, the bears pass by, dolce farniente.
And then a happiness passes on a bicycle, so simple, moving, blond hair, a braid, a smile, a simple deep look, we want to leave everything, to remake a life, to make cinema.
Deauville, unforgettable images, Anouk and Jean-Louis, and maybe also Marcello and Anita because the Dolce Vita is also hidden where we least expect it, between dream and reality on the wet boards of a summer night. It is so strong and so difficult to photograph a happiness which passes and runs away too quickly, lovers who kiss each other left, Coline, Sarah, Isabelle, Marie who take the light. Already the Dolce Vita slips through our hands but some grains of photography remain stuck to our fingers."