Nature & Gluttony
This boutique, run by Linda Thierry, is original ... almost unprecedented: it contains everything that Normandy makes good and organic. Sweet and savory groceries, cellar, andouille and fresh fruits and vegetables.
We are a family whose members share the same values: nature, local, producers, short circuit, environment, exchange.
Business management, marketing, teaching ... Linda looked for her way a little before launching out in Villers-sur-Mer in 2017. Helped by her companion, Rémy, market gardener installed at the Bouquetot eco-domain, she decided to open a boutique of products dedicated to Norman producers (85% of what it sells) and if possible organic. In the heart of Villers-sur-Mer, opposite the Hurricane Bar - it sells fruits and vegetables from Remy to the Villersois and attracts large numbers of tourists looking for Norman products and curiosities. In its wooden shelves, one hesitates between apple jelly of Saint André d'Hebertot, Andouille de Vire, the famous spirulina or the traditional ciders and perries.
You can also buy Rémy's products on the Villers-sur-Mer market on Tuesdays and Fridays, and on Saturday mornings in Dives-sur-Mer where he runs a stand. Linda also participates in all events that have a link with gastronomy such as the shell festival, the sea festival, the Christmas markets. And also offers tailor-made for groups: tastings of Norman products.
We go there for discover Norman rarities and in particular the products of the Bouquetot eco-domain where Remy works in permaculture and biodynamics alongside producers committed to environmentally friendly agriculture.
You will like : discover the largest Norman beer cellar in the area. Linda Thierry is certainly the best ambassador of a gourmet but creative Normandy who has the audacity to produce Gin, Vodka and wines.
The star of the store : an organic beer brewed in Villers-sur-Mer under the name of Bel Orge ...
ADDRESS BOOK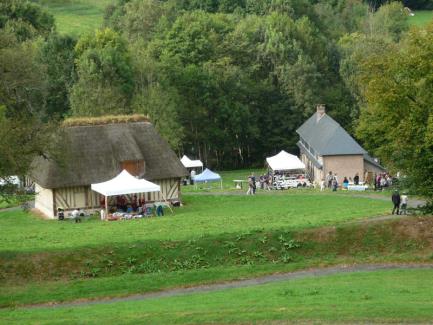 The exits
Bouquetot eco-domain
Former large livestock farm in the Pays d'Auge spanning 68 hectares, the Bouquetot estate ...