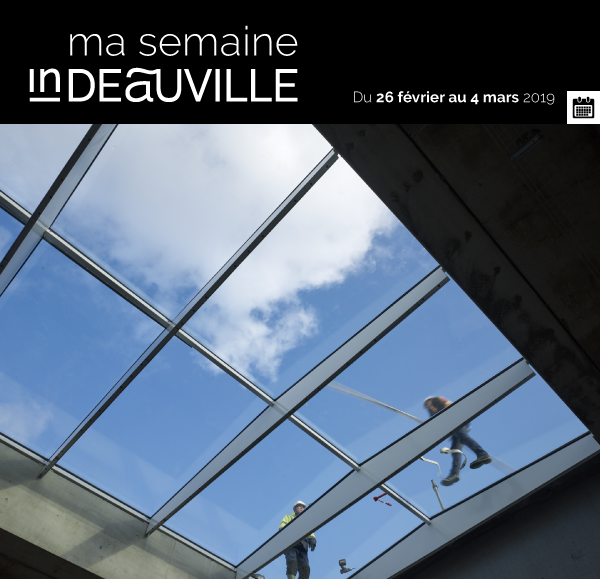 DEAUVILLE
Saturday 2 March
_________
The 2018 season | 2019
"I have doubts" by François Morel
COMPLETE
Thirteen years after the disappearance of the brilliant humorist, François Morel takes up the most famous texts of Raymond Devos, exceptional juggler of words with dazzling texts. Also accompanied by his pianist and musician accomplice, François Morel gives body and life to the one who marked his adolescence and gave him a taste for the only ones on stage.
DEAUVILLE
Friday 8 March
_________
Normans in mind:
Book your day
This is the eighth time that the City of Deauville has organized the event and provided support to women who want to move forward. From time management to digital tools, from job search to business creation: workshops have been multiplied on the sidelines of meetings. For the first time this year, an "employment & recruitment" space will open, where human resources professionals will give concrete advice.
The Easter Festival allows each spring a hundred young instrumentalists to meet with friends to approach within the most diverse ensembles the whole repertoire of chamber music, from trio to orchestra and baroque music to large pages of modern music. This year, 9 exceptional concerts are on the program.
DEAUVILLE


Friday March 1 and Saturday March 2
_________
Horse races :
end of winter meeting
The jockeys find the fiber-sand track at the Deauville-La Touques racetrack for the last two Plat race meetings of the season.
VILLERS-SUR-MER

February 26, 27, 28,
March 1st and 4th

_________

Workshop - course: Fossils, shells & crustaceans

Learn to recognize the fossils found at the foot of black cows and leave with your discovery notebook.

TOUCH

Wednesday February 27

_________

Wednesday stories: Pirates

Come listen to the stories and tinker with the animators of the library. From 3 years old.

DEAUVILLE

February 27 to March 3

_________

Micro-madness:
welcome to museums but not only!

This week: take advantage of thematic tours, immerse yourself in virtual reality, share your readings, learn electronics or embroidery, listen to puppets and attend a conference visit to the Museum of Natural History in Lille.
DEAUVILLE

Thursday February 28

_________

Genealogy Workshop

On the program: humorous genealogy of the Kings of France in pictures.

DEAUVILLE

Saturday 2 March

_________

Chef's Soup

On the initiative of the Lions club of Deauville-Trouville, 17 restaurateurs from Deauville and Trouville-sur-mer will bring back soups which will be sold for the benefit of the fight against childhood cancer.

TOUCH

Saturday 2 March

_________

Theater workshop for teens and show

The workshop will bring teens to reflect and exchange on sexuality and its representations between adolescents. It will be followed by a show which tackles the subject under the guise of humor and crazy situations.
DEAUVILLE

Saturday 2 March

_________

Revue-dinner-spectacle: "Deaullywood"

Through the evocation of a few films and filmmakers who have become cults, dance, song and comedy serve the sequence shots of this 7th art.

VILLERS-SUR-MER

Saturday 2 March

_________

Young audience concert
Laurent Touceul

Author, composer and performer of 5 albums of French songs, Laurent Touceul wanted this time to make an album for 5 to 10 year olds!

DEAUVILLE

Sunday 3 March

_________

Musical show: "Paris, the show"

To the tunes of Piaf, Aznavour, Chevalier, Trenet, Montand or Brel, this musical features the greatest French post-war songs, which contributed to the reputation of the City of Light.
The collection of your personal information is carried out by the SPL territory of Deauville for its own and exclusive use.
This registration is subject to a declaration to the CNIL (National Commission for Information Technology and Liberties).
In accordance with the Data Protection Act and the GDPR, you have the right to access, modify,
rectification and deletion of data concerning you. To exercise this right, send an e-mail to communication@indeauville.fr.
Photographs: © Naïade Plante / Sandrine Boyer Engel / All rights reserved