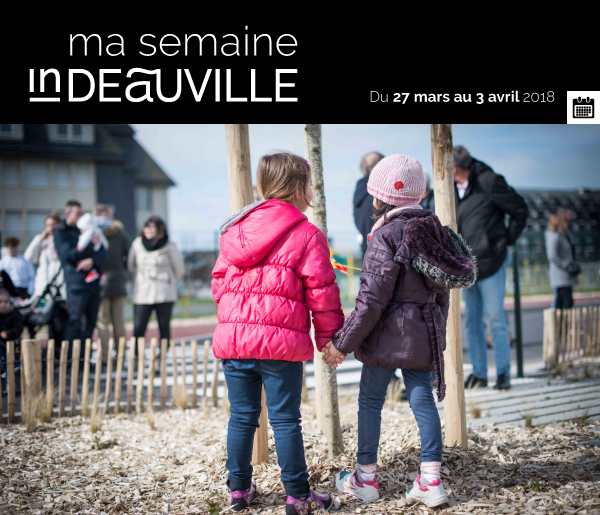 THE PHOTO OF THE WEEK
A child a tree for a sustainable Deauville
It was this weekend, the young Deauvillais parents planted a tree for
celebrate the arrival of their child. A symbolic action that marks a collective commitment
for a sustainable and quality environment. This time it's at the entrance to Port Deauville
opposite the Estuary that the demonstration was taking place. The natural spaces of the neighborhood
will gradually be upgraded as part of its redevelopment.
Du 31 March to 2 April
________
Contemporary art for everyone
After ten years of exhibition at the Carrousel du Louvre in Paris, Art Shopping, the international meeting place for the general public of contemporary art, sets up for a first edition in Deauville.
Nearly 80 French and international artists and galleries from all disciplines
(painting, sculpture, digital art, photography…) are expected.
Du 31 March to 2 April
________
Playmobil®, ahead of the stories
The association with the evocative name - Smile-Compagnie - will make you dream: thousands of figurines compose their giant models on themes like the last album of Asterix or the Heroic Fantasy represented by a fortified castle, references to the History with a renaissance castle and its French gardens, the world of the train in 1900, the American wedding ... Sales, fun activities and workshops will also be offered throughout the event.
We cannot celebrate Easter without chocolates, the little ones will go in search
chocolates hidden in the garden by the Bells under the tender eyes of the older children.
Easter is ageless, everyone can enjoy the best chocolates,
white, milk or black, in the form of rabbit, hen, bell or egg.

Sunday 1st April
________
Easter egg hunt, you have the choice of ambiance ...
As for your chocolates: our addresses here !
________________

Did you buy your Easter Festival tickets?
VILLERS-SUR-MER

Du 1er April 2018 au February 29 2020

________

"The Sharks: 430 million years of evolution"

Lords of the seas, sharks have occupied the ocean for 430 million years.

Discover their great diversity during this temporary Paléospace exhibition.

TOUQUES

Du March 30 au May 27

________

Lace,
from sculpture to jewelry

Contemporary lace is transposed into new materials. The exhibition "The lace effect" shows a diversity of creative approaches.
VILLERS-SUR-MER


Sunday 1st April
________

Discover the Jurassic
The Paléospace presents a rich collection of fossils from the cliffs of the Black Cows. A fun visit for young and old.
BERNERVILLE-SUR-MER

Monday 2 April

________

Mont-Canisy, a natural site
and history

Mont-Canisy offers an exceptional panorama on the Côte Fleurie. Its strategic position south of the Seine bay will result in it being transformed into a coastal artillery position.
DEAUVILLE

Sunday 1st April

________

Garage sales

of the Sports Association

from Trouville-Deauville

DEAUVILLE

Monday 2 April

________

Auction sale

Modern and contemporary art, 20th century furniture
SAINT-PIERRE-AZIF

Saturday 31 March

________

Emotional acupressure

Learn to manage your stress and emotions quickly and easily.
In accordance with the "Data Protection" law of January 6, 1978, you have the right to access and rectify data concerning you.
For any request, send us a message by clicking on communication@deauville.fr.
Photographs: © Sandrine Boyer / Naïade Plante / Chataeu du Breuil / OT Villers / Laurent Lachèvre