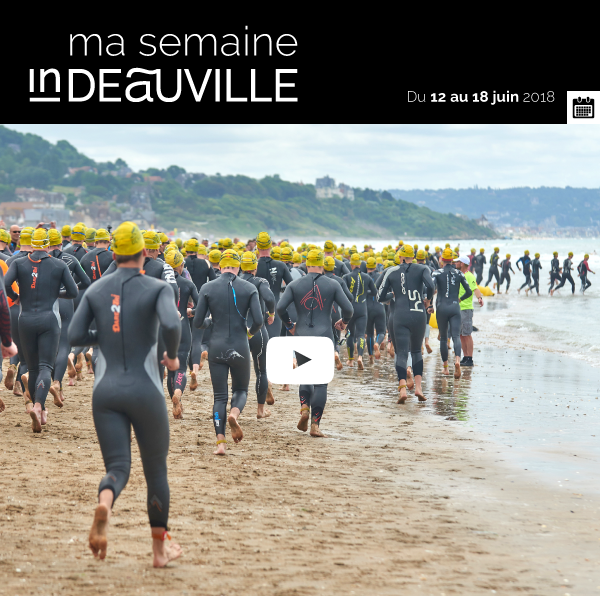 VIDEO OF THE WEEK
This month, Deauville hits the ball on grass, dives into the sea
with pro and amateur triathletes, jump to the rhythm of the Selle Français, regatta with the Dragon and tremble under the strides
Nordic walkers ... Sports events are briskly linked in all disciplines.
DEAUVILLE
Du 13 to 16 June
________
The first professional tennis tournament
on lawn in France is inDeauville
A few weeks before the start of the Wimbledon tournament, the Deauville-Trouville Open is good preparation. This year the tournament will see, among others, David Goffin, member of the world top 10 (currently n ° 10) and world n ° 7 in November 2017, Paul-Henri Mathieu (ex-world n ° 12), Edouard Roger -Vasselin (ex-world n ° 35), Michaël Llodra, young retired from the ATP circuit and director of this tournament.
SAINT-ARNOULT
Du 14 to 17 June
________
The Jump'in Deauville opens up internationally
The Jump'in Deauville launches the outdoor season of international show jumping competitions
at the Pôle international du Cheval. For its 10 years, it becomes an international competition and promises
an explosive cocktail combining sport and festivities. 14 nations will enter the track for three levels
of competitions: a CSI2 *, a CSI1 * and a CSI reserved for young horses of 7 years, and 15 international events from 1,15m to 1,45m await the 160 competitors and the 350 horses entered.
DEAUVILLE
Du 14 to 17 June
________
The Dragon are back in the Seine Bay
The Linkers Open International de France de Dragon, now the major European meeting of the Dragon fleet, will act as the French championship. 30 to 35 Dragon are expected. This year, the regatta is pleased to welcome Pol-Ricard Hoj-Jensen, one of the greatest sailors of his time: 2 times Olympic medalist, 3 times world champion, 5 times European champion on different media. He won over a hundred regattas during his career!
VLLERS-SUR-MER

Thursday 14 June

________

Get started
Nordic walking

Volunteer coaches will show you the benefits of outdoor sport and health, which consists of accelerated walking with specific walking sticks.

DEAUVILLE

Saturday 16 June

________

Discovery day "Handisport beons nature"

A discovery day dedicated to sports adapted to people with motor and sensory disabilities: horse-drawn carriage, cycle, quad, aviation, sailing, sport shooting, archery, kayaking and cani-kart.
DEAUVILLE

Saturday 16 June

________

R'Hand and you with the sea

Each year, the Deauville Sailing Club allows people with disabilities to share the pleasures of the sea with them. Experience the pleasure of sailing together, and show that disability is not an obstacle to adventure!

TOURGEVILLE

Monday 18 June

________

Clairefontaine opens its horse racing season with obstacle and music

In 2018 at Clairefontaine, she runs, she runs emotion! 21 race meetings will take place between June 18 and October 26, concentrating the 4 disciplines of Trotting, Flat, Hurdles and Steeple-Chase. No racing day is like any other, a host of activities is offered every day.
DEAUVILLE AND LE HAVRE
Du 13 to 15 June
________
Global Estuaries Forum
It is the international meeting of reference around the questions of economic development and sustainable development of these so particular territories that are estuaries. It illustrates the will of elected officials to build a common project while preserving the mixes that make up an estuary: urban and rural, economic activity and environment, land and sea. It will bring together delegations of political, economic and scientific decision-makers from major estuaries of the world . Come and debate with them.
_______

In the agenda…
_______

DEAUVILLE
Tuesday 19 June and Wednesday 20 June
________
Deauville Green Awards
Since 2012, this festival has given itself the mission of promoting this great repertoire of institutional films, spots and documentaries around sustainable development and eco-innovations, and thus raising awareness among all stakeholders on these vital subjects.
SAINT-ARNOULT

Saturday 16 June

________

Jazz exhibition and concert

Exhibition of paintings by Françoise Plekan, then concert by the Jazz workshop of the music school, under the direction of Marek Deptuch

TROUVILLE-SUR-MER

Saturday 16 June

________

Music school concert

Teen song with the students of Falaise under the direction of Florence Devieilhe.

BLONVILLE-SUR-MER

Saturday 16 June

________

Piano concert

Christophe Vautier interprets works by Chopin, Debussy, Fauré, Granados.
DEAUVILLE

Du 13 to 16 June

________

Visit of Calouste Gulbenkian Park

70 years after its conception, the park remains a magical place, an unknown and joyful facet of a secret Deauville.

VILLERS-SUR-MER

Saturday 16 June

________

Guided tour: Dinosaurs of Normandy

Immerse yourself in the world of dinosaurs, these large terrestrial reptiles whose fossils have been found in Norman rocks.

DEAUVILLE

Sunday 17 June

________

Sea trip aboard an old rig

Discover the shores of the Seine Bay aboard the François Monique, a shellfish sloop from 1935.
VILLERS-SUR-MER
Sunday 17 June
________
Guided tour: Meridian and astronomy
Discover in the company of a scientific mediator, the formidable adventure of longitude. After understanding the celestial mechanisms under the dome of the planetarium, you will discover the secrets of tracking at sea and measuring time, linked today to our famous meridian of Greenwich. You will also be able to understand the mechanisms of old instruments (loch, sextant, astrolabe) by manipulating them without forgetting the museum's meridian.
BLONVILLE-SUR-MER

Saturday 16 June

________

Brocante
DEAUVILLE

Saturday 16 June

________

One man show: Artus

The comedian shows more than ever a joyful self-mockery and a manifest gift of imitation.
_______

In the agenda…
_______

DEAUVILLE
Monday 18 June
________
June 18 Appeal Ceremony
The officials present will lay a wreath Monument to the Dead and the Historic Appeal
by General de Gaulle will be read.
DEAUVILLE

15 and 18 June
________Awards
schools

At the end of each year, teachers and elected officials reward the pupils for their school year and offer them a book.

BLONVILLE-SUR-MER

Sunday 17 June
________Kermesse
from schoolChildren's shows, games, catering, raffle ...
on the theme "Holidays
at the sea ".
In accordance with the "Data Protection" law of January 6, 1978, you have the right to access, rectify and delete data concerning you. For any request, send us a message by clicking on communication@deauville.fr.
Photographs: © Sandrine Boyer / Naïade Plante / Laurent Lachèvre / Paléospace - Villers OT / Deauville Yacht Club / Lawn Tennis Club