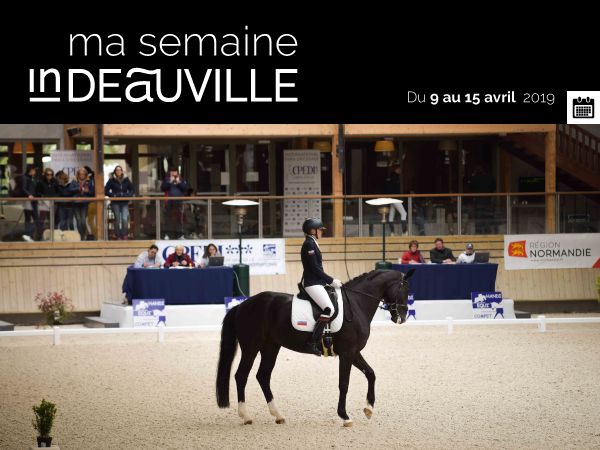 SAINT-ARNOULT
The Nations Cup for the English!
9th edition and 8th British victory in the CPEDI *** Nations Cup *** in Deauville which was played this weekend at the Pôle International du Cheval Longines. Undefeated since 2012, the team led by superstar Sophie Wells flew over the competition.
TOUQUES
12 April at 12 May
_________
6th satirical drawing fair:
Wolinski-Dubout
For the first time in France, the two biggest designers Wolinski - Dubout exhibit together. Maryse Wolinski kindly loaned 80 drawings and a cartoon from her husband. For Dubout, 55 drawings on French society from the post-war period to May 68 will be exhibited.
TOUQUES

April 9, 11 and 15

_________

Algia Water Discovery Center

This unique space in the region immerses you in a fun and educational way in the world of water.

DEAUVILLE

April 10 to 14

_________

On holiday
at Micro-Folie

Training, virtual reality, workshops, visits and conferences…. A large program for fun during the holidays!

VILLERS-SUR-MER

April 8 to 12 and April 15 to 19

_________

The Paléospace

A different workshop every day to discover or deepen your knowledge of paleontology, astronomy and nature. From 5 to 10 years old.
BLONVILLE-SUR-MER

9 and 12 April

_________

Margot's workshops

Manual activity from 6 to 10 years old. Tuesday: Manufacture of an original bird feeder. Friday: Easter cross stitch workshop.

DEAUVILLE

Friday, April 12

_________

Deauville and its puzzles

Like a little detective, decipher the clues sown in your path ...
VILLERS-SUR-MER

Wednesday 10 April

_________

Guided tour :
The soul of Villers

Discover how a small village between land and sea becomes a popular seaside resort on the Côte Fleurie.

BENERVILLE-SUR-MER

April 10 to 14

_________

Calouste Gulbenkian Park

A magical place, a little known and joyful facet of a secret Deauville, which has retained the charm and beauty that its creator had once made realize.
VILLERS-SUR-MER

Jeudi 11 avril

_________

Taste the Pays d'Auge

An immersion in the region with, on arrival, a tasting of products made on the farms of the Auge region.
VILLERS-SUR-MER

From 10 to April 16

_________

Exhibition of paintings

Winner of the 2018 Day of Painters, Kim Chi Nguyen exhibits a series of pastels.
DEAUVILLE
April 11 to 13
_________
Spring Campus 2019: Growth
Plus The event brings together 350 growth entrepreneurs and emblematic personalities from the economic, academic and social world. The objective of this 11th edition is to exchange and debate around "France in the world".
DEAUVILLE
Books & Music Festival,
a walk in Ireland: make a date!
From May 3 to 5, the Festival invites you to Deauville for fifteen meetings - musical readings, concerts, workshops, dedications - dedicated to Ireland. A new theme for new meetings! We will receive the most outstanding writers of Irish literature and French artists who love their worlds.
The collection of your personal information is carried out by the SPL territory of Deauville for its own and exclusive use.
This registration is subject to a declaration to the CNIL (National Commission for Information Technology and Liberties).
In accordance with the Data Protection Act and the GDPR, you have the right to access, modify,
rectification and deletion of data concerning you. To exercise this right, send an e-mail to communication@indeauville.fr.
Photographs: © Sandrine Boyer Engel / Naäde Plante / Wolinski