My tailor-made wellness stay
4 100% customizable programs
Want to freely choose your wellness stay? Completely adaptable, these tailor-made programs can be modified at will, offering the curist the possibility of choosing the duration of his stopover - ranging from one day to a week -, the treatments and the activities that compose it. Hydrotherapy, massages, scrubs or sports sessions, the choice is made according to your desires and needs.
TO BE PUSSYED
With their very warm waters, naturally rich in trace elements and minerals, essential thalassotherapy treatments bring calm and pleasure. In a wide range of treatments, many combinations are possible. For a short or medium stay, you hesitate between remineralizing hydromassage baths with iridescent crystals or seaweed jelly, a Japanese sauna session or a sweet / salty scrub. For a day, you can enjoy a "relaxing" massage or under a fine seawater shower and two to three hydrotherapy treatments, the ideal format for discovering thalassotherapy for the first time.
GETTING BACK TO SPORT
Because it is never too late to reclaim your body and benefit from the benefits of sport, a Thalasso stay is a good way to regain physical and mental vitality, in particular thanks to a personalized program. The stays combine hydrotherapy treatments and sports activities supervised by professionals to combine effort and comfort. Thus, we go to the swimming pool for a daily practice of Aquajump, Aquabike and Aquaboarding; to take a breath of iodized air, we prefer the beach with Longe-Côte or an oxygenating walk.
TECHNOLOGICAL INNOVATIONS
In the age of well-being 3.0, Thalassos and Spas are relying on new technologies to improve their results. Need to assess his state of health? Via electrodes placed on the forehead and hands, the Beflow Measure examines 180 points on the body in less than a minute using a low-frequency current that passes throughout the body to observe physical, mental and emotional form. Another innovation is the OligoScan Assessment, a device designed to make a precise assessment of the deficiencies or excess in minerals, trace elements, oxidative stress and heavy metals. On the treatment side, NeuroSense stands out with its targeted sound and visual frequencies, performed in a ZeroGravity chair. For a high-tech acupuncture session, the Aculaser stimulates points using low-intensity laser diodes to activate specific points and meridians. If the arrival in Thalasso is motivated by a slimming objective, we opt for Lipmodeling by Cellu M6 which uses the famous technique of "palpate-roll" aimed at eliminating fatty deposits and improving the tone of the skin. In the same spirit, IPulse 5.1 is a concept combining 5 technologies in a single session for an area-to-area re-sculpting effect. And for an extreme experience, the choice is cryotherapy with its temperatures up to -170 ° C; by fighting against the cold, the body draws on energy reserves and burns calories.
Our selection of cures
Diane Barrière Le Normandy Spa
Detox and Vitality Program & Fast and Detox Program - 3 to 6 days
The 3 or 4-day Detox and Vitality Program initiates the process and triggers cell regeneration mechanisms, when a one-week stay is required for tangible and lasting results. With 24 treatments over 6 days, the Fasting and Detox Program aims to lose weight and help improve digestive disorders.
Diane Barrière Le Normandy Spa
Hotel Barrière Le Normandy *****
38 rue Jean Mermoz
France
02 31 98 65 65
Thalassa Sea & Spa Institute, Cures Marines Trouville
My Wellness Break - 1 to 6 days
This program is available in two options: "I want to choose all my treatments", with Thalasso and Spa treatments (marine wraps, massage and exfoliation in sea rain) and "I want to create my own exceptional program", offering services more advanced combining traditional care and new technologies (sports assessment, respirology, beflow measurement).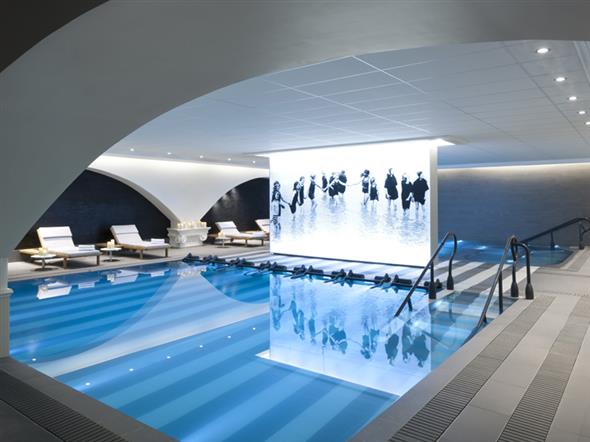 Institute of Marine Cures Trouville
Thalassa Sea & Spa
Boulevard Cahotte
France
02 31 14 26 00