EATING WITH YOUR HEAD IN THE STARS
L'Essentiel, starred since 2018
Charles Thuillant is Parisian, Mi-Ra Kim is Korean. Having just graduated from the Grégoire Fernandi and Le Cordon Bleu schools, they met in the kitchens of the great Parisian restaurants: "Ze Kitchen Galerie", then "La Table" and "L'atelier" of Robuchon. Mi-Ra became Madame Thuillant and accepted Charles' proposal to open a restaurant in Normandy: L'Essentiel. The fusion of the two gastronomic cultures gives birth to an atypical cuisine that mixes Asian exoticism, proximity and travel. On the plate: market products staged with refinement that earned them a first star in the Michelin Guide. Romanesco rubs shoulders with satay and spices in this luminous and uncluttered restaurant where you can admire the kitchen from the comfort of your own home.
Our favorite: scallops, chestnuts and chorizo with a celery and butternut mousseline.
Dishes that are good for the climate!
The restaurant is part of the "Good for the Climate" association and is committed to offering at least one starter, one main course and one dessert that respect these three criteria:
In season: the products used in the three dishes are fresh and in season
Plant-based : plant-based products occupy the largest place on our plates
Local : the ingredients of the dishes come from a radius of less than 200km
Discover the Essential in video
Address book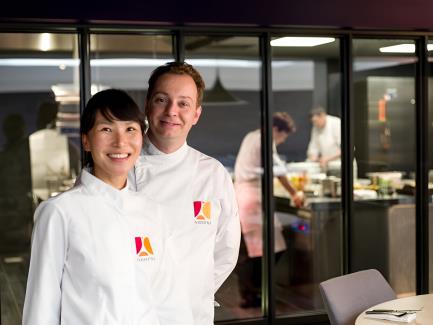 Where to eat
L'Essentiel
Charles Thuillant is Parisian, Mi-Ra Kim is Korean. Just graduated, they meet...