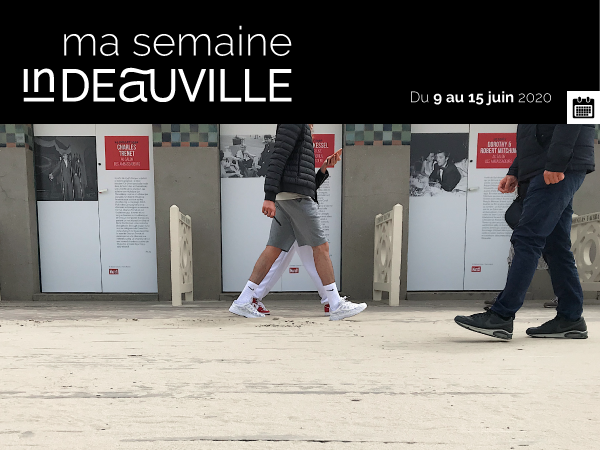 Image of the week
This summer, we read
Paris Match
on the Deauville Boards… and we discover new stories… Like that of Robert Mitchum, photographed with his wife Dorothy at the Bal des Petits Lits Blancs in 1955 in Deauville. That year, he savored the success of
Rivers without return
, shot with Marylin Monroe. Above all, he has just made the most significant film of his career:
The hunter's night
. Jean-Louis Barrault, Madeleine Renaud, Maurice Chevalier and Marcel Pagnol also attend the evening.
Find yourself at Villaré

It is the meeting place for Villersoises associations: workshops, courses, exhibitions, sports are once again open.
It's simple

InDeauville has developed an online reservation service for restaurateurs who want to continue the take-out sale of cooking dishes. L'Essentiel, a Michelin-starred restaurant, was the first to adopt it.

>>> Your weekly orders here.

It is convenient

Caterer Henri Morel now offers burgers, fries, salads and take-out pasta in his food truck installed in front of the old Galerie de Tourgéville.
TOURGEVILLE-BERNERVILLE-SUR-MER
Monday June 15
_________
Obstacle for the opening of the 2020 meeting at the Deauville-Clairefontaine racecourse
23 race meetings will take place between June 15 and October 23,
concentrating the 3 disciplines: flat, trot and obstacle. Until the end of June, horse races are organized behind closed doors. Follow them on Equidia and as a bonus, the arrival on the Facebook page of the Clairefontaine racecourse.
DEAUVILLE
Saturday June 13
_________
Visit the Haras d'Ecajeul
While Jean-Luc guides visitors through the stables, the meadow and the loin ring,
Isabelle concocts a snack to taste after the visit.
DEAUVILLE

________

On the steps
by Kees Van Dongen

Kees Van Dongen and his family spent their first summer in Deauville in 1913. During the Roaring Twenties, he adopted the city. We meet him at the races, at the beach, at the Bar du Soleil ...

>>> Her story from the Franciscans here

TOUCH

June 5 to September 6

________

"Plant" exhibition

Drawn, model

embroidered or sewn, trees, leaves and flowers are available

és, in all subjects. Poetic imaginations that pay homage to nature in all its diversity.
VILLERVILLE
When a casino turns into a "liner"
On the Villerville embankment, facing the sea, this building that the Villervillais still call "The Casino" was built in 1939 in place of the old wooden casino of 1886. Transformed into a hotel restaurant, it has just opened after a period of work under the name of "Le Paquebot".
The collection of your personal information is carried out by the SPL territory of Deauville for its own and exclusive use.
This registration is subject to a declaration to the CNIL (National Commission for Information Technology and Liberties).
In accordance with the Data Protection Act and the GDPR, you have the right to access, modify,
rectification, deletion and forgetting of data concerning you. To exercise this right, send an e-mail to communication@indeauville.fr.
P

hotographies: © Sandrine Boyer-Engel

/ Leo Lemasson

/ Pixabay / All Rights reserved.