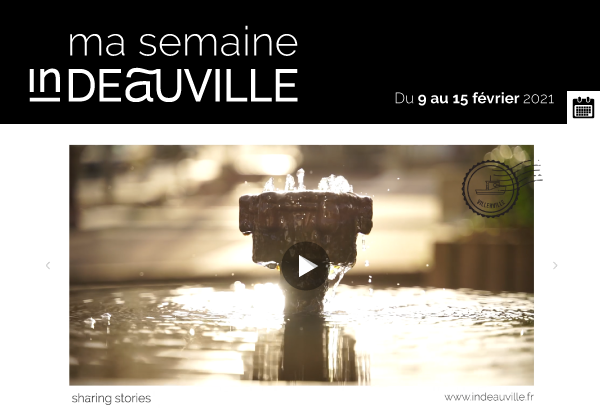 Picture of the week
First days of vacation for some, in a few days for others ...
Let's take the opportunity to recharge our batteries inDeauville. Good week !
What to do for Valentine's Day?
Take the time to see the sun rise after a breakfast in bed, see an exhibition and eat a pancake, take a bike ride with an inspired guide or a horse ride with a top instructor: our ideas for this day exceptional should seduce you.
© Photo from the Théo & Salomé series by Lorenzo Castore, currently on display in Deauville, Cour des Bains Pompei.
The Villervilais Festival allows artists to be exposed and recognized, to encourage encounters and to share their passion for the Arts as close as possible to the public. While waiting for the 2021 project, follow them on their channel.
André Hambourg Museum: we hang the works!
For its opening, the exhibition invites the visitor to discover the life of this artist who, before having adopted Normandy and more particularly Deauville as a place of inspiration, traveled the world and seized the ochres of the Maghreb and the colors of Venice… The tour will present around a hundred works by André Hambourg (paintings, drawings and photography) and several loans from friendly or inspiring painter: Boudin, Foujita and Marquet.
Collection of the City of Deauville received in 2011 as a donation from Nicole Hambourg, wife of the artist.
SAINT-ARNOULT
Saturday February 13 and Sunday February 14
_______
Each year, the Belgian Stud of Zangersheide chooses the Pôle international du Cheval Longines - Deauville as the place to organize its annual stallion expertise. Nearly 50 males aged 3 and over, representing the best of European genetics, are presented in an attempt to obtain their approval to be able to breed for the Zangersheide stud-book, commonly called "Z". The candidates are judged by model, gait, free jump or ridden, by an international jury of experts, including Eric Lavallois, world champion in show jumping.

Why is this important? The future stallions will probably be the stars of tomorrow both in sport and in breeding.
SAINT-ARNOULT

Tuesday February 9

_______

Training day
for competitions

Amateur or professional riders take advantage of their training sessions - or "warm up" - in competition conditions for future competitions.

DEAUVILLE Monday February 15 and Tuesday February 16

_______

February mixed sale

The February mixed sale sees horses and mares in training, stallions, fillies, 2- and 3-year-old stores and yearlings parade into the ring.
506

it is the number of kilometers traveled by children in large section, CP, CE1, CE2, CM1 and CM2 as part of the challenge proposed by USEP 14 to promote the Terre de Jeux 2024 label and the 2024 Paris Olympics. Every year throughout France, schools, colleges and high schools are invited to celebrate Olympic and Paralympic week. This is a key moment to promote education through sport and put civic and sporting values ​​at the heart of teaching.
Take part in the challenge
Deauville orientation
Browse the streets of Deauville, find the 13 markers and identify the letters to piece together a mystery word. 6 or 12 km, walking, running or cycling, alone, in a team or with the family, the objective remains the same: to combine sport, fun and discovery, it's up to you!

DEAUVILLE Saturday February 13

_______

Sale at the Red Cross locker room

The local association offers clothes, books, toys and small items for the benefit of its actions towards the most disadvantaged.
TOUQUES Sunday February 14

_______

Flea market monthly

The unmissable monthly meeting for bargain hunters and professional second-hand dealers.
| | | |
| --- | --- | --- |
| Wear a mask when the distance of one meter cannot be respected | Maintain a distance of at least one meter from others | Wash your hands regularly or use a hydro-alcoholic solution |
| | | | |
| --- | --- | --- | --- |
| Cough or sneeze into your elbow or into a tissue | Blow your nose in a disposable tissue and throw it away | Greet without shaking hands and stop the hugs | |
The collection of your personal information is carried out by the SPL territory of Deauville for its own and exclusive use.
This registration is subject to a declaration to the CNIL (National Commission for Information Technology and Liberties).
In accordance with the Data Protection Act and the GDPR, you have the right to access, modify,
rectification, deletion and forgetting of data concerning you. To exercise this right, send an e-mail to communication@indeauville.fr.
Illustration: © Sandrine Boyer Engel / Naïade Plante