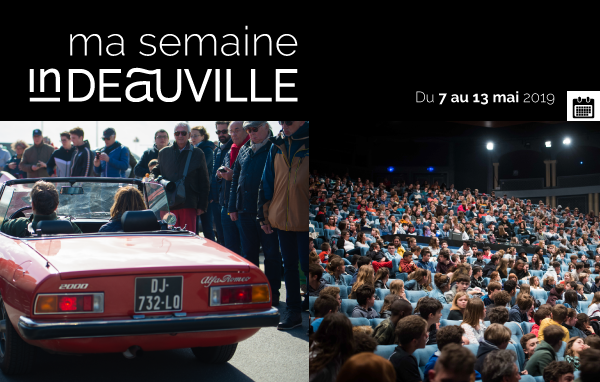 Image of the week: impossible to choose just one!
Le Tour Auto chooses Deauville for an exceptional and crowded arrival. 3000 students electrify
the large CID auditorium for the Teenagers' Prize.
DEAUVILLE
Sunday, May 12
________
Gala of stars - Season 9:
From classic to contemporary, there is only one step ... dance
Gala d'Étoiles, produced, directed and directed by Alexandra Cardinale, was born from a simple idea: a concentrate of excellence accessible to all. Stars, soloists from the Paris Opera, international artists and the Julien Lestel Company evolve here in a program that combines extracts from the most prestigious classical ballets and choreographic works from a more contemporary repertoire.
DEAUVILLE
Friday May 10 and Saturday May 11
________
Breeze Up Horse Sale
Sale in a particular format, it brings together foals and fillies of 2 years of dish, pre-trained and new in racing, and takes place in two stages. The horses are presented at a gallop on the grass track of the racetrack the day before their passage in the ring.
DEAUVILLE

Saturday May 11 and Sunday May 12

________

Karate Normandy Cup

Pom's will welcome karate competitors in all its forms: Light contact / semi contact / contact / body karate.
BENERVILLE-SUR-MER

8 at 12 may

________

Calouste Gulbenkian Park

A joyful facet of a secret Deauville, which has retained the charm that its creator had once made realize. Free entry on May 1st!

VILLERS-SUR-MER

May 8th and 12th

________

Jurassic Odyssey

The Paléospace presents a rich collection of fossils from the Vaches Noires cliffs, which bear witness to a bygone era. Explore this Jurassic world.

DEAUVILLE

Saturday May 11

________

Deauville, architecture and villas

Villas, mansions and other extraordinary buildings highlight a great diversity of architectural genres. Come and meet this remarkable heritage, which is today valued and preserved.

VILLERS-SUR-MER

Saturday May 11

________

Normandy dinosaurs

Immerse yourself in the world of dinosaurs, whose fossils have been found in Norman rocks.
VILLERS-SUR-MER

8 at 14 may

________

Exhibition of sculptures, paintings and graffiti: "Intimate dynamics"

Born under the impetus of Raphaëlla Mantegna Bouquet, this multifaceted exhibition brings together 4 artists, Raphaëlla Mantegna-Bouquet, Béatrice Augier, Sébastien Lucas and Piotre, whose talents are in total difference but in cohesion of freed personal expression.

TOUQUES

Until 12 may

________

6th drawing fair
satirical:
Wolinski-Dubout

For the first time in France, the two biggest designers Wolinski - Dubout exhibit together. Maryse Wolinski kindly loaned 80 drawings and a cartoon. For Dubout, 55 drawings on French society from the post-war period to May 68 will be exhibited.

TOUQUES

Until June 2

________

Exposure:
"The blue moment"

Sky blue, navy blue, pastel blue, turquoise blue ... color of the sky and the sea, creative color par excellence, the blue which symbolizes freedom, serenity, infinity, arises on original creations of objects decorative, sculptures, tableware, jewelry.
7 at 12 may

________

World Poker Tour Deepstacks

This circuit, the main series of poker tournaments, settled in major European cities, in Barcelona, ​​Amsterdam, Malta, Brussels and Berlin before its final stage organized this year in Deauville.

DEAUVILLE

May 8, 11 and 12

________

Micro-Folie meets teens

Come alternate digital creation, group play and discovery of works according to your desires.
DEAUVILLE

Friday May 10

________

Concert: Brigitte

Simply accompanied by a pianist, Brigitte revisits their repertoire in new versions that will honor their vocal harmonies and their texts.

DEAUVILLE

Saturday June 8 (change of date)

________

Comedy show: "Vamp privée.com"

It is clear that solo, the Vamp without embarrassment, alias Dominique de Lacoste, continues to bite.
BLONVILLE-SUR-MER

Saturday May 11

________

Brocante
The collection of your personal information is carried out by the SPL territory of Deauville for its own and exclusive use.
This registration is subject to a declaration to the CNIL (National Commission for Information Technology and Liberties).
In accordance with the Data Protection Act and the GDPR, you have the right to access, modify,
rectification and deletion of data concerning you. To exercise this right, send an e-mail to communication@indeauville.fr.
Photographs: © Sandrine Boyer Engel / Villers-sur-Mer Tourisme / Naïade Plante / Sophie Ebrard / Casino de Deauville / Lucie Léger / Béatrice Augier / Wolinski