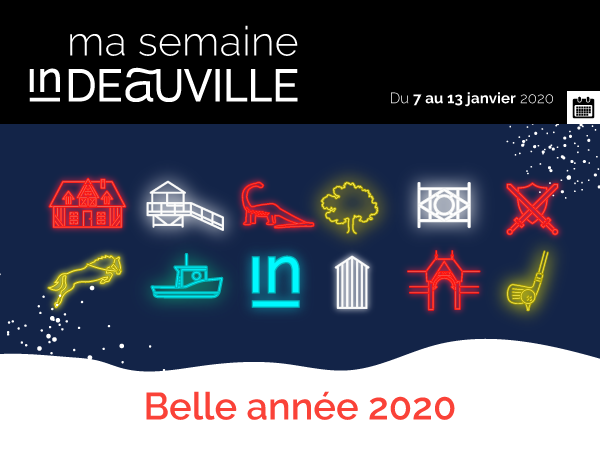 DEAUVILLE

Saturday, January 11

________

Horse races
Winter meeting

The fiber sand track preserves the grass track and schedules a winter meeting each year with Plat meetings.

SAINT-ARNOULT

Tuesday January 7

________

Jumping :
warm up

Organized every Tuesday at the Pôle International du Cheval Longines Deauville, this day, open to all riders, allows the training of show jumping horses for upcoming competitions.
TOUQUES

Friday January 10

________

Babies and books

They cannot read, but toddlers can listen, observe and react. Share this moment with them. From 0 to 3 years old.

DEAUVILLE

Saturday, January 11

________

Revue-dinner-show:
"Love celebration"

Over unforgettable titles such as "Love is all", "When we only have love" or "Send my love", 9 artists singers, dancers, musicians make hearts beat.
DEAUVILLE

Saturday, January 11

________

Humor show:
"Arrival in town"

Maxime Gastreuil Party from Saint-Emilion to make Paname laugh, Maxime Gasteuil tells how he became a Parisian…
DEAUVILLE
Call for Applications
Applications for the Young Talents Springboard are open! Five candidates will be chosen to produce a photographic work on the City, presented during the Planche (s) Contact 2020 festival and submitted to the votes of image professionals and the public. You have until January 15 to send your file!
All the info here
Winter sales also arrive in stores
tourist information offices inDeauville as of Wednesday!
Addresses here
The concept of this residence is simple: it offers the rental of studios by the night. Everything works like a hotel, but each studio is equipped with a kitchen which makes each one independent for lunches and dinners.
The collection of your personal information is carried out by the SPL territory of Deauville for its own and exclusive use.
This registration is subject to a declaration to the CNIL (National Commission for Information Technology and Liberties).
In accordance with the Data Protection Act and the GDPR, you have the right to access, modify,
rectification, deletion and forgetting of data concerning you. To exercise this right, send an e-mail to communication@indeauville.fr.
Photographs: ©
Naiad Plant /
Sandrine Boyer Engel / Casino de Deauville / All rights reserved.