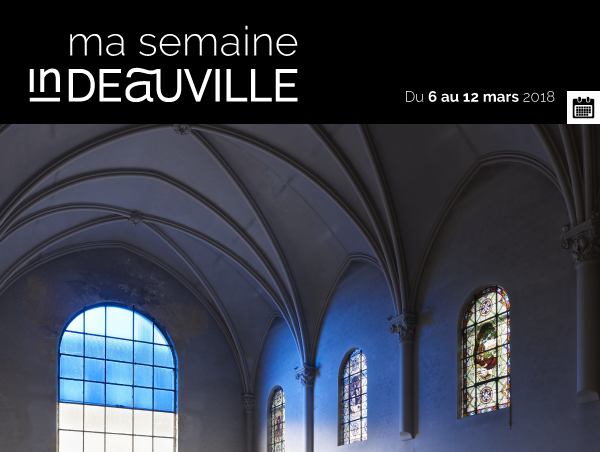 THE IMAGE OF THE WEEK
The Franciscaines work site is off.
In pictures, the photos of the site by Pierre Olivier
Deschamps which will follow the metamorphosis of the place
Thursday 8 March
________
Normans in mind: new formula
In Normandy, women's day is called "Normandes en Tête". In 2018, like a conqueror, the event plays the rally card. She invited all the networks of Norman women active on the territory to meet and imagine together an ideal event. This new format makes it possible to respond to all questions and all desires. From personal development to digital tools that save.
Thirty workshops and mini-conferences by inspiring personalities are offered.
DEAUVILLE

Until 11 March

________

Last week to discover the exhibition dedicated to Françoise Sagan

"Françoise Sagan: Life in freedom, writing in need" brings together photographs and a good number of documents from the private collection of Denis Westhoff, son of the writer. Guided tours of the exhibition on Wednesdays and Saturdays.

VILLERVILLE

Saturday 10 March

________

Voice and cello concert

The Villerville à la Hune association offers a concert for the young artist Maud Feret.
SAINT-ARNOULT

Tuesday 6 March

________

Show jumping: warm up

This day allows riders to perform show jumping courses of the level of their choice.
DEAUVILLE

Saturday 10 March

________

Share the dream of Deauville Gazelles

Sandrine Pronier-Cordier and Lucile Delafosse, both Deauville and passionate about motorsport, will take part in the Aïcha des Gazelles Rally on March 16. Let us find our support to show them, discover the car before their departure.
SAINT-ARNOULT

Saturday 10 et sunday 11 March

________

French Pro Elite Horse Ball Championship

The Pro Elite French Championship is one of the stages of the French Championship. About 150 horses are expected for teams from all over France.
VILLERS-SUR-MER Saturday 10 March

________

The cliffs of black cows

Go back in time on this exceptional paleontological site which will reveal its secrets to you.

VILLERS-SUR-MER

Saturday 10 March

________

Normandy dinosaurs

Immerse yourself in the world of dinosaurs, whose fossils have been found in Norman rocks.

VILLERS-SUR-MER

Sunday 11 March

________

Jurassic Odyssey

The Paléospace presents a rich collection of fossils. Explore this Jurassic world.

TOUQUES

Sunday 11 March

________

Birdwatching walk:

Migration in action

The pre-nuptial migration continues on the Touques marshes with the arrival of blue throats, ospreys, shorebirds and spatulas.
DEAUVILLE
Saturday 10 March
________
Red Cross Gala Dinner
The 2018 edition, sponsored by Cécile de Ménibus and Hervé Pouchol,
will carry the theme of romanticism and will bring together many activities:
Russian violinist, auction, raffle ...
DEAUVILLE
9 10 & March
________
This weekend, you will meet students
for the 2018 Crossroads of Talents…
La Croisée des Talents is the first management and eloquence competition in Europe, this year focused on the theme "Reconciling digital and human". 300 students, from the most prestigious backgrounds, gathered for a weekend in Deauville to take part in negotiation, management and eloquence tests. A recruitment forum (20 companies) as well as workshops will also be on site to discuss your future projects.

PRIVILEGE INVITATION: PRIVATE VISIT MARCH 9 & 10, 2018
_________
In accordance with the "Data Protection" law of January 6, 1978, you have the right to access and rectify data concerning you.
For any request, send us a message by clicking on communication@deauville.fr.
Photographs: © Pierre OlivierDeschamps /
Naiad Plant /
PixelsEvents /
Françoise Sagan in the stands of the racecourse, Yul Brynner / Suzanna Lupa / Paléospace