LET'S GET TOGETHER AND RUN
FOR THE SILVER RUN
The Silver Run® by Lean de Vie is the first intergenerational race to promote preventive health care for seniors. Its credo: strengthen their immune systems through regular physical activity. Over 2, 5 or 10 km, walking or running, with children, grandchildren, parents or grandparents, all generations are invited to take part.
DEAUVILLE
Sunday, July 11th
_______
MEETING WITH DELPHINE HORVILLEUR: THE PLACE OF EDEN IN JUDAISM
In connection with her latest book, "Vivre avec nos morts", and the Sur les chemins du paradis exhibition, Delphine Horvilleur, a woman rabbi, discusses the concept of the afterlife in Judaism, from the Garden of Eden to the possibility of reincarnation. The talk will be followed by a book signing.
DEAUVILLE
Saturday 10th and Sunday 11th July
_______
SEA TRIP ABOARD AN OLD GREEMENT
Take a seat aboard the François Monique, a shellfish sloop built in Brest in 1935!
Offshore, you can admire the Côte Fleurie and the Côte de Nacre.
SAINT-ARNOULT

Sunday, July 11th

_______

Z-FESTIVAL FRANCE: PARADE OF FUTURE CHAMPIONS AT THE POLE

The only championship in France for foals registered in the Zangersheide studbook, this event is resolutely committed to excellence, with foals from prestigious stallions and exceptional maternal lines.
BENERVILLE-SUR-MER / TOURGEVILLE

July 10th and 12th

_______

TWO DAYS OF RACING AT CLAIREFONTAINE

No two race days are alike at Clairefontaine. The only tri-disciplinary racecourse on the Normandy coast, it is also the venue for a wide range of themed events on each race day for the whole family.

July 10:

Trotting races.

Theme: Country and trotting stallions.

July 12:

Flat races.

Theme: Tastings.

DEAUVILLE

Sunday, July 11th

_______

SUNDAY, A FAMILY RUN AT L'HIPPODROME DE LA TOUQUES

The Qatar Prix Jean Prat opens the summer horseracing season at the Touques racecourse! This Group 1 flat race - Galop's highest level of excellence - pits 3-year-old horses against each other over a 1,600-meter straight course. To mark the occasion, a "Hippodrome en famille" (racecourse for families) day will be held, with a host of free events on the racecourse.
TOUQUES
Friday, July 9th
_______
JAZZ APERO
The weekend kicks off with music from Les Fils Canouche, an atypical quartet that blends gypsy jazz with world music.
TOUQUES
Saturday, July 10th
_______
SATURDAY CONCERTS
DUBOIS & DU VIN
The ideal place to catch up with friends, comfortably seated on the large terrace, to the jazzy, gypsy sounds of guitarist Le Chinois.
VILLERS-SUR-MER
Friday, July 9th
_______
CHILDREN'S"AQUATIC MOBILE" WORKSHOP
Following a presentation of the book "Sous la Mer" (Under the Sea), with a demonstration of original watercolors and sketches, Agathe Hennig, author and illustrator of children's books, invites children aged 5 to 12 to make paper decorations on the theme of the sea.
TOUQUES

July 10 to 18

_______

45th Salon des Antiquaires

From Antiquity to Design to Art Deco, this show brings together many of the region's professionals, exhibiting a wide range of objects to satisfy the most varied tastes.

TOUQUES

July 10th

_______

Potters' Market

Some twenty ceramists and sculptors exhibit and sell their creations.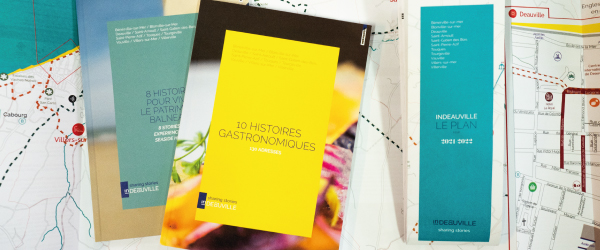 EXPERIENCE INDEAUVILLE
WITH OUR NEW GUIDES
Find the best brasseries, understand seaside architecture, build your own tourist itinerary through the 11 communes with the map of the area... To help you prepare for your vacation, three new brochures are now available for download or in our Tourist Information Offices.
Your personal information is collected by SPL territoire de Deauville for its own and exclusive use.
This registration is subject to a declaration to the CNIL (Commission Nationale de l'Informatique et des Libertés).
In compliance with the French Data Protection Act and the RGPD, you have the right to access, modify,
rectification, deletion and omission of your personal data. To exercise this right, please send an e-mail to communication@indeauville.fr.
Photos: © Léo Lemasson / JF Paga / Musée d'Orsay / ADAGP / Villaré / Ville de Blonville / Mazan / Jardin de Coppélia / Sandrine Boyer Engel / Assosciation Petit Foc / Sandrine Boyer Engel / Fils Carnouche /