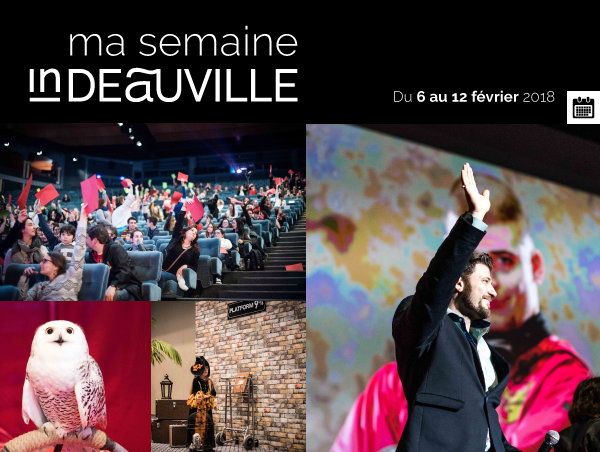 PHOTOS OF THE WEEK
2600 Harry Potter fans in Deauville. Almost Hogwarts! Viktor Krum, catcher in the Quidditch team of Bulgaria
from Bulgaria, had come to Normandy.

February 9th to 11th
________
A college for a real debate
The City of Deauville is creating the "College of Possible Worlds". Its purpose? To bring together intellectuals, experts, authors and public figures to foster debate on the major issues facing society in the coming decades. This weekend will be its first seminar on the theme of migration.
Thinking about migration in a serene way
Political, climatic, emergency and economic migrations, the whole world seems to be caught in a massive movement. Faced with these migrations, societies seem to be caught short.
How to react? Regulate? Accompany? To welcome? Draw a line through the borders?
Put up walls?
From February 10 to March 11
________
The Françoise Sagan exhibition
"Life in freedom, writing in demand
The exhibition brings together photographs and many documents from the private collection of Denis Westhoff, son of the writer. We also understand how Françoise Sagan and Deauville met, in the shared taste of the beach, the skies, the horses, the game, the evenings that go on until the early morning.
Guided tours of the exhibition on Wednesdays and Saturdays
.
Saturday, February10th

________

Cultural Season - Marivaux presents "L'île des esclaves

Marivaux, virtuoso of posture changes and role permutations, imagines, in 1725, two pairs, masters and slaves, reversing their roles. How will the oppressed of yesterday, by reflex of revenge, emancipate themselves without becoming in turn the oppressor?
From February 10th to 20th

________

Tribute to Charles Perrault

Through an exhibition with enchanting visuals, an interactive show for young people and readings, children will be able to enter the fantastic and imaginary world of this timeless author whose morals still resonate in school books.

Sunday, February11

________

Organ and Voice Concert

Nicole Marodon, titular organist of the Notre-Dame des Victoires church in Trouville, and Mathilde Marodon, soprano, present works by Vivaldi, Berlioz, Boëllmann, Vierne, Villa-Lobos, Gershwin, Petit and Cosma on the theme of the seasons.
​ SAINT-ARNOULT
​ VILLERS-SUR-MER

Thursday, February8th

________

Writing Workshop:
"Words and the Pen."

A workshop for adults and teens to discover the right wording, express the essential, and lead to a personal written form.

TOUQUES

Friday, February9th

________

Babies and
and books

Our babies can't read, but they can listen

but they know how to listen, observe and react. Share this moment with them.

VILLERS-SUR-MER

Saturday, February10th

________

Guided tour: Dinosaurs of Normandy

Dive into the world of dinosaurs, whose fossils have been found in the rocks of Normandy. Learn to recognize them and discover their particularities.

SAINT-PIERRE-AZIF

Saturday, February10th

________

Parents' Workshops for a Caring Education

Promote caring communication between adults and children and make it accessible to all. Mireille Vincent Rousselot will guide you and listen to you in order to deepen the subject.
Saturday, February 10th
________

Sale of clothes
and various objects
The Deauville-Trouville Red Cross is selling clothes, books, jewelry, toys and other miscellaneous items for the benefit of its actions towards the most disadvantaged.

Saturday, February10th

________

Dictation against illiteracy in France and Madagascar

The Pays d'Auge Lions Club is partnering for their annual dictation, which this year will be read by France 3 television host Fabienne Amiach. Proceeds will help keep children in school in Madagascar.
TROUVILLE-SUR-MER

Thursday, February8th

________

Carnival evening

Il Parasole Trouville

Monday, February12

________

Conference

"In the heart of the Kremlin

by Vladimir Fedorovsky
DEAUVILLE
February 9, 13 and 20
________
Registration days for the Deauville Plein Air recreation center
The February school vacations are fast approaching. Deauville Plein Air welcomes children from 3 to 13 years old. On the program: the first week,
"Time Travel" for the older children, and "Day and Night" for the younger ones, followed by "Carnival
" in the second week.
Deauville Plein Air finances the Bafa training of its future animators.
Places are available for this summer!
In accordance with the law "Informatique et libertés" of January 6, 1978, you have the right to access and rectify data concerning you.
For any request, send us a message by clicking on communication@deauville.fr.
Photographs: © Naïade Plante / Françoise Sagan and Bernard Franck in Deauville, May 1960 © Photo DR /
Sandrine Boyer /
Jacques Basile