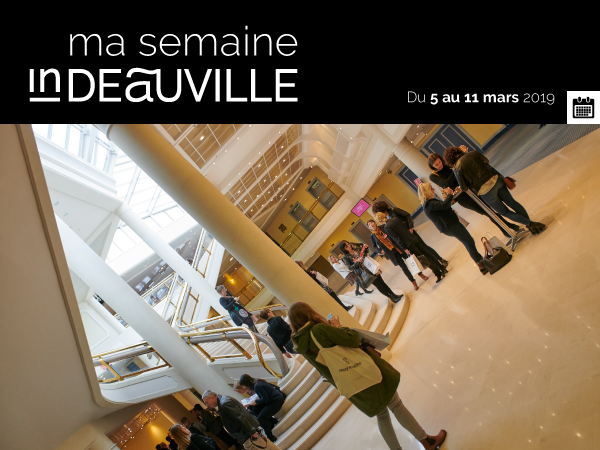 The figures of the week
4 days, 4 congresses, 2600 people expected at CID
The Deauville International Center will host Thursday the 2nd Day of EHPAD of Normandy and the 7th Congress Wounds and Healing of the West. The latter will continue on Friday alongside Normandes in the lead. Saturday, place at a Health and Medicine conference, followed Sunday by a textile, clothing and leather trade show.
It works in Deauville!

DEAUVILLE
Friday 8 March
_________
Normans in mind,
meet us in Deauville
Normans in mind, these are unique encounters that make you want to dare.
For two years, the program has been co-constructed with the women of the various associations - thirteen in total - who relay the major concerns of Norman women.
Together, they made proximity a priority for the 2019 edition.
Also each woman will have the opportunity to exchange with certified coaches and many experts. From stress management to digital tools, from job search to business creation: the workshops have been multiplied in the margins of the meetings in order to give tools that correspond to the reality of each.
_________
The day in brief
_________
Opening with actress Blandine Metayer
6 workshops for managers
6 workshops to dare
6 workshops to stand out thanks to digital
8 workshops to learn how to thrive
3 meetings with inspiring women
A vast village to exchange
SAINT-ARNOULT


Saturday 9 and Sunday 10 March
_________
Indoor harness competition
The leaders and teams of the Grand Ouest and Ile de France will compete in three tests: long reins, dressage, maneuverability (combined event comprising two marathon obstacles).
VILLERS-SUR-MER

March 5, 6, 7, 8, 10

_________

Guided tour :
Jurassic Odyssey

The Paléospace presents a rich collection of fossils. Explore this Jurassic world.
DEAUVILLE

6 at 10 March

_________

Micro-madness: the animations continue

This week: enter the digital museum, enjoy family visits and workshops, immerse yourself in virtual reality, share your readings and poems, train in 3D and sublimation printers, listen to the puppets, pool your repair skills , create a volume calligram.

VILLERS-SUR-MER

Thursday March 7

_________

Asteroid challenge
at the Planetarium

A planetarium session followed by a challenge to save the Earth from meteor showers or to compete between spaceships at 360 °!

From 7 years old.
DEAUVILLE

Saturday 9 March

_________

Sale
of the red cross

The association offers men's and women's clothing in all sizes to benefit its actions.

TOUQUES

Sunday 10 March

_________

Flea market monthly

The unmissable monthly gathering of bargain hunters.
DEAUVILLE

Until March 17

_________

Normans around the world 2

This competition will allow 5 young Normans from 18 to 35 years old to meet the Normans of the world from September 8 to 28.

VILLERS-SUR-MER

March 11 to May 30

_________

News contest

As part of the 5th book fair of

Villers-sur-mer, write a short story on the theme "A man and a woman", title of the famous film by Claude Lelouch, sponsor of the show since its creation.
The collection of your personal information is carried out by the SPL territory of Deauville for its own and exclusive use.
This registration is subject to a declaration to the CNIL (National Commission for Information Technology and Liberties).
In accordance with the Data Protection Act and the GDPR, you have the right to access, modify,
rectification and deletion of data concerning you. To exercise this right, send an e-mail to communication@indeauville.fr.
Photographs: © Laurent Lachèvre / Naïade Plante / Sandrine Boyer Engel / All rights reserved