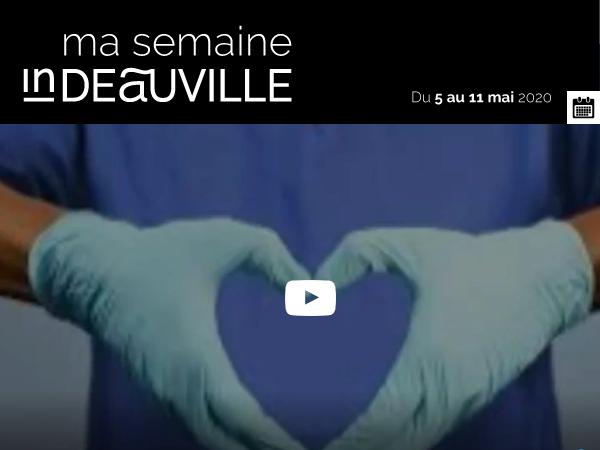 the video of the week
The star dancers of the Bar du Normandy: their way of expressing all the respect and admiration they have for the nursing staff. Everyone at home but all together while dancing: a good mood video for doing good
We have exceeded 20 connections on our information pages dedicated to traders, restaurants, producers who have adapted their services to support you during the crisis. Thank you for them… let's continue to support them.
While a group has set to work to redraw the calendar of events in the territory, we are delighted to hear from the American Film Festival.
"We will comply with the rules in force. If we have to adapt the great hall of the international center, we will do it. It will not be a festival like the others, but we want to make it one of the big events of the back to school. A generous moment when people meet to share emotions. We all need it! "
Bruno Barde, director of the Festival.
Put on a mask well and the dangers if you put it wrong

The advice of Pre Lila Bouadma, resuscitator at Bichat hospital and member of the Scientific Council.

"The mask can be false security if it is used improperly. It's not that simple in everyday use. "

For Brut.fr, she explains what to do - and especially not to do.

The recipes of the Barrière Group cooks and bartenders

Even if you prefer to savor them in one of their sumptuous hotels, try to make a dish or a cocktail made in Barrière in your kitchen. It's easy to follow on the group's facebook accounts. And what's more, it's bilingual!
#restozoiavecunmanga

Several publishers offer digital comics to readers for free: Bamboo Editions, Editions Glénat, Editions Dupuis, Editions Delcourt, Editions Le Lombard, Dargaud, Pika Edition, Kurokawa, Les Humanoïdes Associés, Hachette France, Editions Albert René, FNAC…

I, you, we create!

ESAM teachers in Caen / Cherbourg have designed online workshops, with exercises to learn plastic arts from home or perfect their practice.
Economic recovery; the collective response of the territory begins
The groups met last week and started the work of reflection to adapt the tourist offer of the territory and its reception. Good ideas are already emerging. The groups will meet again this week. Each socio-professional in the area can join the process by proposing their ideas.
Contact :
partners@indeauville.fr
Focus on the reflections of two groups
In the field of business tourism, professionals are considering virtual tours of all places to continue to attract seminars from afar. A health referent could also be set up to respond to all requests from outside and reassure about Deauvillais protocols. In the catering sector, take-away sales are a schooling ground. Restaurateurs are looking to see how to perpetuate the system. What ordering tool for customers? What common logistics for delivery? What agreement with hoteliers? What place to picnic? They already have answers!
Reinforced support measures for certain sectors
To take into account the specific situation of professionals in hotels, cafes and restaurants, companies in the tourism, events, sport and culture sector, the Government has decided to maintain and strengthen the support measures for these sectors.

For Normandy businesses, all the help at a glance
I saw the Blonville sign and it reminded me of something
This week, our cinema section realizes our wildest dream: a kite outing on the beach of Blonville-sur-Mer. It's next door, and kites are for sale at nearby beach bazaars. We look forward to the prospect and in the meantime we train by watching the pretty comedy which stages Sophie Marceau, Vincent Perez and Charles Berling ...
The City of Deauville acquired a Ring system dedicated to the safety of people in a territory a few years ago.

It allows, during a major event, to quickly alert by sms or email a large number of people and to provide the first advice to the population. The Coronavirus epidemic has shown how useful it can be to have this means of communication, which is only used in cases of force majeure and for the benefit of all.

If you haven't yet registered, it's here.
The collection of your personal information is carried out by the SPL territory of Deauville for its own and exclusive use.
This registration is subject to a declaration to the CNIL (National Commission for Information Technology and Liberties).
In accordance with the Data Protection Act and the GDPR, you have the right to access, modify,
rectification, deletion and forgetting of data concerning you. To exercise this right, send an e-mail to communication@indeauville.fr.
P

hotographies: ©

Naiad Plant
/
All rights reserved.