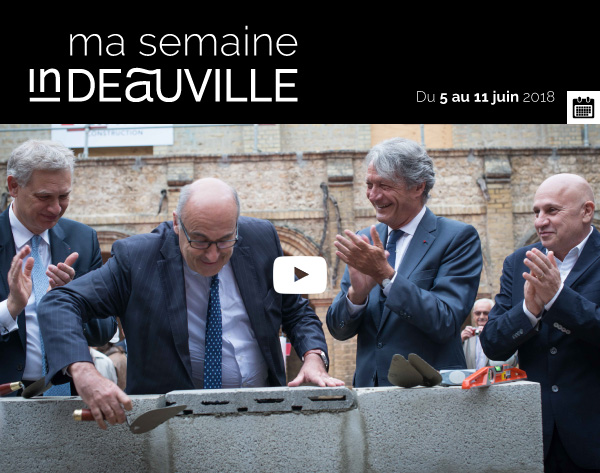 THE IMAGE OF THE WEEK
In 2020, the place of life and culture Les Franciscaines will further enhance the attractiveness of Deauville. At the invitation of the City of Deauville, the partner companies of the project and those who are engaged in its realization met Friday evening for the break of a symbolic foundation stone in the presence of the Sisters of the Congregation.
DEAUVILLE / TROUVILLE / LE HAVRE
Saturday 9 June
________
Joining Le Havre by sea, have you thought about it?
Just board the summer sea shuttles to cross the Estuary
between the ports of Deauville / Trouville-sur-mer and Le Havre. An original walk to pass
the day on the other bank of the Seine without constraint (parking, traffic…).
You will love the views from the sea, truly exotic!
SAINT-ARNOULT


Du 5 to 7 June
________
1000 riders at
International Horse Pole
Nearly 1 entrants, in saddle on young horses from 000 to 4 years old, tread the tracks of the International Pole of Horse during these tests.
DEAUVILLE

Friday 8 June

________

New:
Friday regatta

A sailing regatta in its simplest device on a coastal course of 2 hours, for the pleasure of navigation.
VILLERS-SUR-MER

Saturday 9 June

________

Body karate on the beach,
to try

Body karate combines the technical gestures of karate with fitness on a musical rhythm, without contact and without adversary.
VLLERS-SUR-MER

Saturday 9 June

________

Guided tour: Dinosaurs
from Normandy

Immerse yourself in the world of dinosaurs, these large terrestrial reptiles whose fossils have been found in Norman rocks.
VLLERS-SUR-MER

Sunday 10 June

________

Guided tour :
Jurassic Odyssey

The Paléospace presents a rich collection of fossils from the Vaches Noires cliffs. Explore this Jurassic world.

BENERVILLE-SUR-MER

Sunday 10 June

________

Orchi Day!

Mont-Canisy harbors several species of orchids: Ophrys bee, Goat orchid, Fuchs ... Go and discover them.
VILLERS-SUR-MER
Sunday 10 June
________
Mustang Villers Show
The opportunity to admire the beautiful American bodywork of all eras and maybe even take a little trip!
DEAUVILLE
Saturday 9 June
________
Musical show: Les Coquettes
Musical revelation of 2016, this naughty trio mocks the canons of seduction via quirky texts
that don't lack spice. With Juliette Faucon, Lola Cès, Marie Facundo.
DEAUVILLE AND LE HAVRE
Du 13 to 15 June
________
Discover the challenges of Estuaries
The third edition of the Global Estuaries Forum will be held from June 13 to 15, in Deauville and Le Havre, in the heart of the Seine estuary. This meeting will bring together delegations of political, economic and scientific decision-makers from major estuaries of the world to discuss the different models of economic development in a context of growing opportunities and threats. Come and debate the challenges of governance more suited to economic and sustainable growth of estuaries and the means to unite these territories so that they are perceived and managed as spaces in their own right.
Inscriptions on
https://www.globalestuariesforum.com/
In accordance with the "Data Protection" law of January 6, 1978, you have the right to access, rectify and delete data concerning you. For any request, send us a message by clicking on communication@deauville.fr.
Photographs: © Sandrine Boyer / Naïade Plante / Laurent Lachèvre / Villers OT / Marcin-Machalski / Ecopya