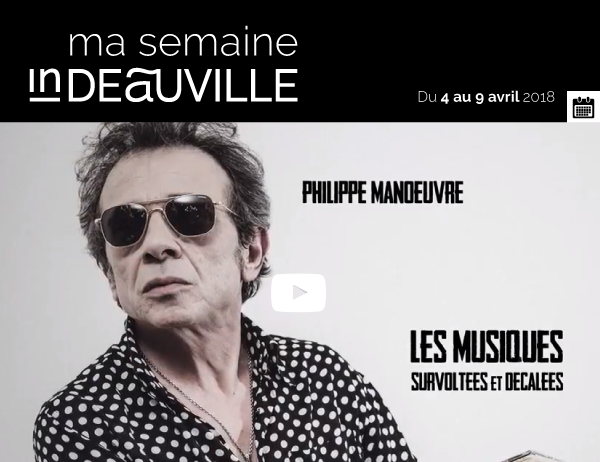 Saturday 7 April
________
Cultural season - Sophie Alour invites ...
Sophie Alour has established herself as one of the best saxophonists on the French jazz scene. The esteem that she arouses among other musicians allows her to invite her, during a concert and an album, 4 exceptional musicians for a concert that revisits the great standards of jazz: Stéphane Belmondo, one of the best trumpeters of his generation, André Ceccarelli the favorite drummer of Aznavour, Bécaud, Nougaro, Salvador, Jonasz…, Alain Jean-Marie, pianist bebop, inventor of Biguine jazz, and Sylvain Romano, often asked by Lionel and Stéphane Belmondo.
Sunday 8 April

________

David Cassan on the organ

Titular organist of the Grand Organ of the Louvre Oratory in Paris, Daniel Cassan will offer a program comprising the Fantasy in G minor by JS Bach, works by Louis Vierne and Alexandre Guilmant and will finish by improvising a symphony in 4 movements.

DEAUVILLE

Wednesday 4 April

________

Violin concert
and lyric song

by thirty students from the Claude Bolling music school, under the direction of Florence Devielhe.
SAINT-ARNOULT

Sunday 8 April

________

Hikers
are in Saint Arnoult

Several itineraries to choose from are offered, passing through the Barrière golf course, the beach and Galloping on the hippodrome, before a parade in town and horse-riding activities in the afternoon.

DEAUVILLE

Monday 9 April

________

Horse races

Following the bad weather at the start of the year, two Premium Maisons-Laffitte meetings were postponed, including one in Deauville.
VILLERS-SUR-MER

Saturday 7 et sunday 8 April

________

Go back in time
in the Jurassic era

Immerse yourself in the world of dinosaurs, whose fossils have been found on the cliffs of the Vaches Noires, with a guide from the Paleospace.
VILLERS-SUR-MER
Sunday 8 April
________
30th hike on the Côte Fleurie
A long hike connecting Caen to Villers-sur-mer open to all.
From the amateur walker to the great hiker, choose your distance: 20, 30 or 50 kms!
Golf, tennis, sailing or painting… at Easter, everything is possible.
TOURGEVILLE

Sunday 8 April

________
DEAUVILLE
Saturday 7 April
________
Citizenship Ceremony
Welcome to the age of majority!
The municipal team invites 18-year-olds to come and meet them to present their rights and duties as well as the fundamental principles of the republic. On this occasion, they will receive their voter registration card and the Citizen's booklet.
In accordance with the "Data Protection" law of January 6, 1978, you have the right to access and rectify data concerning you.
For any request, send us a message by clicking on communication@deauville.fr.
Photographs: © Sandrine Boyer / Naïade Plante / Uji Starnel / Jema Touques / Simon Photo