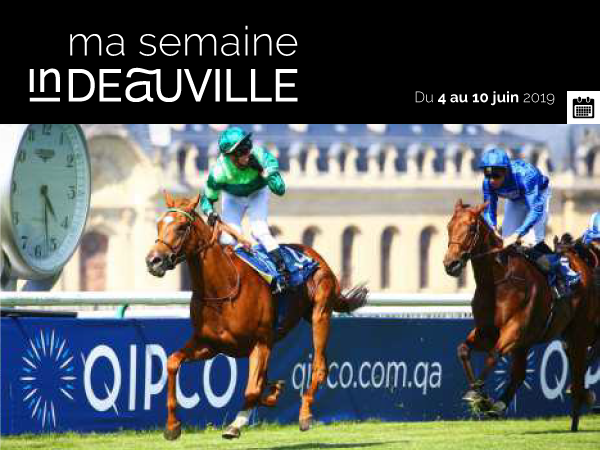 Image of the week:
Sottsass, a horse based at the Deauville training center, and his jockey Cristian Demuro win in record time in the QIPCO Prix du Jockey Club yesterday at Chantilly. The pair set a new record for the event and also for the 2100 meter course by completing the race in only 2'02''90. This is the first time that a horse trained in Deauville has won this race, which is one of the most famous in the world.

BENERVILLE-SUR-MER
Wednesday June 5th
__________
Commemoration of the "Neptune" operation on Mont-Canisy
A commemorative stele pays tribute to the British crews of the operation "Neptune" in the Bay of Seine. Operation
Neptune
was the first phase of Operation
Overlord
, which aimed at the reconquest of Europe.
VILLERS-SUR-MER

From June 5th to 13th

__________

Exhibition of paintings

The students of the painting workshop of the MJC Marcel-Hennebois, with their teacher Bruno Caillé exhibit their work of the year 2018/2019.

TOUQUES

From June 7th to July 28th

__________

Exhibition : Peas or stripes ?

Woven, braided, painted, the play of stripes and polka dots impart their multicolored hues to objects in a sophisticated aesthetic.
VILLERS-SUR-MER

Sunday, June 9th

__________

Concert : Vivaldi, Haydn and Mozart

By the Choir and soloists of the Pentemont-Luxembourg United Protestant Church with the Dimitri Instrumental Ensemble.
June 5, 8 and 9
__________
Micro-Folie Deauville
This week at Micro-Folie we discover the 19th century. A place to share around multiple activities open to young and old. Appointments not to be missed:
June
5
& 8
: Teenagers' Rendezvous, training at the FabLab to realize your digital creation projects
June
8
& 9
: Artist's Seed to develop your creativity, play together and discover art, Family and playful visits (from 6 years)
DEAUVILLE

Tuesday June 4th

__________

Women's soccer training in public

Six international teams are in Deauville for their training sessions. The City of Deauville will provide seats for the first training session of the Spanish team.
BLONVILLE-SUR-MER

Sunday June 9th

__________

Garage Sale
VILLERS-SUR-MER

Saturday, June 8th

__________

Dinosaurs of Normandy

Discover the fossils that have been found in the rocks of Normandy.
VILLERS-SUR-MER

June 9th and 10th

__________

Jurassic Odyssey

A playful visit to discover the Jurassic world for young and old.
DEAUVILLE

Saturday June 8th

__________

Humor show : "Vamp privée.com

Gisèle Rouleau takes herself to dream of a retirement home, Club Med style...
The collection of your personal information is carried out by the SPL territoire de Deauville for its own and exclusive use.
This registration is subject to a declaration to the CNIL (Commission Nationale de l'Informatique et des Libertés).
In compliance with the French Data Protection Act and the RGPD, you have the right to access, modify, rectify and delete data concerning you,
of rectification and deletion of data concerning you. To exercise this right, send an e-mail to communication@indeauville.fr.
Photographs: © Scoop Dyga / Sandrine Boyer Engel / Naïade Plante / Jean-Yves Lafesse / Casino Barrère Deauville / Laurent Lachèvre /