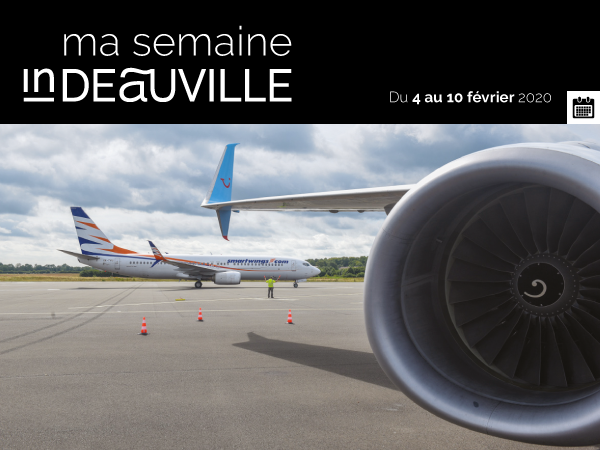 More than 30 destinations from the airport in 2020
Balearic Islands, Croatia, Crete, Canary Islands, Sicily, Madeira, Spain, Norway, Czech Republic, Sardinia, Italy, Portugal, Greece, Malta ... but also news in 2020 from Deauville-Normandy Airport

DEAUVILLE


Sunday February 9
________
Dance: "Dream", the new creation of the Julien Lestel company
With this new creation, the choreographer takes you into the world of dreams, where the most buried and secret desires live. On scores by the Icelandic composer Jóhann Jóhannsson and a musical creation by Ivan Julliard, the gestures of the dancers arouse unparalleled emotion.
Guest artist: Alexandra Cardinale of the Paris Opera
DEAUVILLE
Tuesday February 11
________
The 2019 season | 2020
"Anna Magdalena Bach's little book"
by Agathe Mélinand
"I wanted this show on music, in music. How we live it, when your father, your teacher, your husband is Jean-Sébastien Bach ". Agathe Mélinand.
A show very freely constructed from the "Notenbüchlein für Anna Magdalena Bach" by Jean-Sébastien Bach, Carl Philipp, Emmanuel Bach, François Couperin… and the film Chronicle by Anna Magdalena Bach by Jean-Marie Straub and Danièle Huillet.
TOUQUES

Friday February 7

________

Share a reading moment
with baby

They cannot read, but toddlers can listen, observe and react. Share this moment with them.

From 0 to 3 years old.

VILLERS-SUR-MER

From February 8

________

Go back to Jurassic times with a touch pad

The Paléospace reopens its doors with a novelty: equipped with a tablet, follow a fun journey in stages through the museum and discover the exceptional history of marine reptiles, dinosaurs of the Norman Jurassic.

From 7 years old.
VILLERS-SUR-MER

10 at 14 February

________

Participate in the workshops "Dinos frosted"

The Norman rocks are full of fossils of the Jurassic fauna. At the end of each workshop, the children leave with their discovery notebook or a fossil molding.

From 5 to 10 years old.
VILLERS-SUR-MER

10 at 14 February

________

Make lots of small items

Each workshop has its theme to always vary and stimulate children's creativity.

From 4 to 12 years old.

VILLERS-SUR-MER

10 at 14 February

________

Play group at Zap Club

Sport for 7 to 14 year olds. On the program: badminton, discovery of a new sport, football, team sports, large traditional games…
SAINT-ARNOULT


Tuesday February 4
________
Show jumping: warm up
A day open to all riders who wish to train show jumping horses for future competitions.
Horseback riding :
five nature outings
In the heart of what is one of the best breeding grounds in the world, the inDeauville equestrian centers take you on horseback trekking. They can help you discover a sometimes steep coastline near Villerville, at the foot of Roches Noires, or on Mont-Canisy, above Bénerville-sur-Mer. In the Blonville-Villers marsh, you will return to sea level. There, you will ride between the canals and the ditches where protected animal and plant species live.
DEAUVILLE


From February 8
________
Wade in the pool
After a few weeks of meticulous care and cleaning of the pools, the Olympic seawater swimming pool is again ready to be used by bathers.
A new guided tour to discover: "Deauville, gourmet stories
Region of flavors and tradition, Normandy is full of exceptional dishes. Deauville, nestled between sea and land, conceals delicacies and appetizing stories to share. Throughout the circuit through the streets of Deauville, savor the anecdotes on the history of Deauville and Norman gastronomy, from the markets to the stages of production of regional products. Along the way, your awakened appetite, tasting local products will whet your taste buds: cheese, chocolate or the famous Calvados will have no secrets!
The collection of your personal information is carried out by the SPL territory of Deauville for its own and exclusive use.
This registration is subject to a declaration to the CNIL (National Commission for Information Technology and Liberties).
In accordance with the Data Protection Act and the GDPR, you have the right to access, modify,
rectification, deletion and forgetting of data concerning you. To exercise this right, send an e-mail to communication@indeauville.fr.
Photographs: © Casino Barrière Deauville / Christophe L Collection / Passion for Art Association / Calvados Tourisme / Paléospace / G. Wait / Sandrine Boyer Engel / Intermezzo / All rights reserved.