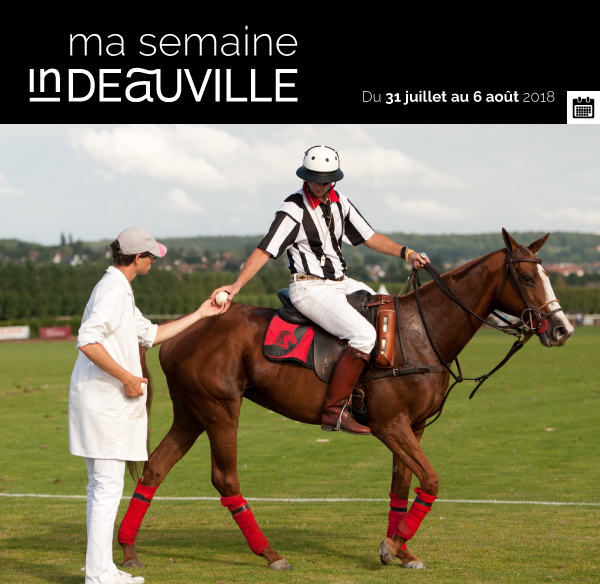 THE IMAGE OF THE WEEK
August 4-26
________
Let's go for a month of polo
Some of the best players in the world have arrived in Deauville for the Barrière Deauville
Polo Cup. Ready to do battle, they will try to win the Silver Cup, which made its comeback last year. It will be followed by the traditional Gold Cup, Bronze Cup
and Ladies Polo Cup. So many opportunities to discover this sport as spectacular as it is exciting.
Demonstrations of Kids Polo, parades in the streets of Deauville and Beach Polo
will also be on the program for this 2018 edition!
VILLERVILLE
August 1-5
________
CityArtCity
The festival dedicated to art returns to Villerville for its 3rd edition. Visual artists, graffiti artists,
DJs will be there. On the program: creation of a giant fresco, initiations to mixing
and scratch, live painting, concerts, painting workshops, exhibition, conference.
Wednesday August 1Links
in art

Take advantage of a sea trip to "crunch" and photograph the coast.

August 1st, 4th and 5th Fun visit

Experience the exhibition through an interactive and fun visit during which all your senses will be put to the test!

Friday August 3 The Escape game
from Dufy

Enter the artist's steps in the Haras du Pin. You only have 20 minutes to find the code to exit!
Thursday August 2 Conference: The everyday artist

Lynda Frenois presents the artistic, historical and societal context in which the works presented were produced.

Friday August 3 Croc'Tableaux

Recompose an exposure table using sweets.
VAUVILLE
August 4-16
________
20th Pictorial of Vauville
The works of around thirty painters, sculptors and ceramists will be exhibited.
Guest of honor: Elyane Jacobs
TOUQUES

From August 3 to September 30

________

Bestiary of artists

An immersion in the animal world imagined by craftsmen.
DEAUVILLE
July 31, August 1, 3 and 4
________
Explore chamber music
with the 17th August Musical
Tuesday, join the Hanson Quartet for a concert combining the radiant virtuosity of Liszt and Messiaen, the savage violence of Chostakovitch and the romantic confidence of the tender Schumann.
On Wednesday, this same quartet returns to perform two summits of the Spanish and Czech musical genius of Falla and Martinu, then the first dazzling masterpiece of a young Mendelssohn of 17 years old.
Friday, place at Ambroisine Bré, mezzo-soprano and new diva of French song, and the Harmonic Chapel for an anthology of baroque gems around the famous "Lamento" by Monteverdi.
On Saturday, Liszt and Kodaly will be in the spotlight, the two geniuses of romantic and modern Hungarian music at the height of their creative invention, and a Brahms as virtuoso as inspired.
VILLERS-SUR-MER

July 31 and August 3

________

Soul
and rock at Sable Show

Tuesday, although originally from Nashville, DeRobert and the Half-Truths excel in soul music. Friday, Back to the Police pays tribute to the legendary group.

BENERVILLE-SUR-MER

Saturday, August 4

________

Concert: Duo Savarit-Messier

This jazz-dobro guitar duo

and vocals-harmonica-

washboard-percussions invite

a trip to the land of the blues

and jazz ... with a few

laughter at the end!

DEAUVILLE

Thursday August 2

________

Concert: Barcelona Gipsy Balkan Orchestra

Seven musicians interpret the traditional music of gypsies and Jews from Eastern Europe, making it coexist with popular Spanish tunes.
SAINT-PIERRE-AZIF

Tuesday July 31

________

Reading-concert:
"The heart galloping"

According to the texts of rider writers,

Jérôme Garcin, John Hawkes, Jules Renard,

Jean Rochefort, Françoise Sagan…

ride equestrian figures and pleasures!

Texts and reading: Philippe Müller,

Vincent Vernillat. Accordion: Christian Anger.

As part of the 17th Meetings

Summer Theater and Reading in Normandy

VAUVILLE

Saturday, August 4

________

Literature
in campaign
10e edition

Fifteen regional authors meet.

Guests of honor: Jérôme Garcin,

Vladimir Fédorovski and Philippe Déterville.
DEAUVILLE
Tuesday July 31, Friday August 3 and Sunday August 5
________
The international elite of the Gallop in La Touques
Tuesday, the most famous tables of the seaside resort will be in the spotlight during the day's races. Race of the day: Prix de Tourgéville (Listed)
Friday, with Secours Populaire, a hundred children from Ile de France and Eure-et-Loir are invited by France Galop to come and enjoy the many activities. Race of the day: Prix d'Hudimesnil.
Sunday, LARC Prix Maurice de Gheest (Gr. 1), one of the most anticipated races of the Meeting, will offer a rare confrontation over 1300 meters in a straight line between sprinters, specialist horses for short distances, and milers, including preferred distance is 1 meters.
TOURGEVILLE
Thursday 2, Saturday 4 and Monday 6 August
________
Flat, trot and obstacle at Clairefontaine for 90 years
Flat on Thursday, obstacle on Saturday, flat and obstacle on Monday! If the Deauville-La Touques racetrack is the sanctuary for flat racing, that of Clairefontaine can boast of being the only tri-disciplinary racetrack on the Normandy coast. On the entertainment side, Thursday will honor local products, Saturday sport and yoga, while a giant cake will be shared between the 500 first arrivals on the racetrack on Monday to celebrate its 90th anniversary. opening hours.
DEAUVILLE

Saturday August 4 and Sunday August 5

________

Navigate with
Eric Delamare

On his Figaro 2 "Normandy Region", before he takes off from the Solitaire Urgo - Le Figaro at the end of August, the young Deauville skipper will share his experience with you

DEAUVILLE

2 and 5 August

________

Embark on a sailboat

Led by Malko, a subject matter expert,

you will pull edges in front of the beaches

of the Côte Fleurie to discover birds

sea ​​and cliffs of Roches Noires.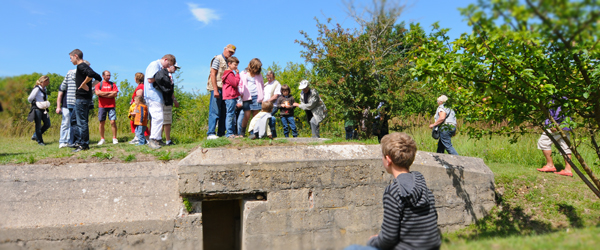 Nature walks, heritage tours
and historical, walk in the park…
DEAUVILLE

Tuesday July 31

________

We all get started
music

A large collective collection of waste on the beach to regain awareness that we can all act to preserve its beauty and naturalness.

BLONVILLE-SUR-MER

Wednesday August 1

________

Contest: Selfie challenge

With your camera or smartphone, take up 7 photo challenges per team.

VILLERS-SUR-MER

Saturday, August 4

________

Villers Beach Day

A real day to invest the beach, play sports and have fun with family
BLONVILLE-SUR-MER

Monday August 6

________

Fort competition
resistance to the sea

Build, with family or friends, a pile of sand that will accommodate the entire team until the onslaught of the rising tide.

VILLERVILLE

Monday August 6

________

Police investigation
full-scale

A famous master painting was stolen. Become an investigator and try to solve this mystery.

DEAUVILLE

Until August 25

________

Beach Teen Club

The "HQ" of 11 - 17 year olds

to practice sports, fun and invigorating activities all summer long.
BENERVILLE-SUR-MER

Saturday, August 4

________

Brocante
VILLERS-SUR-MER
Monday August 6
________
Screening: The Secret of Black Cows
Jean-Pierre Loevenbruck's projections are a moment of unique sharing between lovers of local history and heritage.
In accordance with the "Data Protection" law of January 6, 1978, you have the right to access and rectify data concerning you.
For any request, send us a message by clicking on communication@deauville.fr.
Photographs: © Sandrine Boyer / Naïade Plante / Marine Le Guillard / Villers OT / All rights reserved