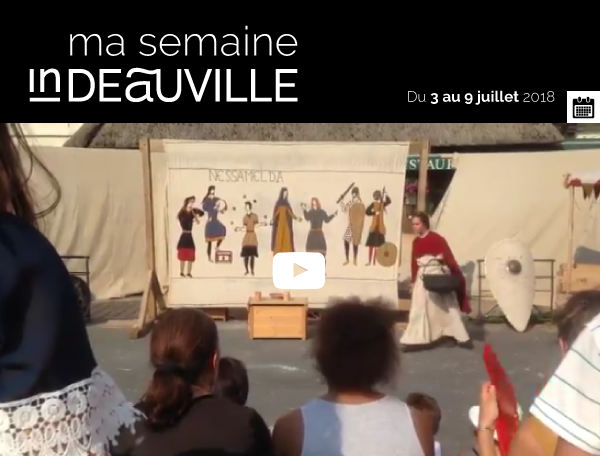 THE VIDEO OF THE WEEK
Street theater, tournaments, climbing the watchtower, wandering farm, Viking encampment, swords, tavern and games, fire show ... Back in pictures on
Medieval Touques, Chapter VIII
DEAUVILLE
Du July 8 au 16 September
________
Summer Expo - Artists in Normandy
The summer exhibition reveals 46 exceptional works on Normandy: Delacroix, Monet, Daubigny, Renoir, Vlaminck, Doisneau, Vitali…. among others are to be discovered at Point de Vue all summer. We will never tire of coming and coming back to see them. The program offers multiple approaches: conferences of course, but also "speed visits" to understand a painting in 15 minutes, games, workshops, yoga sessions in the middle of the works… Discover the program here.
The Off of the exhibition:
a gallery of portraits on the boards
On the doors of the Planches cabins, in large format discover the portraits of the artists on display. Their gaze was captivated by our landscapes. You will be captivated by their gaze.
__________
We want to go there every day
Sunday 8 July :
Conference "The secrets of the Paint in Normandy collection"
by Alain Tapié, co-curator of the exhibition and artistic director
from the Paint in Normandy Collection
Everyday
Speed ​​visit (15 minutes) and geocaches
__________
VILLERS-SUR-MER

Saturday 7 July

________

Concert of the Caen Harmony Orchestra,
La Fraternelle

The orchestra claims two essential missions, in addition to offering quality music: allowing the practice of music to people who wish to express themselves in a unanimously recognized formation, and allowing young musicians to continue their training.

TROUVILLE-SUR-MER

Wednesday 4 July

________

School concert
of music

Teen song with the students of Falaise under the direction of Florence Devieilhe.
DEAUVILLE

Sunday 8 July

________

Philosophy conference"Force of law to force, Inquisition and government by
terror "

Last of the 14 conferences led by Michel Onfray as part of his Popular University.
TOURGEVILLE - DEAUVILLE

Du 3 to 5 July

________

Sale of summer horses

The Summer Sale brings together horses in flat and obstacle training as well as blinds - 2 and 3 year old horses with obstacle vocation - and 2 year old flat foals and fillies.
DEAUVILLE


Tuesday 3, Wednesday 4 and Sun. 8 July
________
Preview of the meeting
summer on the racetrack
from Deauville-La Touques
Three racing days are scheduled for this beginning of July. Do not miss on July 8, the Qatar Prix Jean Prat, which was previously disputed in Chantilly. It endows the racetrack with an additional race labeled Group 1, the level of excellence of the Gallop. Deauville now hosts 8 Group 1 races.
TOURGEVILLE

Saturday 7 July

________

Flat races and day of local and regional authorities in Clairefontaine

The Clairefontaine racetrack meeting continues. This year, the racetrack invites you to experience the most beautiful emotions: vibrate with the passage of horses, marvel at its 100.000 flowers, feel the surrounding nature, discover the typically Anglo-Norman charm of the stands, play on your favorite horse, participate the many games offered every day ...
VILLERS-SUR-MER
Du 8 to 16 July
________
Tennis: Youth tournament
First summer tournament reserved for young people for the Villers sur mer tennis club.
DEAUVILLE

Saturday 7 July

________

Dinner-review-show:
"Muses season 3"

150 costumes and 10 exceptional artists in a succession of paintings mixing song and live music, dance and attraction.

TOUQUES

Wednesday 4 July

________

Dance aperitifs: tango

The hall turns into a tango track. Discover this dance with Geneviève Jean and Joël Delacroix.

Friday 6 July

________

Jazz aperitif - K'Tout

Quartet Catherine Anconina on vocals, Boris Branilovic on piano, Jérémy Vassout on bass and Jean-Michaël Tallet on drums, come together around a "Jazz" repertoire bringing together the great standards of song.
TOURGEVILLE, BENERVILLE-SUR-MER, SAINT-ETIENNE LA THILLAYE,
BLONVILLE SUR MER, VAUVILLE AND DEAUVILLE
Wednesday 11 July
________
Art rando: Reserve your place now
A day of hiking, between land and sea, to get off the beaten track and discover the small trails in the heart of the Pays d'Auge between two cultural stops.
In accordance with the "Data Protection" law of January 6, 1978, you have the right to access, rectify and delete data concerning you. For any request, send us a message by clicking on communication@deauville.fr.
Photographs: © Pays d'Auge / J. Basile / Sandrine Boyer / Naïade Plante