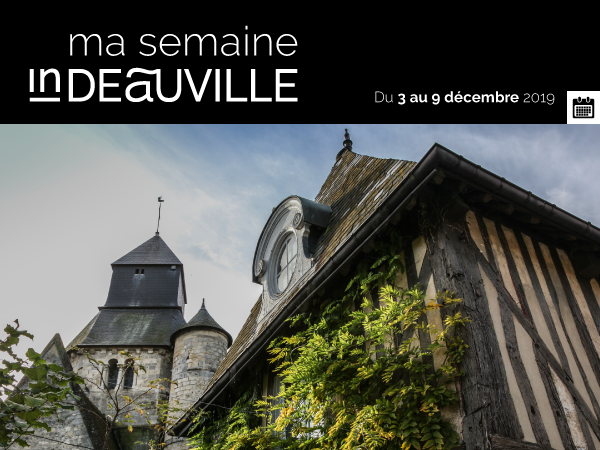 Touques, a "small city of character
One year after submitting its application, Touques, town of history and heritage,
has just been awarded the label "Petite cité de caractère" (small town of character), the first time this has been awarded to a town in Calvados. The label is a guarantee of quality for visitors, and the towns that have been awarded the label and promote cultural and heritage tourism have seen an average increase of 20% in the number of visitors.
DEAUVILLE
Friday December 6th
________
Women & Challenges Forum
1st national forum for women in business
Femmes & Challenges offers a very pragmatic meeting, dedicated to women entrepreneurs, managers and project leaders from all over France, united around the values promoted by the network: ambition, synergy, challenge, competence, audacity, sharing...The objectives: to do business and multiply your network exponentially in one day, to meet national business networks to boost your career and development, to work on your problems and leave with solutions, to take a step back from your activity and to be inspired by the fascinating testimonies of female managers and business leaders.
DEAUVILLE


December 7th to 10th
________
High quality breeding sale
This sale brings together confirmed broodmares that have already produced Group level horses (the highest level of competition) or have themselves achieved very good results on the track, young mares with attractive pedigrees from the most prestigious French breeders and a selection of foals.

VILLERS-SUR-MER

Wednesday, December 4th

________

Writing workshops

DireLire offers to create small gift messages that will be sold during the weekend on the events in Villers-sur-Mer.

DEAUVILLE

Friday December 6th

________

Night stroll
in Deauville

Touques Randonnée organizes a 7 km night walk in Deauville. Coffee, wine and hot chocolate offered at the arrival !

VILLERS-SUR-MER

Friday, December 6th

________

Show, dance and concert by the group Ego

Theater, dance and word reading... The associations of Villers-sur-Mer will offer several small shows, followed by a concert with the group of musicians Ego.
DEAUVILLE

Saturday, December 7th

________

Animations
at the Olympic pool

Initiation to diving, triathlon and surf-paddle

surf-paddle, time taking and distance records, games for the little ones and aquagym.

VILLERS-SUR-MER

Saturday, December 7th

________

Défi sportif
8h non-stop

8 hours of non-stop sports and activities with the participation of the sports associations of Villers-sur-Mer. Hiking, fitness, dance, karate, bike and run, table tennis, Zumba, rally car baptism, photo workshop... many activities will be proposed.

VILLERS-SUR-MER

Sun 8 December

________

Tea
dance

A few dance steps around a tea or coffee and some delicacies orchestrated by Lorenzo.
TOUQUES

Until December 31st

________

Christmas at the Gallery

A selection of unique and authentic pieces, made of ceramic, glass, wood or textile, which highlights the handmade and the mastered know-how of craftsmen, designers and artists.

SAINT-GATIEN-DES-BOIS

Sunday, December 8th

________

Christmas Concert

The Scamelvilla choir from Equemauville will give a concert entirely composed of Christmas songs.

SAINT-GATIEN-DES-BOIS

Sunday, December 8th

________

Christmas Market

The Parents' Association has invited 11 local craft exhibitors who will be displaying candles and soaps, loose tea, wine & cider, Christmas decorations, and Christmas trees! Santa Claus will make an appearance and pony rides are offered.
VILLERS-SUR-MER

December 7th to 12th

________

Exhibition :
"Fragment of Waves"

Noémie Lacroix has painted like waves on the shore, two vertical fragments of fluid silk. Wet by the colors of the sea and suspended in the patio of the Villa d'eaux, they are an invitation to calm.
DEAUVILLE

Saturday 7 and Sunday 8 December

________

Dress sale and beautiful objects

to the benefit of the Soroptimist Club's actions

in favor of the environment.
DEAUVILLE

Saturday, December 7th

________

Revue-dinner-show : "Deaullywood

Through the evocation of some films and filmmakers that have become cult, dance, song and comedy will serve the sequence shots of this 7th art.
DEAUVILLE

Saturday December 7th

________

Concert of the duo Instant Cocktail

In an acoustic guitar and voice duo formula, Fred and Mireille offer covers of jazz, bossas, ballads and French songs

VILLERVILLE

Sunday December 8th

________

Bistro Day

organized by the association

Les jeudis d'antan.
The collection of your personal information is carried out by the SPL territoire de Deauville for its own and exclusive use.
This registration is subject to a declaration to the CNIL (Commission Nationale de l'Informatique et des Libertés).
In compliance with the French Data Protection Act and the RGPD, you have the right to access, modify, rectify, delete and delete your personal data,
of rectification, deletion and oblivion of data concerning you. To exercise this right, send an e-mail to communication@indeauville.fr.
Photographs: ©
Casino Barrière Deauville / Noémie Lacroix /Roman Dritz / Wikicommons-Ji-Elle / Mairie Saint-Gatien-des-Bois / Club Soroptimist Trouville-Deauville / Chorale Scamelvilla / Justine Jacquemot / Sandrine Boyer Engel / Rights reserved.