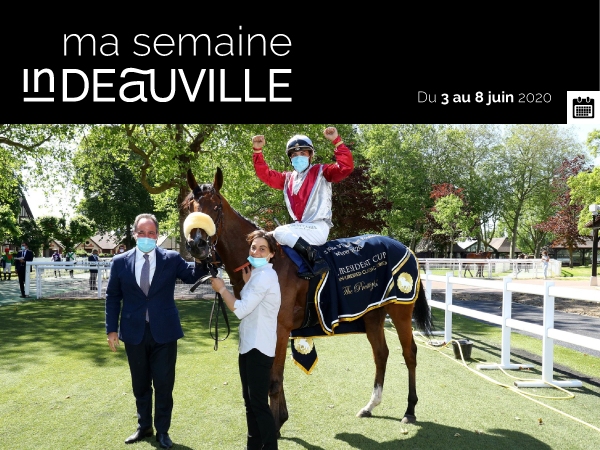 Image of the week
As in 2016 and 2017, the Deauville-La Touques racecourse welcomed this Monday June 1st the Poules d'Essai des foains et fillies, relocated from Longchamp. The two races, placed under the sign of speed and excellence, decide between the best hopes of the three-year-old generation. Victor Ludorum, ridden by Mickael Barzalona, ​​won the Poule d'Essai des Poulains. This is the 8th time that his coach André Fabre has won this Group 1. For the fillies, Maxime Guyon's victory in the saddle on Dream And Do, led by Frédéric Rossi, who thus wins his first Group I. Deauville is proud to have hosted these races of an international level which shows the quality of its equipment and the professionalism of the teams.
August 1963 / Juliette Gréco at La Touques racecourse © Philippe Le Tellier / Paris Match
June 6 to September 27
_________
Deauville and Paris Match:
The gift of 15 writers in Deauville for its 160 years
A walk in images and in the open air to discover the rich history woven between Deauville and Paris Match in twenty commented and often unpublished photographs. A journey back in time, in black and white then in color, to find over 70 years, the artists and friends of Deauville who love it and who have adopted it.
The intimate Deauville of…
15 unpublished texts by 15 writers who are friends of Deauville
François Bott, Belinda Cannone, Arnaud Cathrine, Régis Debray, Frédérique Deghelt, Colette Fellous, Jérôme Garcin, Max Genève, Paul Giannoli, Jean-Louis Gouraud, Patrick Grainville, Stéphane Héaume, Philippe Labro, Christine Orban and Vanessa Schneider have experienced moments striking, intimate and unforgettable in Deauville. They deliver fifteen unpublished texts collected in this collection.
André Hambourg, "After Renoir" and "After Corot", 1928 © ADAGP, Paris, 2020
Sketched portraits
Put a touch of culture in your daily life by exploring the collections of the Franciscans. This week, head for the artists' sketches!
Your most beautiful photos
containment at Villerville
Villervillais are invited to send before June 14 their most beautiful photos illustrating confinement in Villerville. Photos of yourself, of your home, taken at the window, during authorized outings, of your hobbies, of passing time ... 20 photos will be printed in 60x80cm format and exhibited in the Parc des Graves during the summer .
Active walk from the leisure park
Concept Sport Emotion gives you an appointment every Tuesday, Thursday and Friday to enjoy the great outdoors while respecting barrier gestures for one hour. The instructor adapts the sports session by alternating walking and physical exercise.
The collection of your personal information is carried out by the SPL territory of Deauville for its own and exclusive use.
This registration is subject to a declaration to the CNIL (National Commission for Information Technology and Liberties).
In accordance with the Data Protection Act and the GDPR, you have the right to access, modify,
rectification, deletion and forgetting of data concerning you. To exercise this right, send an e-mail to communication@indeauville.fr.
P

hotographies: © Juliette Gréco at the La Touques racecourse © Philippe Le Tellier - Paris Match

/ Justine Jacquemot /

Pixabay /

All rights reserved.