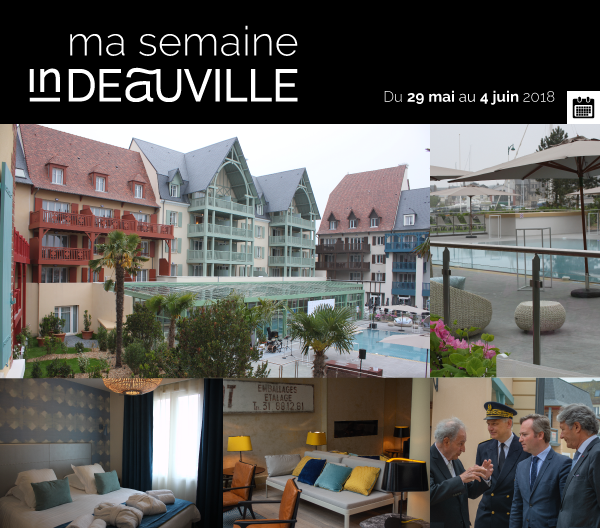 THE IMAGE OF THE WEEK
Last Friday, Gérard Brémond, CEO of the Pierre & Vacances - Center Parcs Group, Jean-Baptiste Lemoyne, State Secretary to the Minister of Europe and Foreign Affairs, Laurent Fiscus, Prefect of Calvados, and Philippe Augier, Mayor of Deauville, inaugurated the first 5 * Pierre & Vacances premium residence located by the sea, in Deauville on the peninsula.
DEAUVILLE
Saturday 2 et sunday 3 June
________
"Go to the gardens" at Calouste Gulbenkian Park
On the occasion of the national event "Rendez-vous aux jardins", the Coulouste Gulbenkian park opens for free and it will even be possible to picnic! Workshops will also be offered; cuttings, mandala, beehive discovery, treasure hunt and a nature hike.
BLONVILLE-SUR-MER

Sunday 3 June

________

Birdwatching of the marsh birds

Come and observe different species of birds (sometimes rare!) In their natural environment.
EVENT CONCERT
LE HAVRE
Saturday 2 et sunday 3 June
________
The voices of the estuary unite for a great choral concert
26 choirs from the estuary, nearly 1200 singers, in a large choir, accompanied by the Another New Big Band, a jazz band of 17 musicians, come together for a large choral concert, "La java Broadway ". The singer Cali will join them on stage for this original concert.
SAINT-JULIEN SUR CALONNE


Du 1st to 3 June
________
Green for life
Organized by the Soroptimist Club, the profits from this golf competition are intended to finance local sports therapy programs for people affected by cancer.
DEAUVILLE

Saturday 2 June

________

Visit of the Saint-Laurent church

A Plantagenet vault and narrow windows date the church, at least its old span, from the beginning of the 12th century.

VILLERS-SUR-MER

Saturday 2 June

________

Guided tour: Dinosaurs of Normandy

Immerse yourself in the world of dinosaurs, these large terrestrial reptiles whose fossils have been found in Norman rocks.

VILLERS-SUR-MER

Sunday 3 June

________

Walk: Taste the Pays d'Auge

An immersion in the region which continues on arrival with a tasting of traditional products made on the farms of Auge.
SAINT-ARNOULT

Sunday 3 June

________

Anything
DEAUVILLE
Thursday 31 May and friday 1st June
________


In Normandy


The CCIs of Normandy organize the 1st edition of this event dedicated to innovation and digital technology. 4 business and community visitors are expected to experience immersion in the new trends that will shape the economy of tomorrow.
DEAUVILLE

Saturday 2 June

________

Scientific Congress: Ink Tour

Theme: Surgery and rehabilitation of the shoulder, hip and knee - the ambulatory turn and RAAC program (Improved Rehabilitation After Surgery), whose objective is to facilitate the return home of operated patients. This event is open to all health professionals.
In accordance with the "Data Protection" law of January 6, 1978, you have the right to access and rectify data concerning you.
For any request, send us a message by clicking on communication@indeauville.fr.
Photographs: Sandrine Boyer / Naïade Plante / 1616prod / National Institute of Physiotherapy / Paleospace / Béatrice Augier / Gwenaëlle Huard-Marie