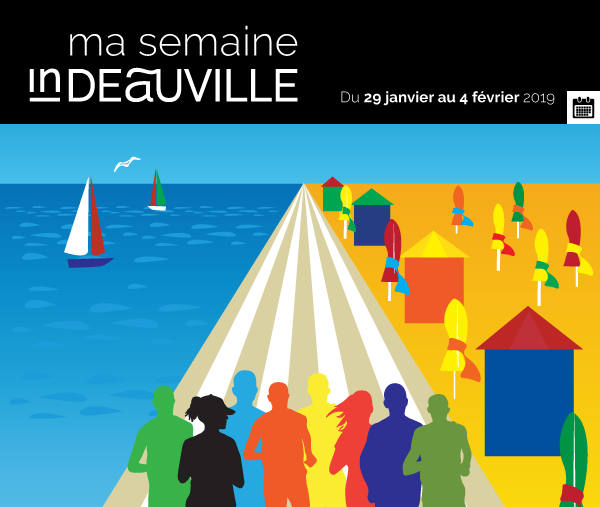 inDeauville hosts its first marathon:
Register now!
It is a superb new course which is reserved for the thousands of participants expected
on the 1st International Marathon inDeauville on November 17th.
The event is sponsored for this first edition by the filmmaker Claude Lelouch,
who has always been a lover and resident of the area and a runner in his spare time.
DEAUVILLE
January 30 to February 3
_______
Enter a Micro-folie
Micro-Folie offers an innovative access to culture by broadcasting via a digital museum
the works of major institutions that can be explored in detail, a game library
and a fab lab equipped with a 3D printer.
TOURGEVILLE
Tuesday January 29th
_______
Violin and cello concert
By the classes of the Claude Bolling inter-communal music school under the direction
Florence Devieilhe and Mathilde Blondel.
SAINT-ARNOULT


Monday February 4th
_______
Show jumping :
warm up
These days allow riders to do jumping courses of their choice in order to prepare for competitions.
DEAUVILLE

Sunday, February 3rd

_______

Cyclo-cross Prize


Frédéric Olivier

Organized by the Vélo-Club de Trouville Deauville, the competition takes place on the racetrack, on a circuit laid out on sand, fields, undergrowth and a finish on the road.
DEAUVILLE

Thursday January 31st

_______

Genealogy workshop

Christine Cotté will give a presentation on the trades of the past.

DEAUVILLE

Sunday, February 3rd

_______

Loto of the Soroptimist Club
Deauville-Trouville

The profits will be donated to two scholarships and to the Soroptimist Entrepreneurial Envy prize awarded on the occasion of Normande en tête on March 8.
DEAUVILLE


Saturday, February 2nd
_______
Revue-dinner-show : "Deaullywood
Through the evocation of some films and filmmakers that have become cult, dance, song and comedy serve the sequence shots of this 7th art.
DEAUVILLE
January 31 to February 2
_______
87th Congress of the National Federation
Entrepreneurs des Territoires
The 2019 EDT Congress will bring together agricultural, forestry and rural contractors from all over France at the Centre International de Deauville, with 500 delegates and around 100 partners and exhibitors, to discuss current topics of interest to the profession.
The collection of your personal information is carried out by the SPL territoire de Deauville for its own and exclusive use.
This registration is subject to a declaration to the CNIL (Commission Nationale de l'Informatique et des Libertés).
In compliance with the French Data Protection Act and the RGPD, you have the right to access, modify, rectify and delete data concerning you,
of rectification and deletion of data concerning you. To exercise this right, send an e-mail to communication@indeauville.fr.
Photographs: © Sandrine Boyer Engel / Naïade Plante / Pixabay / DR