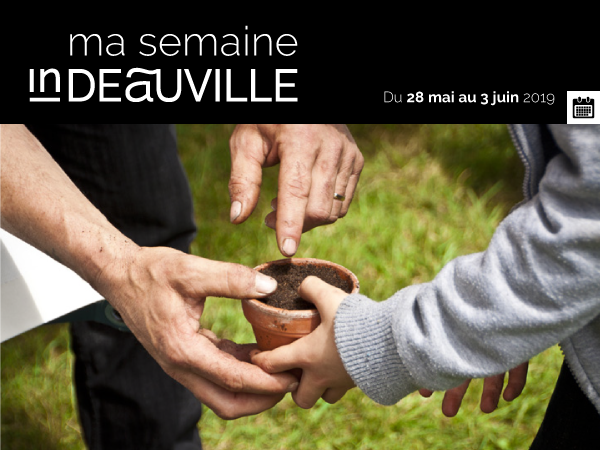 This week, it's the European week of sustainable development: get in touch with nature
and definitely adopt the right gestures.
BLONVILLE-SUR-MER
May 31 and June 1
________
Let's board!
The pirates disembark
For the 7th edition, all the little adventurers are invited to come and have fun: games, climbing, shows and tales, a costume contest...for all the little adventurers.
TOUQUES
From June 1st to 15th
________
Opening of the Open
Deauville Trouville
The only tournament of its category on natural grass in France is part of the French National Circuit of Major Tournaments (CNGT). Fans, beginners, initiates, experts and professionals meet.
Saturday, June 1st
________
The 2018 | 2019 season
"Hugo at the bistro" with Jacques Weber
Theater, poems, novels, texts and political manifestos, correspondence ..., Jacques Weber drew from the entirety of Hugo's work.
DEAUVILLE

Friday, May 31st

________

Organ concert by David Cassan

The Friends of the Deauville Organ present a film-concert by David Cassan, titular organist of the Grand Oratoire du Louvre in Paris. He will improvise on two silent films by Charlie Chaplin: The Tramp and the Policeman.

VILLERS-SUR-MER

Saturday, June 1st

________

Organ concert

Concert by Catherine Gouillard-Simard (organ) in the magnificent setting of the Saint-Martin Church.

BLONVILLE-SUR-MER

Saturday June 1st

________

The Concerts of the Hameau Fleuri

Did you say Symphonies? Did you say...? This year, the symphony is the theme: Mozart, Beethoven and Tchaikovsky as you have never heard them before!
VILLERS-SUR-MER

Sunday, June 2nd

________

Photo safari in Rosalie

To discover the marsh with your family. Don't forget your camera!

VILLERS-SUR-MER

Sunday, June 2nd

________

The magic marsh : family morning

An event to fill up on activities while doing a good deed since the profits will go to the League against Cancer.
DEAUVILLE
From May 29th to June 2nd
________
Micro-Folie Deauville explores gardens and nature this week
In addition to the usual spaces, the team is organizing two teenagers' meetings (Wed. May 29 and Sat. June 1) and two family visits designed for children from 6 years old (Sat. June 1 and Sun. June 2) and 1 conference on the history of the Calouste Gulbenkian Park (Sat. June 1)
VILLERS-SUR-MER

May 30th and 31st

________

Jurassic Odyssey

Discover a collection of fossils from the cliffs of the Vaches Noires located at the edge of the beach of Villers-sur-Mer.
The collection of your personal information is carried out by the SPL territoire de Deauville for its own and exclusive use.
This registration is subject to a declaration to the CNIL (Commission Nationale de l'Informatique et des Libertés).
In compliance with the French Data Protection Act and the RGPD, you have the right to access, modify, rectify and delete data concerning you,
of rectification and deletion of data concerning you. To exercise this right, send an e-mail to communication@indeauville.fr.
Photographs : © Sandrine Boyer Engel / Naïade Plante /
A. Legaud / Kim Weber / Uji Starnel / Olivier Houdart / ltcdn