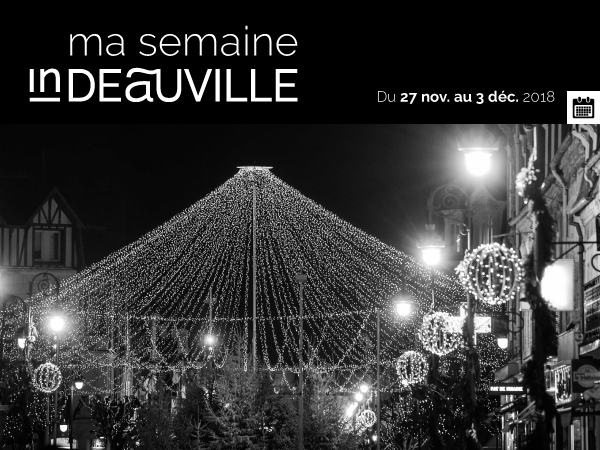 In the eye of inDeauville this week
See you Friday at 5pm on the market place
in Deauville to light up the Christmas decoration
DEAUVILLE
Welcome to the Wizard
The ticketing is open !
The world of Harry Potter invites itself again to Deauville on February 16th for a day entirely dedicated to the saga with multiple appointments. After a day in the magical world of Harry Potter, book your evening at the Casino Barrière Deauville with a dinner in presence of the two actors and the French voice actors of the saga.
DEAUVILLE

Tuesday, November 27th

_______

Lyrical show : " The singer of Mexico ".

The show of the Renouveau Lyrique offers a new youth to the operetta of Francis Lopez, created in 1951 and immortalized by Luis Mariano.

DEAUVILLE

Saturday, December 1st

_______

Carmen, the ballet

Inspired by Georges Bizet's opera after Prosper Mérimée, this ballet, choreographed and directed by François Mauduit, revisits the myth of its free and rebellious heroine, a great feminist before her time.

DEAUVILLE

Saturday, December 1st

_______

Revue-dinner-show : "Deaullywood

Through the evocation of some films and filmmakers that have become cult, dance, song and comedy serve the sequence shots of this 7th art.
DEAUVILLE
Saturday, December 1st
_______
The associations will meet
for the big dinner of the associations
Every year, nearly 1,200 volunteers from associations get together for a big evening at the initiative of the City of Deauville. The idea is to encourage volunteering and the life of associations - a place for social development - and to create links between associations.
DEAUVILLE


Tuesday, November 27th
_______
Make your games at the foyer
Jacques Letarouilly
Singing, playing cards, creating, cooking... to continue to see each other, share and achieve. From now on, the lunches at the seniors' home will be followed on regular dates by playful meetings. This Tuesday, it will be the creation of greeting cards.
DEAUVILLE

Thursday, November 29th

_______

Genealogy workshop

This workshop is an opportunity to get to know each other, share experiences and exchange tips and tricks.

DEAUVILLE

Saturday, December 1st

_______

Deauville Christmas Market Home

The members of the association offer for sale their creations: watercolor, porcelain painting, glass engraving, patchwork, scrapbooking...
VILLERS-SUR-MER

Saturday, December 1st

_______

Dive into the world
of dinosaurs

Learn to recognize the fossils of these large reptiles found in the rocks of Normandy.

VILLERS-SUR-MER

Sunday, December 2nd

_______

Discover the Jurassic world

The Paleospace presents a rich collection of fossils from a bygone era...
In accordance with the law "Informatique et libertés" of January 6, 1978, you have the right to access and rectify data concerning you.