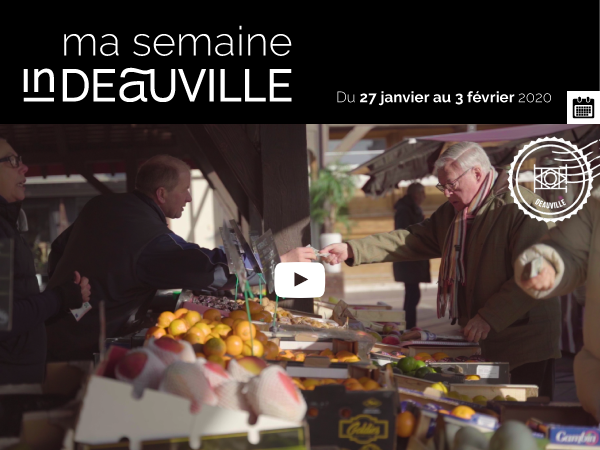 InDeauville markets,
it's almost every day and all year.
DEAUVILLE


Friday January 31
________
Musical evening around Bel Canto
Italian lyrical tradition, Bel Canto is a singing technique based on the quest for timbre. After a conference on the theme "Bel Canto, myths and realities", moderated by Yves Capelle, musician, the evening will continue with a dinner in music with the association Musique sur Mer and the melodies of Donizetti.
DEAUVILLE

Saturday February 1

________

Humor show:
"Together or nothing" - Waly Dia

The humorist from Grenoble delves into "living together" in a jubilant way but also on ecology, the feminine condition or the social divide.
DEAUVILLE




Saturday February 1


________
Conference on "Addictions & Addictions" and Meditation
Invited by the Zen Dogen Sangha Normandie association, Jean-Marc Bazy, Zen monk, founder of the Gudo Ji temple in Villeurbanne and graduate in neuroscience and meditation medicine invites you to a conference on the issue of attachment in Buddhism and the answers of Zen meditation. And this is followed by a discovery session of meditation.
SAINT-ARNOULT

Tuesday January 28

________

Show jumping: warm up

A day open to all riders who wish to train show jumping horses for future competitions.

DEAUVILLE

Sunday February 2

________

Cyclo-cross - "Frédéric Olivier Prize"

Traced on the racetrack of Deauville, the 2,8 km circuit attracts each year a hundred participants, coming from Normandy and neighboring regions, members of cycling schools up to the best specialists in the discipline.
DEAUVILLE


Thursday January 30
________


Genealogy workshop


Beginner or experienced, share your experiences and exchange tips and advice.
The collection of your personal information is carried out by the SPL territory of Deauville for its own and exclusive use.
This registration is subject to a declaration to the CNIL (National Commission for Information Technology and Liberties).
In accordance with the Data Protection Act and the GDPR, you have the right to access, modify,
rectification, deletion and forgetting of data concerning you. To exercise this right, send an e-mail to communication@indeauville.fr.
Photographs: © Pixabay / Sandrine Boyer-Engel / Casino Barrière Deauville / Villa d'Eaux / All rights reserved.