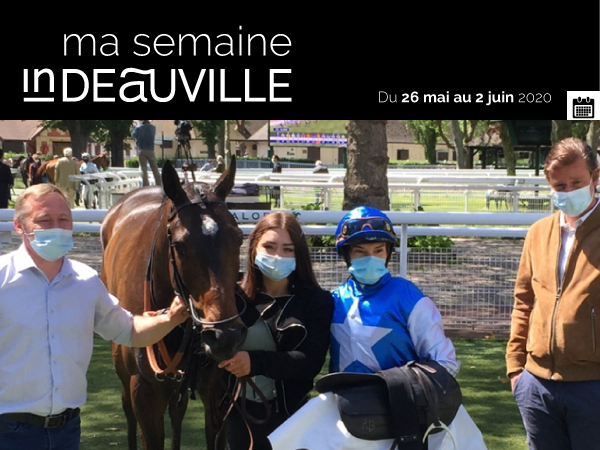 Amérikanane wins the Quinté +
relocated to Deauville on May 24
The horse is trained by Stéfan Cérulis. This young Belgian trainer studied in prestigious stables before taking off in Belgium and then in Deauville.
Bonus: Hippodromes and Pôle International du Cheval continue to operate behind closed doors and in compliance with strict health regulations.
>>> More here
Alfred Sisley, "The path by the water in Sahurs, in the evening" (1894). Donation François Depeaux, 1909,
Museum of Fine Arts, Meeting of the Metropolitan Museums Rouen Normandy.
Impressionist Normandy from July 4
The Norman Festival has not yet unveiled its program but will be there this summer to amaze us.
Photographers in residence for Planche (s) Contact
They are here this week to take their first photographs of Deauville. The 2020 edition is confirmed from October 17 to January 3, under the artistic direction of Laura Serani. We will discover there the photographs of Philippe Chancel, Nikos Aliagas, Mathias Depardon and Evangilia Kranioti and 4 young talents. Other names will follow soon.
Photo: Philippe Chancel, Nikos Aliagas, Laura Serani, Nadine Jestin (springboard), Mathias Depardon, Evangilia Kranioti
Colette & Deauville
"The smell of the sea that I had forgotten, comes to touch us, Over long meadows that border it ..."
Walking, yoga, acquabike, reiki or meditation
wellness professionals have thought of you.
| | |
| --- | --- |
| | Take-out restaurant dishes |
The collection of your personal information is carried out by the SPL territory of Deauville for its own and exclusive use.
This registration is subject to a declaration to the CNIL (National Commission for Information Technology and Liberties).
In accordance with the Data Protection Act and the GDPR, you have the right to access, modify,
rectification, deletion and forgetting of data concerning you. To exercise this right, send an e-mail to communication@indeauville.fr.
P

hotographies: © Patrice Le Bris / Fabrice Rambert /

Laureen Picard / Naïade Plante

/ All rights reserved.