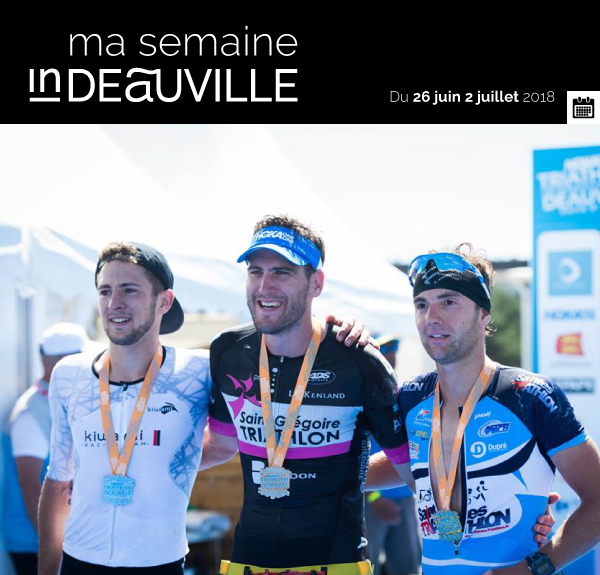 THE IMAGE OF THE WEEK
They were more than 5500 registered for this 7th edition of the International Triathlon of Deauville Pays d'Auge - Hoka One One. On the podium of the Long Distance solo course:
Arnaud Guilloux (3h57m51s), William Mennessson (4h3m50s), Antoine Mechin (4h4min56s). William Mennessson also won the Olympic Distance, Léo Starck the Olympique 750, Océan Teriipaia Chevreton le Découverte, Louis Milcent the Minikids Poussin,
Maxence Dubois, the Minikids Pupille, Keran Gallou the Trikids Benjamin,
Selyan Abdelkrim the Trikids Minime. Congratulations to all participants !
TOUQUES
Saturday June 30 et Sunday July 1
________
Oyez, Oyez! Back to the past
Medieval Touques - Chapter VIII
The hawkers tell us that rich lands are to be conquered ... This weekend, Touques goes back in time until the Middle Ages: illuminations, puppets, medieval farm, fight of the little knights, wanderings, music, dance, juggling and fire show , blacksmithing workshop, pottery workshop, giant playground, Viking encampment, models, hawkers, initiation to combat, medieval theater, medieval climbing tower ... there will be plenty of entertainment!
TOURGEVILLE
Friday 29 June and monday 2 July
________
There are no insurmountable obstacles in Clairefontaine!
At the Deauville-Clairefontaine racetrack, no racing day is like any other: around horse racing, a host of activities is offered every day!
Friday: flat races - Day to discover the horse world
_________________
Monday: obstacle courses - "Women and Challenges by CCI" Day
On the occasion of Entrepreneurship Day by Femmes & Challenges, women entrepreneurs, project leaders or women in responsibilities are invited to participate in a day of discovery of the racetrack and discussions around various events, including one conference-debate on the theme "There are no insurmountable obstacles…".
TOURGEVILLE, DEAUVILLE,




BENERVILLE-SUR-MER,




BLONVILLE-SUR-MER, AND VILLERS-SUR-MER

Sunday 1st July

________

Normandy

Three levels of walking are offered for this great Nordic walking event day: a 12 km timed "sport" with individual classification,

a "nature-health-leisure" of 7 km, without timing or classification. Meeting point: the village and its wellness, health and Nordic walking equipment stands.
SAINT-GATIEN-DES-BOIS


Sunday 1st July
________
Bois Joli Trail
This 100% natural trail includes 2 foot races (one loop for the 7 km and two loops for the 14 km) and races for children, between chestnut trees, oaks, beech trees, Scots pines… and other species of a private area open exclusively to runners.
DEAUVILLE

Du 29 juin au 5 juillet

________

Sailing: Solo Normandie

The skippers of the Figaro Bénéteau 2 class challenge each other on a deep sea course of around 300 nautical miles alone for an exploration of the Normandy coast. This 9th edition will start for the first time from Deauville. Qualifier for the Solitaire URGO - Le Figaro and last event before this big meeting, the Solo Normandie counts for the French Elite Offshore Racing Championship 2018. This will be an opportunity to support Eric Delamare, our young skipper whose sails wear the colors of Deauville…
BLONVILLE-SUR-MER


Du 30 juin au 9 juillet
________
Tennis: Youth tournament
First tournament of the summer reserved for young people of the club.
DEAUVILLE

27 and 28 June

________

Guided tour of Villa Strassburger

This imposing residence, erected in 1907, has preserved the furniture of the 50s, decoration, trinkets ... from its last owner.

DEAUVILLE

Du 27 to 30 June

________

Visit of Calouste Gulbenkian Park

70 years after its conception, the park remains a magical place, an unknown and joyful facet of a secret Deauville.
DEAUVILLE

June 30 and 1st July

________

Sea trip aboard an old rig

Discover the shores of the Seine Bay aboard the François Monique, a shellfish sloop from 1935,

VILLERS-SUR-MER

Sunday 1st July

________

Guided tour: Jurassic Odyssey

The Paléospace presents a rich collection of fossils from the Vaches Noires cliffs. Explore this Jurassic world.
DEAUVILLE

Friday 29 June

________

A new book box near the station

The Lions Club of Deauville has chosen to act for reading and to fight against illiteracy by installing in the streets boxes full of books that everyone can borrow and feed freely. Two boxes were already installed last year in the square of the Saint Augustin church and in the Boudin district.

DEAUVILLE

Du 1er July au 31 August

________

Opening of Reading at the Beach

For free, you can borrow a detective novel, a magazine, a children's album for the day… while lying on the beach!
TOURGEVILLE

Saturday 30 June

________

Jazz concert

By the students of the music school under the direction of Marek Deptuch.

VILLERVILLE

Du July 1 to August 31

________

The game of facades

Walk the streets in search of details and facade elements ... a surprise awaits you in return!
DEAUVILLE

Saturday 30 June

________

Brocante

BENERVILLE-SUR-MER

Saturday 30 June

________

Brocante
DEAUVILLE

Saturday 30 June

________

Dinner-review-show: "Egérie season 3"

150 costumes, 21 paintings and 10 exceptional artists in a succession of paintings mixing song and live music, dance and attraction.

DEAUVILLE

Saturday 30 June

________

One man show: Kheiron

You don't know what you're going to see, he doesn't know what he's going to tell you ... Kheiron pushes the concept of "unique evening" to its maximum by playing without filters or nets with the spectators.
DEAUVILLE
Wednesday 27 and Friday 29 June
________
End of year shows
The children of the Breney school take the stage under the tender gaze of their parents,
followed on Friday by students from Fracasse school.
In accordance with the "Data Protection" law of January 6, 1978, you have the right to access, rectify and delete data concerning you. For any request, send us a message by clicking on communication@deauville.fr.
Photographs: © Sandrine Boyer / Naïade Plante / Laurent Lachèvre / Patrick-Derouaille / Bara-Cross / Tennis Club Bonville / Casino Barrière de Deauville