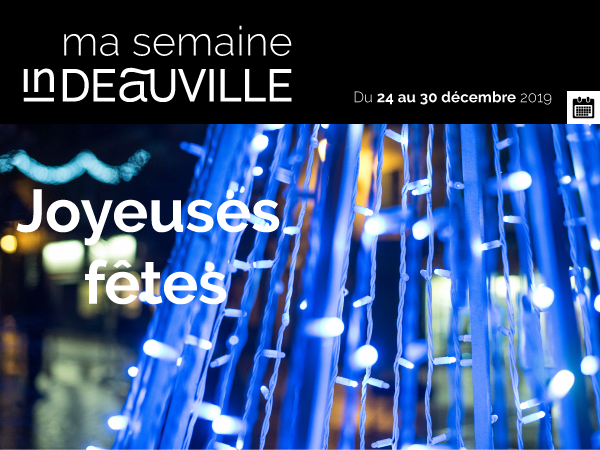 DEAUVILLE


Friday December 27
________
Concert: "Brass sextet" by the group Utopia
Invited by the Friends of the Deauville Organ, the Utopia Chamber Music Ensemble brings together teachers of trumpet, trombone, tuba and cornet de Normandie.
VILLERS-SUR-MER

Friday December 27

________

Concert: Aurore Greet the friends

With her songs of French and international varieties from the 60s and 70s, Aurore, a sparkling singer and musician, knows how to humorously transport a few years back.
BENERVILLE-SUR-MER


Saturday 28th December XNUMX
________
Piano recital by Anastasya Terenkova
Anastasya Terenkova, winner of several international piano competitions, comes to perform piano compositions by Scarlatti, Chopin, Liszt and Mussorgsky.
VILLERS-SUR-MER

Saturday 28th December XNUMX

________

Gospel concert: "A Christmas Celebration" by the Men Of Gospel

Thirteen of the singers from the Men of Gospel troupe, composed only of male singers, will confuse all styles of music and more particularly that of gospel, including contemporary gospel, urban gospel, gospel afro jazz soul. With these artists, the public slaps their feet with enthusiasm and without restraint!
DEAUVILLE


Monday December 30
________
Horse racing - Winter meeting
The fiber sand track preserves the grass track and schedules a winter meeting every year.
VILLERS-SUR-MER

23, 26 and 30 december

________

Asteroids Challenge

After a planetarium session, a challenge challenges players to save the Earth from meteor showers or to compete between spaceships at 360 °. From 7 years old.

VILLERS-SUR-MER

24, 27 and 28 december

________

Children's Planetarium

A family session allows the youngest to discover the planetarium and learn the basics of astronomy. From 4 to 8 years old.
BLONVILLE-SUR-MER

24, 26 and 27 december

________

Margot's children's workshops

Children make their own creations during manual workshops: cross stitch, threads and beads, creative or board games ... From 6 to 12 years old
VILLERS-SUR-MER

26 and 27 December

________

Story-telling workshops: "Star dust"

A tender and poetic tale, followed by a snack, to connect with the magic of life, the stars and the birth of the world. From 4 to 8 years old.

VILLERVILLE

26 December at 4 January

________

Christmas game

Where did Santa Claus go? With a game booklet, children must go looking for it in the streets of Villerville!

BLONVILLE-SUR-MER

Friday December 27

________

Christmas show:
"The cow in a bathing suit"

With his guitar, his Ukulele, a frog and his harmonica player Alain Messier, Laurent Touceul tackles in songs the respect for nature, animals ... in interaction with children. From 3 years old.
BLONVILLE-SUR-MER

Friday December 27

________

Christmas creative workshop

Each child will leave with an object that they will have tinkered themselves with cutting, collage, painting techniques ... From 5 years.
DEAUVILLE

Friday December 27

________

Gourmet meeting
with Eric Dufay

Eric Dufay, who imagined the "Parasol de Deauville" cookie, will be present in the Deauville Tourisme boutique to tell the story of its creation and reveal its very special taste.
BLONVILLE-SUR-MER

Sunday December 29

________

Brocante
The collection of your personal information is carried out by the SPL territory of Deauville for its own and exclusive use.
This registration is subject to a declaration to the CNIL (National Commission for Information Technology and Liberties).
In accordance with the Data Protection Act and the GDPR, you have the right to access, modify,
rectification, deletion and forgetting of data concerning you. To exercise this right, send an e-mail to communication@indeauville.fr.
Photographs: ©
Calvados tourism / Naïade Plante / Camille Binelli / Paléospace / Laurent Touceul / Patrice Le Bris / Men of Gospel / Anastasya Terenkova /
Aurore-greet-the-friends /
City of Deauville / Sandrine Boyer Engel / Jeff Cooking 14 / F. Courmont / Rights reserved.