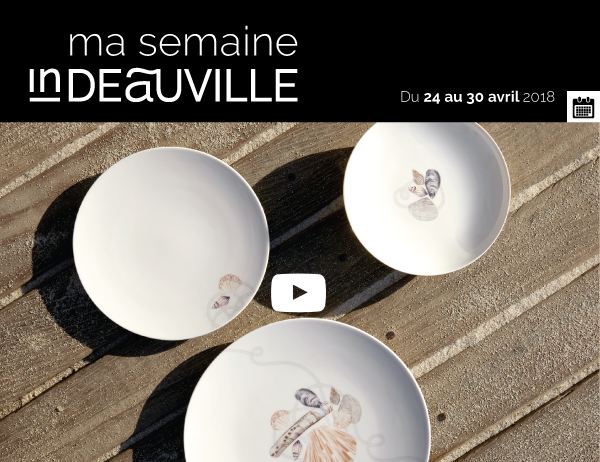 VIDEO OF THE WEEK
We like the new Deauville collection
by Degrenne, inspired by the sea.
To be discovered at Deauville Tourism.
BLONVILLE-SUR-MER

Wednesday April25th

________

April Concert

A violin and singing concert by the students of the Claude Bolling Intercommunal Music School, under the direction of Florence Devieilhe.

DEAUVILLE

Wednesday, April25th

________

Audition for young singers

Laura Rabia, lyric artist and artistic director, auditions future singers for a show to be given in June in Deauville.
VILLERS-SUR-MER
Saturday 28 and Sunday 29 April
________
Villers Games Festival #4: Get your joysticks!
Associations of video game and digital enthusiasts share their passion. Around forty game stations with a wide range of consoles, from the 80s to today, have fun during tournaments and initiations. The Pix3l association will also propose augmented reality and a fiery blindtest on Saturday evening.
SAINT-ARNOULT

From April 27th to May 1st

________

Show jumping competitions

Pros & Amateurs and Grand regional

Among the pros competing, there are usually a few regulars at the top level such as Pénélope Leprévost, Reynald Angot, Michel Hécart... Based on the model of the federal Grand National circuit, the Grand Régional allows to promote the Amateur Grand Prix organized in Normandy.
DEAUVILLE

Saturday 28 and Sunday 29 April

________

Sailing : Deauville Cup
Yacht Club

A competition open to all boats of the Sporboats, J80, Dragon and Sport Keelboats classes and to boats of the Osiris Habitable handicap system with a minimum coefficient of 10.
DEAUVILLE

Saturday , April28th

________

2nd Zumba Party

Try 3 Zumba activities: the classic Zumba, the Zumba Toning with weights of about 500g, and the Strong by Zumba, a new concept that allows a complete remodeling of one's figure.
VILLERS-SUR-MER

Wednesday, April25th

________

Stroll : taste the Pays d'Auge

An immersion in the land with the arrival with a tasting of traditional products.

BLONVILLE-SUR-MER

Thursday, April26th

________

Nature walk : Between beach and marsh

Learn all the particularities of the fauna and flora of the Blonville-Villers marsh, a protected natural environment.
VILLERS-SUR-MER

Friday, April27th

________

Nature walk :
beach secrets

What are the ears of sand for? Who is hiding under the sand? Why does the sea rise and fall every day? So many secrets will be revealed to you.

BENERVILLE-SUR-MER

Monday April30th

________

Guided tour : The batteries
of Mont-Canisy

The natural site of Mont-Canisy offers an exceptional panorama of the Côte Fleurie. Its strategic position has twice been transformed into a coastal artillery position.
VILLERS-SUR-MER

April26th and 30th

________

Guided tour :

discovery of the cliffs Falaises des Vaches Noires

BLONVILLE-SUR-MER

April28th and 29th

________

Contest :

Challenge-selfie
VILLERS-SUR-MER

Tuesday 24th April

________

Book Swap
TOUQUES

Sunday April29th

________

Garage sale
TOUQUES

Friday, April27th

________

Theater in Touques :
"The secret of Gilbert Boué

Absurd ! Gilbert Boué comes out of the freezer! He is two ! Two voices, two feet, two ways of thinking! And he doesn't even know what his name is anymore! By the company Le Pébroc Théâtre.

DEAUVILLE

Saturday, April28th

________

One man show :
Mathieu Madenian

The comedian has concocted, with his accomplice Kader Aoun, this new show filled with his love troubles of an almost married teenager.
In accordance with the law "Informatique et libertés" of January 6, 1978, you have the right to access and rectify data concerning you.
For any request, send us a message by clicking on communication@deauville.fr.
Photographs: © Sandrine Boyer / Naïade Plante / Gilbert-Boué / Paléospace Villers