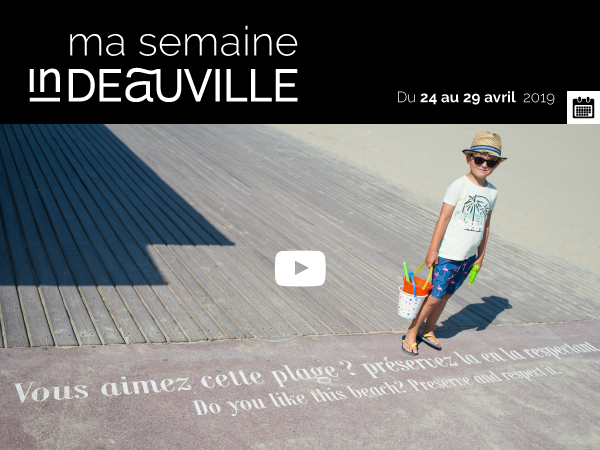 DEAUVILLE
26 and 27 April
_________
23rd Easter Festival:
the greats of tomorrow
"Each spring in Deauville, the Easter Festival is a pretext
to come get drunk on a big breath of music. "
Les Echos
Saturday, place in a rare and sumptuous Bruckner by five young chamber musicians at the top of their first maturity, followed by a Brahms always inspired and imaginative by Adam Laloum.
Sunday, co-founder of the Easter Festival in 1997, Nicholas Angelich once again reaches out to his most promising cadets, fascinated by his person and his art, the time of a Beethoven.
DEAUVILLE
Friday, April 26
_________
The 2018 season | 2019 - "Boys"
Zaza Fournier, Cléa Vincent and Carmen Maria Vega, formidable trio of young singers, take up, in a very beautiful staging of men's songs on women. Magnificent covers by Louis-Aragon, Léo Ferré, Serge Gainsbourg, Claude Nougaro, Jean Yanne, Boby Lapointe… A collection of eternal songs, sung with the emotion and arrangements of today while projecting into tomorrow.
DEAUVILLE


Wednesday 24 April

_________

Public rehearsal
of the Trouville Choir

Under the impulse of the lyric artist and artistic director Laura Rabia, the singers share the beginnings of the mounting of the concerts in preparation on the theme of the Choir on stage.

VILLERS-SUR-MER

Saturday, April 27

_________

Organ concert

Concert by Catherine Gouillard-Simar in the magnificent setting of the Saint-Martin de Villers Church with its 51 colored canopies.
DEAUVILLE
29 April at 4 May
_________
The Tour Auto Optic 2000 is coming
in Deauville
240 competitors will take to the roads of France and compete in timed events on 4 circuits (Dijon-Prenois, Magny-Cours, Charade, Le Mans) and in 10 special tests on closed roads. In each of the 5 stopover cities in Dijon, Lyon, Vichy, Tours and Deauville, Optic 2ooo will set up a prevention village around the theme "a good view behind the wheel".
BENERVILLE-SUR-MER

April 24 to 26

_________

Calouste Gulbenkian Park

A little-known and joyful facet of a secret Deauville, which has retained the charm and beauty that its creator had once made realize.

VILLERS-SUR-MER

Jeudi 25 avril

_________

Taste the Pays d'Auge

An immersion in the region with, on arrival, a tasting of products made on the farms of the Auge region.
SAINT-PIERRE-AZIF

25 and 26 April

_________

Recognition and use
wild plants

A two-day training in the form of workshops and botanical walk to learn to recognize and use medicinal wild plants.
VILLERS-SUR-MER

Sunday, April 28

_________

Guided tour: The soul of Villers

Explore the heritage and architecture of seaside development through the example of Villers sur mer.

BENERVILLE-SUR-MER

Monday 29 April

_________

Guided tour: The batteries of Mont-Canisy

This natural site has been transformed into a coastal artillery position, of which there are military works and the underground gallery.
DEAUVILLE

April 24 to 28

_________

Micro-Folie's programming evolves

Always with the same tools and the same spaces - Digital Museum, FabLab, Games library - five formats of visits depending on the age of the visitor are now available on site. Each meeting becomes unique!

24 and 26 April

_________

Algia Water Discovery Center

This unique space in the region immerses you in a fun and educational way in the world of water.
DEAUVILLE

Jeudi 25 avril

_________

Deauville and its puzzles

Like a little detective, decipher the clues sown in your path ...

BLONVILLE-SUR-MER

25 April at 2 May

_________

Drawing contest

On "My most beautiful egg hunt". Collages, cutting, painting ... everything is allowed! From 5 to 11 years old.

VILLERVILLE

Until May 4

_________

Treasure hunt

Piou-Piou the little chick has lost his mother, help him find her!

Until May 3

_________

The Créaclub creative workshops

Creative and fun workshops with themes depending on the season to vary and stimulate children's creativity.
BLONVILLE-SUR-MER

Sunday, April 28

_________

Egg hunt

For children to 0 11 years.

The tennis, sailing, golf, horse riding ... courses are to be discovered
right here !
SAINT-ARNOULT

April 26 to 28

_________

Show jumping competition Pros & Amateurs

Hurry up ! Among the "Pros" in the running, there are usually a few high-level regulars such as Pénélope Leprévost, Reynald Angot, Michel Hécart, Eugénie Angot…

DEAUVILLE

Saturday, April 27

_________

Brimborion Pony Club Parade

200 ponies and horses from the Brimborion club, training for the Easter holidays at the Deauville-La Touques racecourse, will stroll through the streets of Deauville,

SAINT-ARNOULT

Sunday, April 28

_________

Rally of hikers

After an equestrian parade, the riders will go on a ride with several routes to choose from. In the afternoon, several activities around the horse will be offered on the town hall square of Saint-Arnoult.
DEAUVILLE

23 and 25 April

_________

Discovery
Bungy pump

Created by Swedish cross-country skiers, this fast walk is carried out with dynamic poles.

DEAUVILLE

Saturday, April 27

_________

Women's wheelchair basketball match - French teams
and from Italy

The French and Italian women's wheelchair basketball teams end their training in Deauville with a match open to all. The objective: to promote Normandy as the "rear base for the JOP 2024" and to inject dynamic wheelchair basketball into the region.
TOUQUES

Friday, April 26

_________

Theater: "Everything to be happy! "

The couple, life together: desire, betrayal, redemption, family, job, life, the real one! A comedy by Christian Poissonneau, directed by Isabelle Courger, with Isabelle Courger and Christian Poissonneau.

VILLERS-SUR-MER

Saturday, April 27

_________

Theater: "Welcome to Loose Vegas"

An almost musical comedy with a light tone that will take you on a journey into the world of a completely barred family!

TOUQUES

Sunday, April 28

_________

Dancing tea

Spend a friendly moment over tea or coffee and a few dance steps to the music of a local orchestra
DEAUVILLE

Saturday, April 27

_________

Brocante
BLONVILLE-SUR-MER

Sunday, April 28

_________

Brocante
The collection of your personal information is carried out by the SPL territory of Deauville for its own and exclusive use.
This registration is subject to a declaration to the CNIL (National Commission for Information Technology and Liberties).
In accordance with the Data Protection Act and the GDPR, you have the right to access, modify,
rectification and deletion of data concerning you. To exercise this right, send an e-mail to communication@indeauville.fr.
Photographs: © Claude Doaré / RAPHAEL NEAL / Capucine Bourgeois / Calvados Tourisme / Sandrine Boyer Engel /
Villers-sur-Mer Tourisme / Naïade Plante