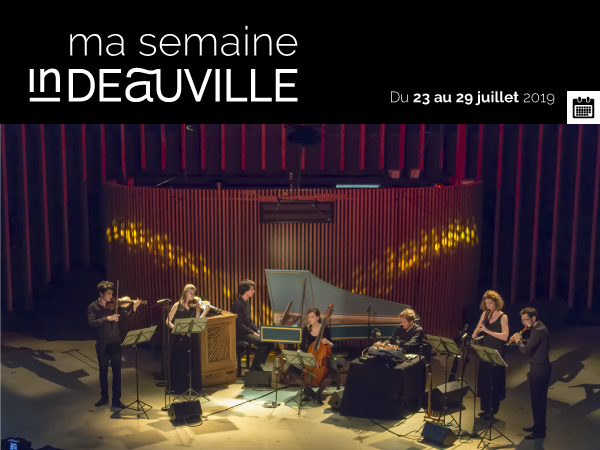 From July 27 to August 10
________
The voice in the spotlight for the 18th Août Musical
This new edition will welcome some vocal revelations: mezzo-sopranos Adèle Charvet and Marie-Laure Garnier, soprano Clémentine Decouture and tenor Paco Garcia. Baroque, romantic and modern masterpieces for voice will alternate with instrumental works from the same periods and just as seductive. Two vocal cycles will be dedicated to the composer Olivier Greif. Lise Berthaud, an important figure in the festivals of Deauville, will join her young colleagues and friends of the 4th generation: Guillaume Bellom, Ismaël Margain, the Hermes and Hanson Quartets, Shuichi Okada, Amaury Viduvier, Justin Taylor, Philippe Hattat and Alexandra Soumm. Yan Levionnois will be a narrator, using his cello to bring Rimbaud's famous Illuminations to life.
For the opening concert on Saturday, Adèle Charvet will join Justin Taylor's Consort for a captivating selection of baroque opera arias by Häendel, Eccles and Vivaldi.
VILLERVILLE
July 27 to August 4
________
4th Ville'Art'Ville, a festival dedicated to urban art
The festival, dedicated to urban arts, allows about fifteen artists to exhibit their creations and share their passion around a program of animations. The festival allows to dive into a shared artistic creation, where the public mixes with the artists and where the artists are impregnated with the public. Plastic artists, graffiti artists, DJs... around the exhibitions and artistic meetings, a varied program also invites the public to participate in concerts, initiations, workshops, live mural performances, tattoos...
DEAUVILLE

Saturday 27 and Sunday 28 July

________

Opening of the Meeting de Deauville Barrière

The international galloping elite will be at the Deauville-La Touques racecourse throughout the month of August for the greatest flat races in Europe. Whether you're a racing fan or a novice, the meeting is your guarantee of great, intense events, pitting the best thoroughbreds against the best galloping jockeys! Highlight of the weekend: Sunday, the Prix Rothschild, a Group 1 race, the highest level of competition, an incredible straight line race over 1,600 meters that focuses on speed!

Last minute:

The semi night meeting initially scheduled at Paris-Longchamp will be run on Thursday July 25 at Deauville. Start of the 1st race: 5:45 pm

TOURGEVILLE - BENERVILLE-SUR-MER

Monday 29th July

________

Make your games at Clairefontaine

This new meeting will mix flat and obstacle races. Outside the tracks, the Villers-sur-Mer Casino will present its numerous activities and leisure activities: slot machines, electronic English roulette, Black Jack, English roulette...
VILLERS-SUR-MER
Tuesday 23 and Friday 26 July
________
31st Sable Show Festival
This week, Cut the Alligator will give free rein on Tuesday to a music made of groove and emotions. Nine musicians, sensual and powerful voices, unleashed horns and a wild rhythm section unite to create a unique sound universe, full of soul and funk.
On Friday, mixing samples and vintage sounds in a more contemporary format with Hip-Hop and House accents, Scratchophone Orchestra takes care of the balance between instrumental music and electronic production.
BENERVILLE-SUR-MER

Friday, July 26th

________

Concert of chamber music

By the teachers of the chamber music course of the Claude Bolling School of Music.

BENERVILLE-SUR-MER

Saturday 27th July

________

Singing recital

Pascal Tursan d'Espaignet, lyric tenor, singing, accompanied by Thomas Macfarlane at the piano will perform Italian melodies, Neapolitan songs and opera arias.

DEAUVILLE

Saturday, July 27th

________

So Gospel - Tour 2019

A dozen singers, from the largest gospel choirs in France, draws its inspiration from the sounds of Jazz, Soul or even RnB.
VILLERS-SUR-MER

Wednesday 24th July

________

Workshop: drawing walk

Let yourself be observed and draw an unusual bestiary!

DEAUVILLE

July 24th to 28th

________

Micro-Folie made in Normandy

Normandy will be the weekly theme of the different formats of visits during the week. New : try the escape game with your family !
BLONVILLE-SUR-MER

Thursday, July 25th

________

Drawing contest

Every Thursday, a theme is announced. The children then have a week to create their most beautiful work!

VILLERS-SUR-MER

July 27th and 29th

________

Visits of the Paleospace

Dive into the world of dinosaurs, whose fossils have been found in the rocks of Normandy.
VILLERS-SUR-MER

Wednesday 24th July

________

Nature walk : Beach secrets

Who is hiding under the sand? Why does the sea rise and fall? So many secrets revealed...
BLONVILLE-SUR-MER

Thursday, July 25th

________

Musical botanical outing

Discover the medicinal plants of the marsh with a specialized botanist, then drink a toast to a saxophone tune!

DEAUVILLE/TROUVILLE




LE HAVRE

July 28th and 29th

________

Crossing of the Seine estuary

Departing from the ports of Trouville or Le Havre, embark and spend the day on the other bank of the Seine. An original and practical experience!
DEAUVILLE - VILLERS-SUR-MER - VILLERVILLE

Tuesday 23rd and Thursday 25th July

________

Collective pick-ups on the beach

Tuesday in Deauville and Villers-sur-Mer, and Thursday in Villerville.

DEAUVILLE - VILLERS-SUR-MER

Friday 26 and Saturday 27 July

________

Animations and awareness actions on the beach

Wednesday at Villers-sur-Mer: "clean shore" stand with information, an exhibition, a "sea leash" workshop and the distribution of discovery booklets and other prizes.

In Deauville, on Friday, learn how to make ecological sponges. Saturday, we explain you the "zero waste".
VILLERS-SUR-MER
Sunday, July 28th
________
Giant picnic
A traditional event in Villers-sur-Mer! With family or friends, settle down around the marsh and enjoy the market of regional products and animations for young and old. A glass of friendship for all at 11:30 am!
DEAUVILLE

Sunday, July 28th

________

Race to the sales

The shopkeepers unpack in the street the treasures of the year.

VILLERS-SUR-MER

Until March 2020

________

Temporary Exhibition : The Sharks !

Lords of the Seas, sharks have occupied the ocean for 430 million years. Discover new species and learn while having fun thanks to a digital fresco.
DEAUVILLE

Wednesday 24th and Thursday 25th July

________

Villa Strassburger

This imposing residence was built in 1907 on the site of the Ferme du Coteau, property of the family of novelist Gustave Flaubert.

VILLERVILLE

Friday, July 26th

________

Guided tour of Villerville

Street by street, the history of Villerville is revealed step by step.
BLONVILLE-SUR-MER

Sunday, July 28th

________

Our Lady of the Visitation Church

The church has a long history of almost a thousand years behind it! Its history is inseparable from that of Blonville.

BENERVILLE-SUR-MER

Monday 29th July

________

The batteries of Mont-Canisy

The position of the natural site of the Mont-Canisy was twice transformed into a coastal artillery position, of which some remains remain.
VILLERS-SUR-MER

Saturday 27th July

________

Beach Volley - Robin Tournament
VILLERS-SUR-MER

Saturday 27th July

________

Concert

Hi friends.

TOUQUES

Saturday 27th July

________

Touques'n Roll

Rock concert followed by a DJ animation.
BLONVILLE-SUR-MER

Wednesday 24th July

________

Flea market
The collection of your personal information is carried out by the SPL territoire de Deauville for its own and exclusive use.
This registration is subject to a declaration to the CNIL (Commission Nationale de l'Informatique et des Libertés).
In compliance with the French Data Protection Act and the RGPD, you have the right to access, modify, rectify and delete data concerning you,
of rectification and deletion of data concerning you. To exercise this right, send an e-mail to communication@indeauville.fr.
Photographs : © Sandrine Boyer Engel / Naïade Plante / Laurent Lenot / Antoine Besson / Roman Drits