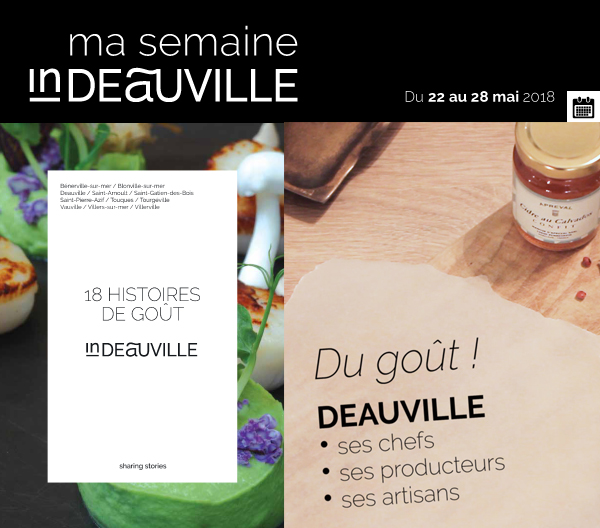 IMAGE OF THE WEEK
Building on the promise of its InDeauville brand, "sharing stories", the Deauville area has just published "18 stories of taste", its first magazine-inspired guide dedicated to local gastronomy. It is enriched by a web series "Du goût!" which invites you to meet its actors in their diversity. A dozen videos are already online, which will be expanded over time.
The guide "18 stories of taste" is available in all tourist information offices of the territory and can be downloaded here
The webseries "Du Goût !" can be discovered on the Youtube channel "deauvillevideos".
All these stories and videos are also available on www.indeauville.fr (under "where to eat").
TOUQUES


From

May 26th to June 17th
________


Exhibition "sculptures


A journey into the worlds of three sculptors brought together in the context of a cultural and artistic exchange between India and France: Corinne Geffray, Ganesh Gohain and Jean-Louis Raymond share their workshops in residencies in order to work and then exhibit together alternately in Honfleur, Vadodara (university town of Gujarat), Bombay and Touques.
VILLERVILLE Saturday, May26th

________

Concert - Jazz Workshop

Concert of the students of the intercommunal music school, under the direction of Marek Deptuch.
DEAUVILLE

Friday 25 and Saturday 26 May

________

Sailing : Cowes Deauville

The regatta brings together every year since 1962 a hundred British and French crews.

VILLERS-SUR-MER

Saturday, May26th

________

Tennis - Villers Cup

First edition of this friendly doubles tournament open to all to share the pleasure of playing and meeting each other.
DEAUVILLE

From May 23rd to 26th

________

Visit of the Calouste Gulbenkian Park

70 years after its conception, the Parc des Enclos remains a magical place, an unknown and delightful facet of a secret Deauville.

VILLERS-SUR-MER

Saturday , May26th

________

Guided tour : Dinosaurs of Normandy

Dive into the world of dinosaurs, these large land reptiles whose fossils have been found in the rocks of Normandy.
VILLERS-SUR-MER

Sunday, May27th

________

Guided tour : Jurassic Odyssey

The Paleospace presents a rich collection of fossils from the Vaches noires cliffs.

CANAPVILLE

Sunday, May27th

________

Nature walk : Ready, set, go !

Join the Touques marshes to discover its biodiversity: ponds, amphibians and small animals...
TOUQUES
Saturday, May26th
________
Recreation Day
Free activities for the whole family: mini sports tournaments, quizzes, card games, giant games, face painting for children, flashmob, dance show, apéro-pétanque, concert...
BLONVILLE-SUR-MER
VILLERS-SUR-MER Friday, May25th

________

19th Neighbours' Day

Neighbors, it's up to you! The Neighbours' Day allows you to gather your neighbors around a meal, to share a friendly moment and break the ice.

DEAUVILLE From May 25 to 27

________

Porsche Casting

Porsche enthusiasts of all models and all vintages gather around animations, presentations and exchanges. Highlight 2018: the 70 years of the brand.

SAINT-PIERRE-AZIF Saturday, May26th

________

Saturdays of the Bouquetot

Discover the Eco-domaine du Bouquetot and its actors around a producers' market. You will be able to walk there before settling on the grass to picnic.
DEAUVILLE

Sunday, May27th

________

Auction sales

Modern and contemporary art, XXth century interior.
TOUQUES
Friday, May25th
________

50 minutes of supernatural, humor and petits fours!

DEAUVILLE Saturday , May26th

________

Theater : "L'un n'empêche pas l'autre

Who hasn't dreamed of knowing all their spouse's secrets? A comedy by Eric Le Roch, Thierry Beccaro and Alexandra Vandernoot
VILLERS-SUR-MER Sunday, May27th

________

Distribution of roses to mothers

The merchants and craftsmen of Villers-sur-Mer celebrate the mothers by distributing roses.

DEAUVILLE Sunday, May27th

________

Family celebration

The Education Department team welcomes families of school children to a pirate-themed game and challenge.
In accordance with the law "Informatique et libertés" of January 6, 1978, you have the right to access and rectify data concerning you.
For any request, send us a message by clicking on communication@indeauville.fr.
Photographs : Sandrine Boyer / Naïade Plante / Villers OT / Patrice Lebris